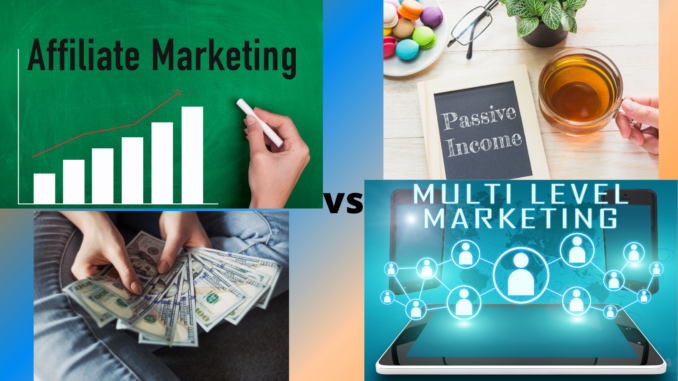 When it comes to marketing and selling other people's products, there are two ways to go about it which can lead to a substantial income. The two ways of marketing involve becoming an affiliate or joining a Multi Level marketing company.
I started out joining a multi level marketing company called World Ventures in the past which resulted in a few thousands being lost.
Now I do affiliate marketing and I have learned that the two can go hand in hand. The thing is, many people fail at Network Marketing because it does not really teach members how to market and sell to reach a wider audience.
It is no secret that the future of business will revolve around the internet to getting products and offers in front of more eyes.
When you learn affiliate marketing, you basically are getting an education regarding online marketing.
When I joined World Ventures, I was taught to promote to friends and family by throwing house parties and inviting them over to introduce them to this amazing business opportunity.
Of course, I was not a successful member myself, so I was also guided to have more experienced members in my up line host my own party.
If I could not get an experienced member to host the party then I would have to b.s my way into explaining why someone should join or buy into one of their vacation packages.
When you exhaust all your close friends and family, you start harassing everybody you know or come across to join.
Long story short, you eventually run out of people to promote to which is why I would never recommend network marketing to a person that has no knowledge on how to promote and sell online.
What is Affiliate Marketing
Affiliate marketing is when you refer a customer to another business and make a commission if the customer purchases a product. The main advantage of affiliate marketing is the hands-off approach in the sales process.  All you have to do is refer a customer to a business and the customer makes a purchase, your job is done. Click Here for a more detailed review on what is affiliate marketing
Affiliate Marketing Pros
Affiliate marketing is the easiest way to make a passive income online. A list of advantages to becoming an affiliate marketer is listed below.
Billion-dollar Business
Low Cost to Start
Do not need to be an expert
Secondary Source of Income
Convenience and Flexibility
The hands-off approach in the sales process
The Independence
Marketing Material
Passive Income
Own Business – Sole Proprietorship
Affiliate Marketing Cons
No Guarantee of ROI
Freelance Jobs are not for Everyone
Payment Thresholds
Scammers can Hijack Links
What is Network Marketing
Network marketing is a business model that focuses on person-to-person sales by independent representatives that often work from home. A network marketing business may require you to build a downline by recruiting members to sell and help build leads.
There are some reputable network marketing operations, but most if not all are viewed as pyramid schemes. Good Network Marketing companies will focus on selling an actual product to make money as oppose to recruiting others to join as your best chance to earn.
Network Marketing Pros
Billion-Dollar Industry
Earning Potential
Start-Up Business
Network Marketing Cons
Over 90 percent of people fail
Most network marketing sales are face-to-face
Sponsors are usually not great mentors
It takes time to grow.
Companies are vulnerable to shut down due to lawsuits
There is a lot of rejection involved
Many are considered scams
Members are usally paid more for recruiting instead of selling products
May ruin relationship with family or friends
Compensation plans are usually difficult to understand