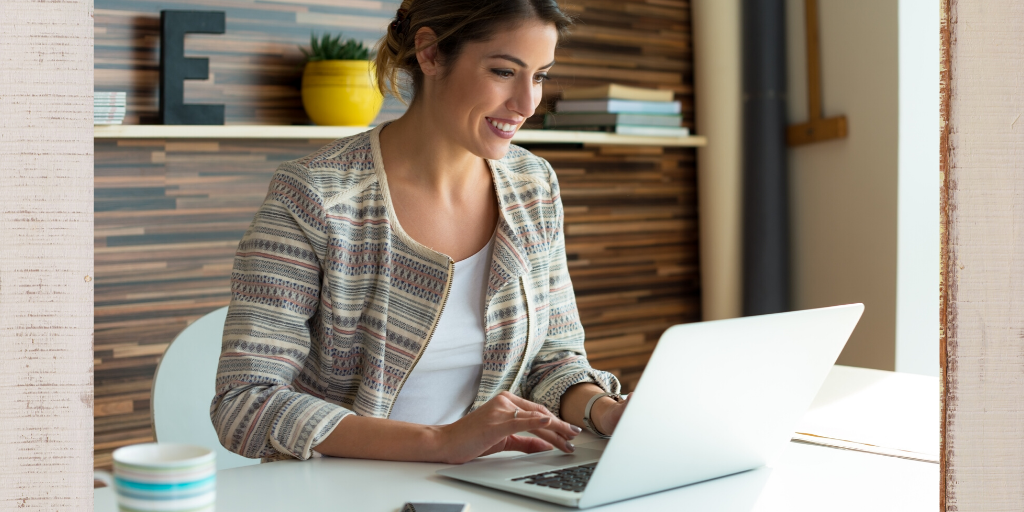 This review will be similar to the Wix review as there are some similarities between these two platforms. Thousands of people have chosen to build a website through Duda. This review will help you decide whether or not building a site through Duda is a good option for you.
Building Your Site with Duda
In creating a website with Duda, their templates allow you to make simple and easy designs. You can edit the templates to your liking by changing text, adding images, creating new pages, and even building your own widgets. While anyone can build a website through Duda, it is mostly tailor-made for freelancers and agencies who want to quickly build multiple sites for a client.
Duda Website Features
Duda's design features provide different ways to personalize your website. You can choose over 100 font styles to a built-in photo editor and you also have the ability to create your own widget as stated before. Duda also has a feature to help create a multilingual website along with a tool that enables you to send your visitor's customized offers based on their browsing history or the city they live in.
Multilingual Websites- Duda might be the best website builder for multiple languages.
Website Personalization Tools- This can be extremely beneficial as you can send specific messages to your audience based on their location and time of day.
Easy Drag and Drop Feature- self-explanatory
Backup and Restore- If you want to make any changes to your site then you can backup and restore if things go awry.
Ease of Use- The Editor
Duda's drag and drop design frees you from a lot of web coding and development. If you have skills with developing a website then you can customize HTML and CSS coding via Developer Mode.
With Duda, you will have access to templates with over 100 fonts, stock photos, parallax effects, and flat icons. You can also copy and paste elements into different parts of your site.
All changes happen on the screen right in front of you. For example, you can type to edit text immediately as opposed to being taken to another page to edit "behind the scenes." Editing your content can be easy and you can also add new sections such as a gallery, testimonial, or contact form.  You will be able to tweak border widths and background colors, replace images, and change menu layouts, all with a few simple clicks.
Templates
There are 100 templates within Duda that you can choose from when building your site. Their templates provide great looking websites that look professional and is a major reason why many people choose to build their site with Duda. Unlike Wix, Duda templates are structured so you can only make changes within the rules and guidelines of the template's layout.
The issue is that 100 templates are not much of a variety to choose from when you have so many people building a site through there. Fortunately, they provide you with the ability to make your own template from scratch. If you choose to use one of their templates, your site may look like a duplicate too many others being that they only have 100 templates to choose from.
The website builder I use is WordPress as it has over 1,800 templates you can choose from and over 100,000 available for purchase. You can build a free website with SiteRubix, which runs on WordPress.org. 
Website space and Allowable Domains
You can host one domain with Duda, so if you want to have more than one website then you are going to have to pay for their service.
Help & Support
Duda has a good support system that can help you in different ways depending on which price plan you choose. 
Here's a breakdown of what support comes with each plan:
Basic plan: Email
Team plan: Email, chat, and phone
Agency plan: Priority email, chat, and phone
Duda also has a help center for website owners regardless of the plan. There's also a Resource Center that holds webinars, marketing materials, product updates, and more. Duda also provides a live chat service for answering questions you may have to build your site.
Pricing
The price varies depending on the plan. Here is a breakdown of the price below:
| | |
| --- | --- |
| $14 | Basic-You can use your own domain and create multilingual websites. |
| $22 | Team-To build online stores with more than 10 products. |
| $74 | Agency-Create up to 8 websites with 10 team members. |
Ecommerce Add-ons: $7.25 – $39 per month, billed annually.
The image below provides details for what you get under each plan.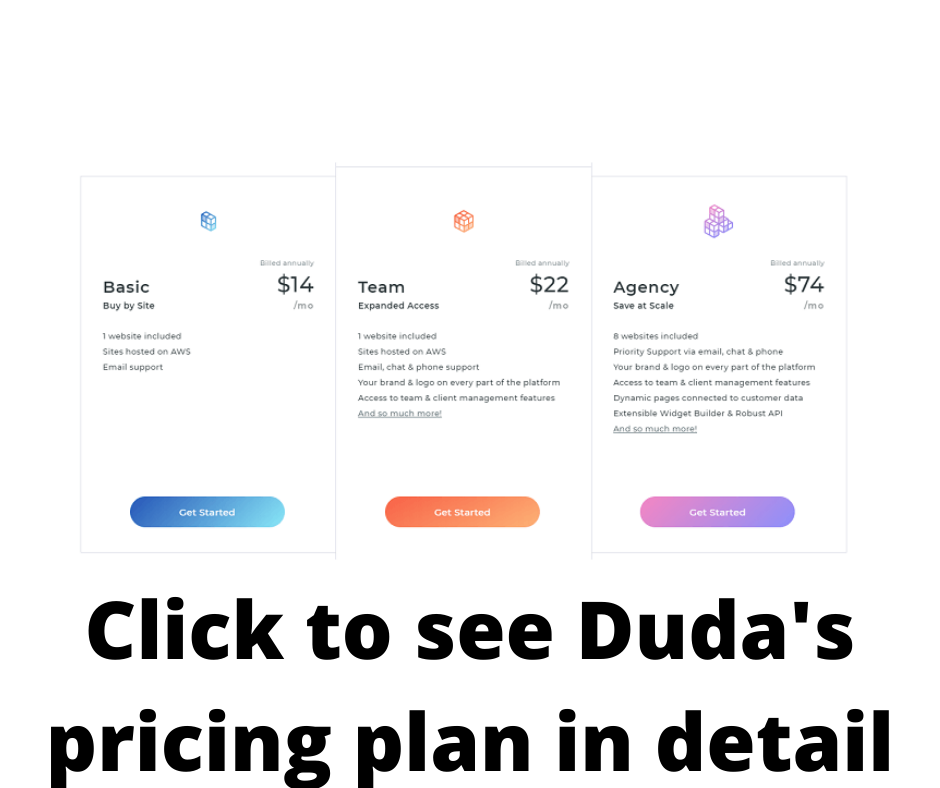 There are three eCommerce add-ons that you can choose from depending on how many products you are selling:
Standard: $7.25 per month – 100 products
Advanced: $19.25 per month – 2,500 products
Unlimited: $39 per month – infinite products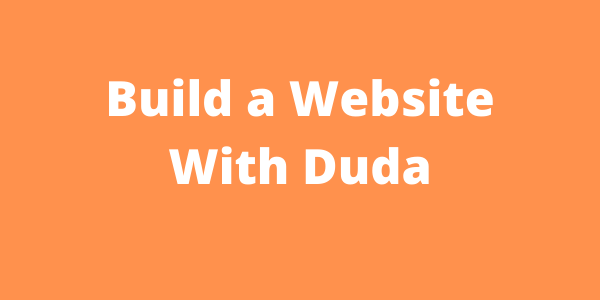 The features you will have access to varies depending on which option you choose. Their Team option at $22.00 a month doesn't sound bad, but you will only be able to host one domain. If you are looking to build more than one site then the price can begin to add up.
If you are most interested in blogging, my recommendation is to go with a program that will provide training and where you can host all of your sites in one place and under one plan. I use a platform that gives me access to 10 websites.
Click Here to get a free website
Free Training Includes:
 Understanding How to Make Money Online
Choosing a Niche( if you are not promoting a business or your own brand)
Building Your Own Niche Website
Setting up Your Website
Getting Your Site Ready for Search Engines
Creating Your Initial Website Content
Creating Custom Menus on Your Website
Understanding Keywords, the Start of Your Content
Duda Website Builder Review Conclusion
Duda is a credible platform when it comes to building a website. Although they are very popular in that aspect, there are still some major drawbacks. There is a reason why Duda is not the most used website platform in the internet business community (WordPress is).
Although you can make a beautiful blog, their tools are not as powerful, and it doesn't give you the same features as something like WordPress would.
Duda is by far a good option for building a website if you are a freelancer or want multilingual sites, but there are alternatives to consider depending on what your goals are for an online business.
Click Here If you are interested in blogging
Click Here If You are Interested in building an eCommerce Website which is equivalent to an online store to sell products you may have.
Even if you are an experienced internet marketer, there is always room to learn more. My top-ranked website builders provide training and support, the tools for building your business, the support of a community, and the ability to choose over 1,000's of templates and 10,000's of features to plug-in.
Company Name: Duda Website Builder
Website: www.duda.com
Features/Plugins: 70 Apps
Ease of Use: Moderate – Difficult
Templates:  100 to choose from
Help & Support: Technical, Webinars, Marketing Materials
Website Space/Domains: 1 within any plans
Price: varies
Overall Ranking: 77 / 100