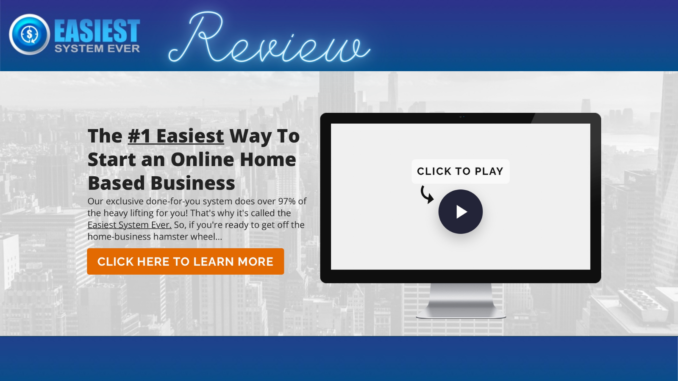 What is the Easiest System Ever: The Easiest System Ever is a program created by Dev Brown that helps beginners earn money with affiliate marketing. As an experienced affiliate marketer, I understand the inner workings of how the system works. So this Easiest System Ever review will break down step by step what to expect after investing in the program.
Easiest System Ever Review
If you are new to affiliate marketing, you should know there are a variety of ways to promote affiliate products. You can use social media channels like Facebook, Tik Tok, Instagram & Youtube. You can run ads on search engines like Bing, Yahoo, & Google. You can also build a website and learn how to get free traffic to your affiliate offers. Then there is another method of running ads which is called Solo Ads.
Whichever method you apply, the fastest and cheapest way to build an email list through advertisements comes in the form of Solo Ads. I first learned about Solo Ads from Igor Kheifets who claimed that things changed for him once he applied this method of building a list to promote affiliate products. He now earns well over seven figures from his affiliate marketing business.
So the Easiest System Ever basically provide done for you lead capture and bridge pages to build an email list using Solo Ads. After building your list it sends out emails to affiliate products that will be intriguing to your leads.
Before going further, my Ultimate Guide shows a step by step strategy I use to make close to $2,000 weekly using this strategy with Microsoft Ads. The Ultimate Guide also goes in depth explaining the differences between Solo Ads and traditional traffic sources like Google and social media.
What You May Want To Know
While there is a couple of not so positive reviews regarding the Easiest System Ever, there are mostly straightforward reviews that details why the system is not a scam. However, before signing up people may not be aware that they would need to invest in more than just the Easiest System Ever for it to work.
If you've been reading then you should already know that you will need to invest in Solo Ads to build your list and promote affiliate products. You will also need to invest in Aweber which is the email marketing software they use to send out emails to your list.
The Aweber system is free for your first 500 contacts so you won't have to initially come out of pocket for it. Although the system is done for you, you also will need to learn what affiliate products would be best to promote. From experience, the online marketing niche does best with Solo Ads. With that said, your ROI will likely depend on the niche for the affiliate products you promote.
12 Minute Affiliate System
The Easiest System Ever used to be referred to as the 12 minute affiliate system. The logic behind the name was that it promoted itself as a profitable affiliate business that you can have up in running in as little as 12 minutes. Anyone that knows affiliate marketing knows you will need much more than 12 minutes to get a business started.
Although the sales pitch might not be forthcoming on further investments necessary to use the Easiest System Ever, it will provide the fastest opportunity for beginners to make money with affiliate marketing.
It takes time to learn how to use social media or build a website to make money with affiliate marketing. Facebook is a platform plenty of affiliate marketers have success using to promote affiliate products. However, your account can get banned if you don't know what you are doing.
Before getting into the how much the Easiest System Ever costs, you should take into account that it would be wise to have an extra $300-$500 to spend building an email list.
How Much it Costs to Have Access to the Easiest System Ever?
It costs $997 to have access to the Easiest System Ever. The total cost is $4,997 but you don't pay the remaining balance until you are in profit and have your first $5,000 month.
Once you join you will receive the following:
Done For You Affiliate Sales Funnels
Professional Done For You Email Follow-Ups!
Traffic from their trusted Solo Ad providers
Ultimate Success Library with some of the Internet's top personal development training
16 Ways to Get Free Traffic
Hot Product Promos that can earn huge commissions of $500 or more
100 Free Visitors that might produce your first sale
Private FB Group where members share their success stories
Private Group Coaching
Free Vacation just for completing steps in your quick start checklist within 24 hours of joining
If you are looking for a quick way to make money online without blogging or learning social media strategies to promote affiliate products, then the Easiest System Ever can be a good option for you. However, as you can see from the list there are lessons provided that would be a good idea for you to utilize.
The 16 Ways to Get Free Traffic can be helpful to learning ways to maximize your earning potential with the Easiest System Ever. As you become more advanced you can get free traffic and create custom affiliate funnels.
The $997 investment would also be an easier pill to swallow with a free vacation. If it is truly an $800 value then it should pay for a round trip flight and hotel. This could be killing 2 birds in one stone if you want to make money online and go away in the near future. I must mention that having a profitable online business can be the start to many vacations.
Personally, I would be upset and want a refund if I can't get my free vacation, but with a free vacation I would look at it like it cost $200 to get started. Not a bad investment for something that can make me thousands a month in the future.