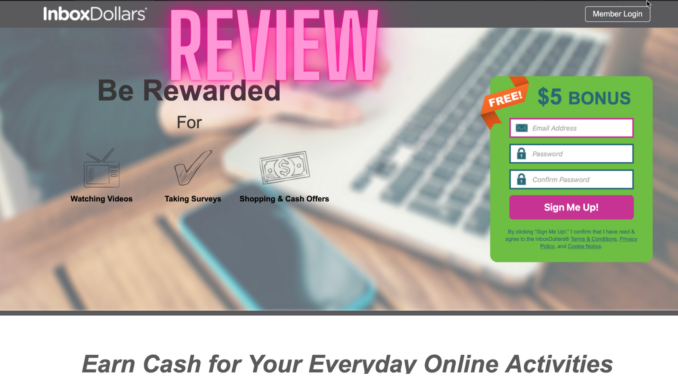 Inbox Dollars is a site where you can earn from doing surveys, watching videos, playing games and more. By participating in these tasks, you will earn a set dollar amount which makes Inbox Dollars easy to understand how much you get paid per task.
Most sites like this have a point system for redeeming rewards and some don't even have a point system equal to dollars. That can make it hard to judge how much you are actually getting paid for your activities.
As you might be interested in make money online this site can help put a lil extra money in your pockets every month. However, If you are looking to make a lot of money online then you would be wasting your time here.
Me, I prefer to make real money that can pay the bills and provide a better lifestyle. If that is something that sparks your interest then sign up below to get the Ultimate Guide to Make Money Online.
In getting back to Inbox Dollars, this comprehensive review will reveal the following.
How Much You Can Earn Doing Their Surveys
How to Earn Cashback for Shopping
How Much Can You Earn from Watching videos
How Much Can You Earn From Playing Games
This is just some of the questions that will be answered in this comprehensive review of Inbox Dollars.
How To Make Money With Inbox Dollars
There are multiple ways to earn at Inbox Dollars. With that said, it is important to judge which activities is worth your time or not. So let's answer those questions from above!
How Much You Can Earn Doing Inbox Dollars Surveys
Surveys are updated and offered on a daily basis. You can also get email notifications of theses surveys if you opt in.
At the time of this review, there are 10 surveys offered that pay on average $1.03 and takes an average completion time of 14 mins/40 secs. Guess I could have rounded it to 15 minutes which would result in you earning a lil over $4 an hr.
Some sites like this offer higher paying surveys or the ability to rank up the more time you invest in it. In searching on Inbox Dollars official website, I did not find any details about eventually being offered better surveys for your time and effort.
However, sometimes they send emails that offer higher payouts for surveys compared to what you might see on their official website at the moment.
CashBack Incentives for Shopping
You can get CashBack for things you might be interested in along with basic grocery shopping needs. A brief list of Stores and Services you can get CashBack Incentives for includes.
Ace Hardware
AAA AutoClub
Abbe Glasses
Adagio Teas
Air France
Adidas
Aeropostale
Airport Parking
AliExpress
Alo Yoga
You can also get CashBack when clicking on their magic receipts option and uploading receipts from stores like Targets, Whole Foods, Acme Markets and Costco. You can upload receipts for things you need like milk and eggs to toothpaste, batteries, and Hennessy for the alcoholics.
How Much You Can Earn from Watching Videos on Inbox Dollars
There are a few videos you can earn for watching but the payout is between 1-2 cents. It would not make sense watching videos unless they email you one that is worth your time.
The chance of that happening is low as I have only gotten higher offers presented for their surveys. Videos consists of financial news, news in general, lifestyle advice, and gossip news in Hollywood. If you want to get in on the news or gossip then you can earn a cent or two for watching.
If you are using Inbox Dollars strictly for helping your finances then you might want to invest time elsewhere. Unless you just let the videos play while you are doing something else.
How Much Can You Earn For Playing Games
This section is where I can't give an exact estimate for how much you can earn for playing games. They offer different games you can play online like Solitaire, Giant Hamster Run, and CandyJam. If this is something you do anyway then you can earn prizes for doing so.
Guess that makes the game a bit more fun if the prizes turn out to be at least a buck or two. I have a feeling it will be a few cents. I'll play a game of Solitaire eventually and update this part.
How Much You Can Earn from Searching the Web
You can search the web through Inbox Dollars and be eligible to play a scratch and win. This happens when you enter 4 search terms.
The more you search the higher the payout potential becomes for these scratch offs. They explained this in a way that's a bit confusing, but to my understanding, after you do 4 search terms you can play a scratch off with a $10 prize.
You can continue searching and instead play a scratch off with a $25 prize. You can search even more and play a scratch off with a $100 prize. Whichever one you choose will be the only one you can play before you have to search the web all over again to be eligible for any scratch offs.
They claim your chances of winning are higher if you search naturally instead of randomly entering search terms. You also get a 5 cents bonus for searching the web through Inbox Dollars 4 days out of the week.
Inbox Dollars Also Offers Coupons as a Way to Save Money
If you combine coupons with uploading receipts you can really save on your shopping expenses. They offer a variety of coupons that give between $0.50-$4 off of things like shampoo, deodorants, and snacks.
If you don't have a printer connected to your laptop, you can send these straight to a store like Staples(staples@printme.com) or Fed Ex(printandgo@fedex.com).
Make Money Referring People to Inbox Dollars
The most passive way to earn with Inbox Dollars is by simply sharing your referral link and inviting others to join. You get a $1 cash bonus plus 30% of their lifetime earnings.
If your referrals actively participate on this site then you can make a nice piece of change every month. The example they give is "If Billy earns $15 this week, you'll earn $4.50 of it. The more friends you refer, the more you'll earn."
Extra Offers You Can Participate In to Earn
You can sign up for a stash account, start delivering for Uber Eats, or set up an account with Chime and get direct Deposit to earn extra money. You can get $150 bonus I believe after your 1st Uber Eats Delivery.
That got me thinking of making 1 delivery and calling it quits.
Payments
There are two options to receive your earnings from Inbox Dollars which is detailed below.
Gift Cards
You must accumulate $15 before requesting payment.
There are a variety of gift card options you can use to cash out. For more details regarding the kinds of gift cards to expect you can check out the image below.
Is Inbox Dollars a Scam or Legit Survey Site?
Inbox Dollars has been in service since 2000 and has awarded more than $59 million to their members. They also have a mobile app available for you to easily perform surveys and other tasks directly from your phone.
With its history in business, Inbox Dollars would not be around if it was not legit. However, these survey sites always have a scam-like feel due to the constant emails flooding your inbox. To keep your main inbox clean you should create a special email address just for survey sites.
Conclusion of This Inbox Dollars Review
Ultimately, the earning potential is low with these kinds of sites so you will have to choose the best method to make it work for you.
If you want to learn how to make money online with a huge payout potential:
Click Here to Learn the Best Way to Make A Passive Income Online.
Click Here For a Review of the Best Survey Sites.
Hope this article provided clarity on what to expect with Inbox Dollars and if you have any questions feel free to leave a comment below.