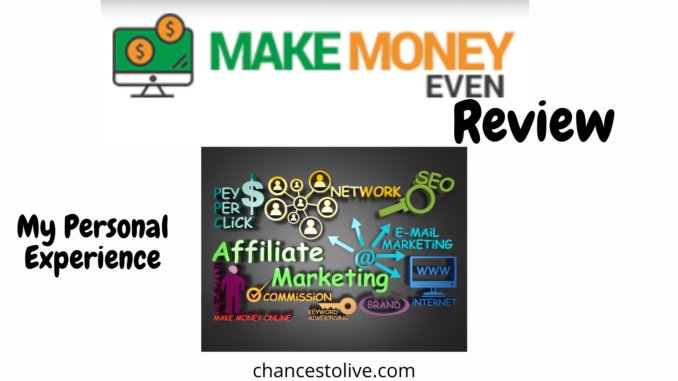 Make Money Even Review: In researching opportunities to make money online I recently came across a site called makemoneyeven.com. When I looked at reviews regarding this I noticed that none of them were authentic. I don't provide reviews about a program after researching and feeling as if I still don't know what it truly has to offer.
So I invested in Make Money Even to provide an accurate review and let you know what to expect if you join. From my experience of making money online and writing reviews of different opportunities, I can see that one person wrote a review based on what they seen about their compensation plan.
All the reviews you will see are basically duplicates of what one person had written that are rearranged in a different way. The compensation plan has somewhat of a pyramid structure so most reviews will refer to this as being a pyramid scheme.
However, this is not a pyramid scheme and has more to do with affiliate marketing which is a legit way to make money online. So to let you know what is makemoneyeven.com about, this review will answer the following questions you may have.
What will you learn from MakeMoneyEven.Com?
How Much It Costs to Join Make Money Even?
How Much Can You Earn by Joining MakeMoneyEven.Com?
Is Make Money Even a Scam Or Legit Money Making Opportunity?
So let's get straight to the details.
What Will You Learn From MakeMoneyEven.Com?
After joining MakeMoneyEven.Com I was taken to some basic training on affiliate marketing. There are different sections into the training which I will break down 1 by 1.
Affiliate Sales Profit Overview
The training starts off with explaining how to make a sales page with a Youtube Video. You basically give a testimonial about a particular product and why you would recommend it. If you are not comfortable with making videos there is a way you can outsource it for $5 and get someone to do it for you.
To get people to your sales page with the video, you will need to create an ad on Google. The training also details how you will need to create an Adwords account to retarget visitors that landed on your sales page. It's at that point where you will create an ad that takes visitors to a landing page you create.
How To Write Killer Ads Overview
This brief video training details what you need to do for making Ads that convert. It is explained in theses 5 steps.
Grab Attention
Motivate
Inform
Re-Motivate
Direct Action
Master Exploding List
This goes over how to build a list of 10,000 subscribers or more in 30 days. It shows you how to do so by building Facebook Groups for different niches. This training details what content to put in your group, how to engage with your audience, and how to get traffic for building your list fast.
How Much It Costs to Join Make Money Even
It costs $10 to join and get access to some basic training. I know it would be amazing to have full access to the training I detailed above.
If you are serious about learning these strategies, you will have to invest in their VIP Membership priced at $200. There are other things they promote on their page in their menu section called affiliate opportunities. This will take you to other sites where you can learn more about affiliate marketing to grow your business.
However, you should just stick with the training portion in the Make Money Even platform. Joining different programs at once can be confusing especially if you lack experience with making money online.
After gaining experience and recouping some of the money you used to invest in MakeMoneyEven.Com, I would then advise to expand your knowledge and invest in other programs.
How Much Can You Earn After Joining MakeMoneyEven.Com?
You will earn $5 if you recruit someone into this program that pays $10 for a basic membership. If someone pays into the VIP membership there is a potential to earn $50. However, this will only be earned if you are a VIP member yourself. If you are not a VIP member then the $50 will go to your sponsor.
You will also have an opportunity to earn from whoever your referral's recruit. This is why it gets a rep as a pyramid scheme, however there is nothing wrong with earning more from your referrals recruiting people into a legit business opportunity.
The training at MakeMoneyEven.Com will teach strategies to promote all kinds of affiliate products to make an income instead of just promoting their platform.
As mentioned before this is geared more towards affiliate marketing, and it is not uncommon for affiliate marketers to join a program in order to promote it. The thing is, most affiliate programs don't provide a way to earn extra money off your referrals like Make Money Even does.
Is Make Money Even a Scam Or Legit Business Opportunity?
Make Money Even is not a scam although their methods and how they persuade people can be misleading. They make it seem like you will make money on your first day which is not possible.
They also make it seem as if you will learn what you need to know by investing $10, however no affiliate marketing training will be priced that low and offer everything.
The $10 you pay is just to give a taste of what's to come, but I can't knock what they have to offer at just $200. There are plenty of programs that cost $1,000s and might be unaffordable for some people looking for a genuine way to make money online.
I have no doubt that you can make money by investing in Make Money Even if you utilize the strategies that are taught.
In the beginning of my online journey, I started with a different 4 step strategy that is explained in my Ultimate Guide To Make Money Online. To give a brief detail of how I got started, I built this website to make money with affiliate marketing.
A website can be a major source of free traffic if built correctly and if you have interest in starting a blogging career, Click Here For My Number 1 Recommendation.
Now building a website can be a slow and gradual process before having results with free traffic, but your earning potential in the long run can be much higher than those who choose to start affiliate marketing without a website.
Although you might be able to make more in the long term, learning affiliate marketing with Facebook Groups can provide faster results. As mentioned there are multiple ways to make money as an affiliate marketer and this is not a bad way to get started.
However, you will also need to invest in advertisements but if you know what you are doing then you should recoup the money you spent on ads.