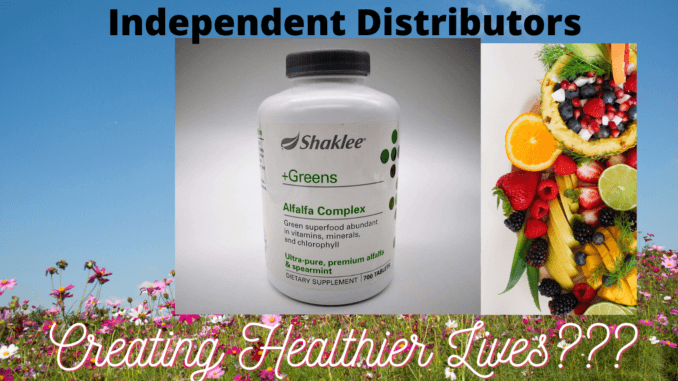 If you have come to this page then there is a chance that you have been approached by a family member or friend in regards to an amazing business opportunity to earn money marketing health and wellness products.
The truth of the matter is that you have been presented with this opportunity by someone you know because the best chance to earn an income within Shaklee comes from recruiting others to join. That fact leads to all MLM companies being labeled as pyramid schemes, but I will not label Shaklee as such. That is due to the fact that it is possible to make an income from selling the products they offer.
So to know whether or not this business opportunity is right for you, this post will provide full details on Shaklee and all it has to offer. I must share the fact that I am in no way associated with the company and I am in a position to share this review with you because I have past experience with another MLM company called World Ventures.
As I have strived to make a passive income in the past within that MLM company and other past business failures, I have found success with internet marketing which is the best way to go about marketing products in general.
MLM companies will turn you into that annoying friend that harass everyone you come across to join or buy your products.
It's a known fact that there is a low success rate for members within Multi-Level Marketing Businesses and if you consider joining it would be in your best interest to learn everything you can regarding marketing online to reach a wider audience instead of being limited to the people in your circle.
If you want to learn how to make money online for the best chance of establishing a passive income and live a more free lifestyle, subscribe and get weekly content and a 7-day course for making money online. 
Ok now lets get to the review of Shaklee and see if it's the right opportunity for you.
Shaklee Review
Based in Pleasanton, California, Shaklee is one of the oldest multi level marketing companies around as it was established in 1956. Shaklee distributes natural nutrition supplements, weight-management products, beauty products, and household products.
Forrest C. Shaklee (1894–1985), was a chiropractor and nutritionist whom created the first vitamin in the United States labeled "Shaklee's Vitalized Minerals" in 1915.
Membership
Getting started with Shaklee will cost $49.95.
This will provide you with distributor tools and your "online store" for 3 months, or you can try the "Prove It" challenge and pay an additional $159. Of course the higher priced option is referred to as the best way to get started.
Additionally, you will have to pay $276-$1,000 for a "success pack" with a bunch of additional products for you to try yourself or sell if you are serious about their business opportunity.
The costs do not end there as you must meet a sales quota of 100 pv a month which equates to $150 needed in monthly sales.
If you cannot sell that much in a month, then you will need to purchase the products yourself.
Compensation
Most MLM's compensation plan doesn't make any sense and Shaklee is no different. There are 8 ways to make money, but 7 out of the 8 requires recruiting so you can say in reality there are only two ways to earn as a Shaklee distributor.
So…
As to provide a thorough review, lets act as if I didn't mention that above as we get into the 8 ways you will supposedly earn in being a member of Shaklee.
Gold bonus (recruit someone who purchases the Gold Pak or the Gold Pak Plus and earn $50 or $100)
Power bonus (accumulate 15 power bonus points by recruiting loads of people to earn $150)
Price Differential (Direct sales commission of 16%-36%)
Personal group bonuses (4-20% bonus of generated sales by your downline)
FastTrack program (get promoted quickly by recruiting loads of people to earn more bonuses)
Incentives (get special trips when you earn loads of group volume points… only possible by recruiting people and building a team)
Car bonus (3000 PGV points to get $250 monthly bonus for a car)
Leadership bonuses (3-6% bonuses for the PGV of your downline if they are a "business leader")
Pros
Been around for a while: As mentioned earlier, this company has been around since 1956 which means you shouldn't have to worry about joining an MLM that is susceptible to shutting down compared to newer network marketing companies.
A lot of products: There are a variety of things to sell with Shaklee as they have over 200 different products you can promote. 
Good tools and support: Shaklee offers a bunch of training and tools to help distributors.
Cons
I have never come across a network marketing company I would recommend. That is due to the fact that most people fail because they are not taught updated marketing skills to keep up with the times. Being that this company is so old, it's likely that their marketing strategies will not put you in the best position to succeed.
Pricey Most MLM's are pretty inexpensive to join but when you combine the cost to get started, the expensive packs, and the monthly sales quota it can start filling like an extra unnecessary bill if you are struggling to sell their products.
Low success rate:  The chance for success is small as almost everyone who joins a Multi-Level Marketing business ends up failing.
Damages Relationships: Another terrible thing about MLM's is that they teach members to sell or recruit to friends and family. This can and has ruined relationships in the past. 
Conclusion
Shaklee is one of the better MLMs to consider joining since they been around for so long, but I would not recommend this business opportunity if you are an inexperienced marketer.
There are plenty of opportunities to make an income online which will require less work and can eventually replace your day job. For a chance to make a passive income to change your life for the better…
Click Here for a list of ways to make money online

or Click Here for My Number 1 Recommendation to start making money online
If you have any experience or have used any of Shaklee products, feel free to leave a comment in the section below.