Solo Build It is a platform teaching online beginners how to build a website and promote products through affiliate marketing.  Let me start off by saying that Solo build It is not a scam and they actually offer training at a very decent price.   Solo Build It helps individuals new to online marketing choose a niche which can be very difficult to decide on when building a site.  Keywords are important to driving traffic and email marketing is a tool used for building relations with potential clients.  Basic understanding of these aspects for internet marketing is essential to a successful online campaign.
Social media is also important when it comes to internet marketing, and Solo Build It is aware of this with training videos included in the package.  While there are some intriguing aspects to make individuals want to join Solo Build It, the program has had it's share of negative reviews.  I will not write anything negative about a company I have not joined, but some things need to be taken into account.  Before getting into the negative reviews that is almost impossible for any company to avoid, and I say that because like I said Solo Build It Is Not a Scam, lets take a look at the reasons to join.
Pros
90 day money back guarantee
great for beginners
step by step training
Action guide is broken down into a day to day planner
Has recently started offering the option of WordPress sites
has a community forum for support
does offer technical support
is responsibly priced if only one domain
Cons
The price of $29 a month is for each domain you registrar
Same for Yearly $299 per domain per year
Site limited to 500 visitors a day / above you are required to pay more
Community Forum is not active with actual professional marketers
No help from Ken Evoy, founder and Chairman of the Board of SiteSell
Alexa rankings shows that SBI sites gets more traffic than sites built through WordPress.  The problem with Alexa rankings is that many people are misinformed as to how Alexa works and what is Alexa's purpose.  Some individuals go around the Internet boasting an Alexa score as some sort of indication as to how well a website ranks in Google or how it reflects their website success.
However, Alexa rank has no correlation to SEO and how well a site gets indexed.   So if someone tells you that Alexa means something and tout it as a reason to join their service, you should think twice before joining.  I have written a whole review on Alexa if you want to learn more.
Reviews of Solo Build It indicates that this platform is great for beginners opposed to people looking to progress and become advanced within online marketing.  Some of these reviews have been written a few months ago, but there is always a chance that they have upgraded their training material since then. They have recently started offering the option of WordPress sites, and programs like this are usually doing things to keep up with it's competition.  Speaking of Competition, Wealthy Affiliates is a platform that has helped countless individuals succeed within online marketing.  Click Here to learn More
While I will not claim that Wealthy Affiliates is better being that I have never tried Solo Build It, it is quite possible that you can end up earning an income online with either program.  I will say that through the training at Wealthy Affiliates, there was not much emphasis put on specific niches to choose which is huge in online marketing.  You can pick a niche or passion, but that does not make it a highly profitable niche, and people starting off with the intention to build a substantial income online through affiliate marketing should have a better understanding of that.  Here are the things you will get through both programs.
Plan Your Work
Domain Name and Hosting
Design and Build Your Site
Engage Your Visitors
Turn Traffic Into Customers
Know Your Metrics
Market Your Business
Grow Your Brand
Master Online Marketing
Support Included
Your Site Is Secure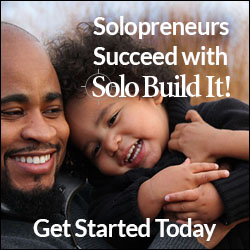 While the price may be a little cheaper to join Solo Build It, the price you pay is just to have one site hosted through their program.  With the Wealthy Affiliate membership you can have up to 20 websites hosted for free.  The members forum within Wealthy Affiliates is very active and you will actually get help from the owner himself along with other experienced online marketers.  Negative reviews of Solo Build It claims the members forum is not very active and you will not get any help from Ken Voy whom created the program.  Despite some of the negative complaints, there are plenty of people that have been satisfied with Solo Build It and they have over 92,000,000 websites which indicates they must be doing something right.  With emphasis put on researching your niche before building your site, that is an essential aspect that  Solo Build It have over Wealthy Affiliate.
If You are interested in learning how to be a successful online marketer
However, I would suggest reading my review on Wealthy Affiliates and researching money making niches before building your official website. You will have excellent training and support from many experienced internet marketers, including myself in the WA platform.
Solo Build It
Price

Training

Community Forum

Website Hosting
Summary
Solo Build It offers good training for online beginners, but there are question marks in how far you will progress within this program.  The price is relatively cheap at $299 while offering decent training to help newbies build a successful online business.  In only being able to host one site the price would be double if you have aspirations of building more than one.