The My Lead System Pro Review
My Lead System Pro launched in 2008 and was co founded by Norbert Orlewicz and Todd Schlomer. It is an mlm company, and like all mlm programs you will have the opportunity to pitch for people to join in on the My Lead System Pro for financial gains. The owners claim that you will not get rejected by individuals you try to promote this to. They advise that the system will teach you to look at yourself like a professional in order to attract sales.  From my years of experience in online marketing I can tell you that earning an income is not easy, and for most it usually takes time and patience.
The My Lead System promotes itself as a lead generation for any online business you may have, but it is primarily forcused on other multi level marketing companies.  The MY lead system pro claims you can make money with little effort as its engines drives leads to your primary business.
They advertise their program as the fastest way to build your chosen MLM business and earn money along the way by enticing others to pay for entry and monthly fees of the MY Lead System Pro. The best option may be to target other individuals in your mlm business that may be struggling to join in on the My Lead System Pro.
Membership
Membership packages for the My Lead System Pro is detailed in the image below.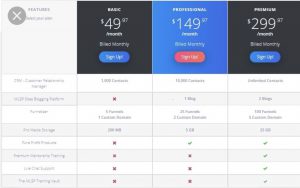 With the three packages offered you will not get much out of the basic which is priced at $49 a month. The My Lead System Pro encourages members to join at the professional package for $149 a month or jump into premium if you can afford $299 a month.
Products
The My Lead System has 3 main products that they entice their members to promote.
1. Promoting training and marketing materials that the My Lead System Pro offers
.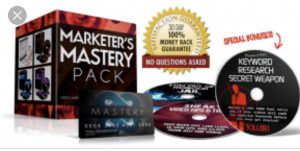 2.The product is also the My Lead System Pro in itself.  Simply by referring members to join the My Lead System Pro will earn you an income. Getting others to join can result in a residual income, or what they term continuity revenue.  Unlike other mlm companies that  I have joined in the past, you still have to pay monthly fees even after getting others to join which takes away from the money you make.
3. High Ticket Items that will require a lot of work to sell in order to earn the advertised $1,000 profit from each sale.  It will take an experienced online marketer to make money with this.
Support
The My Lead System actually offers good support if you pay the premium membership at $299 monthly. You will be able to get live support and contact more experienced members if you have any questions or need help.
Final Thoughts
In being involved with World Ventures in the past, I can state that mlm opportunites is not meant for the majority of people to be successful.  When I was a part of World Ventures I attended a seminar, and a speaker at the seminar said the percentage of people that are successful in World Ventures is around 20 percent if I remember correctly as it may be lower.  It depends on what mlm you join, but the percentage of those who have success is even lower than that when talking about mlms collectively.
The My Lead System Pro is unique due to it being an mlm business that mainly focus on building an MLM business you are already involved in.    There is certainly some professional graphics that were created and decent training with nice lead capture pages (landing pages).  While they have certain products you can sell, if you're promoting and selling products (with no residual income, one-time sales) you're not promoting your primary business.
With mlm opportunities you must rely heavily on recruiting others to join for financial gains.  The prices to join in on some of these mlm opportunities is ridiculous and not the average person will be able to afford joining such programs.  Good luck trying to get people to dish out $149 a month or the even higher rate at $299 for the My Lead System Pro.
If you want to build a passive income I would recommend you click here for my review of Wealthy Affiliates, an MLM without the Facebook stalking, 3-way calls, and autoship. Welcome to the future, network marketing, it's about time. Wealthy Affiliate is an affiliate opportunity for people who want some solid digital marketing training, and they've even got a free trial option.
I do not even categorize Wealthy Affiliates as an mlm opportunity because it teaches everything you need to know in regards to making money through online marketing.  Despite my best efforts into being a successful World Ventures representative, I do not like the fact that your success depends on other people.  I would like to know that if I work hard and with time and patience I would eventually get the results I expect.  I lost over a thousand dollars paying initial fees along with monthlys to World Ventures.  If the people you sign up struggle and fall out it also effects your earnings.
From experience, if you are struggling with an mlm business you are involved in it would be wise to get out instead of investing and potentially losing more money than you may have already lost.
If you do not have a mlm business and you are looking to increase revenue to an existing business you already have:
Click here for options on how to grow your existing business
I hope this review of the My Lead System Pro has answered any questions you may have had in regards to the program.  If you have ever joined My Lead System Pro, feel free to share your experience in the comment section below.