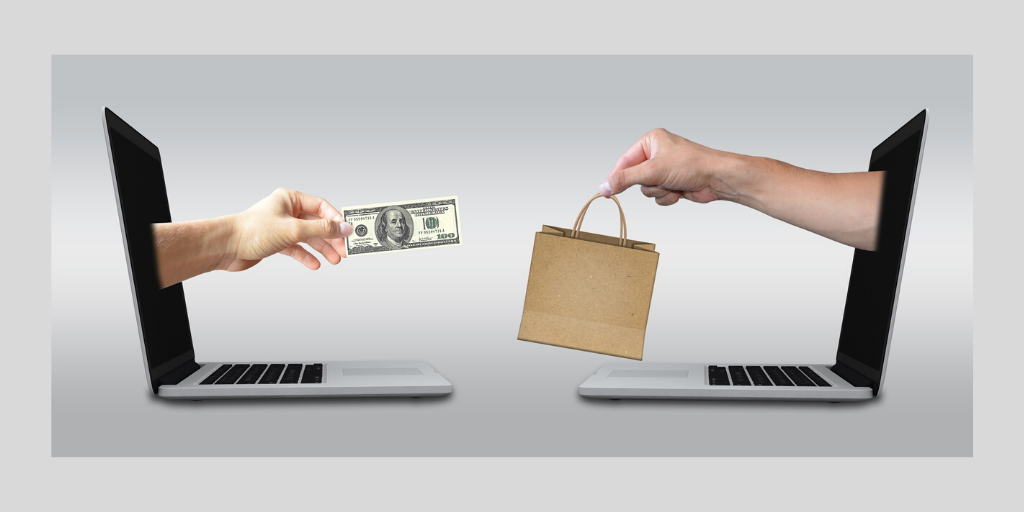 Weebly Review: Weebly is a popular program for building a website with more than 50 million sites being built through there. Weebly is the best website builder for mom and pop shops that want to quickly build an online store for their place of business.
While this might be the solution for an online shop, Weebly has recently been in a state of transition between two editors which is the Weebly editor and the Square editor. The Weebly editor is for blogging websites. It's the "old" editor which is easy to use and customizable. The Square editor is for ecommerce websites.
Weebly Website Features
If you want to build a website, Weebly has some features to help you accomplish that. These are some of the features that may interest you:
Two different editors (one for blogs and one for eCommerce)
Shopping carts and payment features
Ability to add video, image galleries, slideshow
Backups 
Ability to create a free trial site
A visitor statistics tool is available in the free plan. More detailed statistics are included in an upgrade. 
Ease of Use- The Editor
In using the Weebly editor, they have an easy drag and drop feature that allows you to place images or videos in different sections.
Unlike Wix, their templates are responsive so the images you add will automatically align perfectly to a mobile site.
The Square Editor does not have as many features but it is simple and easy to use. The simplicity of this editor is the reason why it is a great option for small business owners that want to get an online store up & running as soon as possible.
Below is an image from the Square Editor
Templates
Weebly offers around 70 templates which are less than Wix.  Their templates provide great looking websites that look professional and is even considered to be better than Wix. Unlike Wix you won't have the creative freedom to place images or videos anywhere as their templates are structured. That means you can only make changes within the rules and guidelines of the template's layout.
The issue is that 70 templates are not much of a variety to choose from when you have millions of people building a site through that platform. I would recommend you to look into Mojo Marketplace for a wider template selection. Weebly themes cost around $49 there.
Another thing that might be frustrating is that the free website you build will have a Weebly promotion in the footer and doesn't come with a proper domain name. Although it is a free site, there are alternatives in platforms such as SiteRubix that offers great websites without ads.
SiteRubix runs on WordPress.org. WordPress has over 1,800 templates you can choose from and over 100,000 available for purchase. BUT… if it's about choosing what's best then Weebly is a better option for quickly building an online store. WordPress is more complex and would take more time to get an online shop up and running.
Website Space & Allowable Domains
Weebly's free plan allows storage of up to 500 MB. Files can not go over 10MB for the free plan or 250 MB for the Professional plan. Opposed to that there are no restrictions on storage space.
Domain names are free the first year. From then on you will have to start paying $19.95 every year. You can register your domain name for longer periods to get a better deal. However, some of the domain name extensions they offer are more expensive (e.g. .co.nz or .co cost $39.95 yearly
Help & Support
With the editor being so simple and easy to use, you will probably not need much support compared to some of the other website builders. But if you happen to have a problem they do offer email and live chat support.
Weebly's support system has gotten better over the years as it must cater to a growing clientele. You can reach the support team in three different ways: 1) support tickets, 2) live chat, and 3) phone. Support tickets are answered 24/7.
Pricing
Weebly offers a great free plan but there will be certain limitations. The free plan does not come with a domain name and will have an ad placed on the footer of their site.
| | |
| --- | --- |
| $6 | Personal-Connect your site with a domain name, but the Weebly ad shows in the footer. |
| $12 | Professional-includes additional features such as video and audio players and phone support. Ad-free. |
| $26 | Performance-Comes with additional eCommerce features for larger web stores. |
The prices are relatively cheap compared to some of the alternative website builders
The image below provides details for what you get under each plan.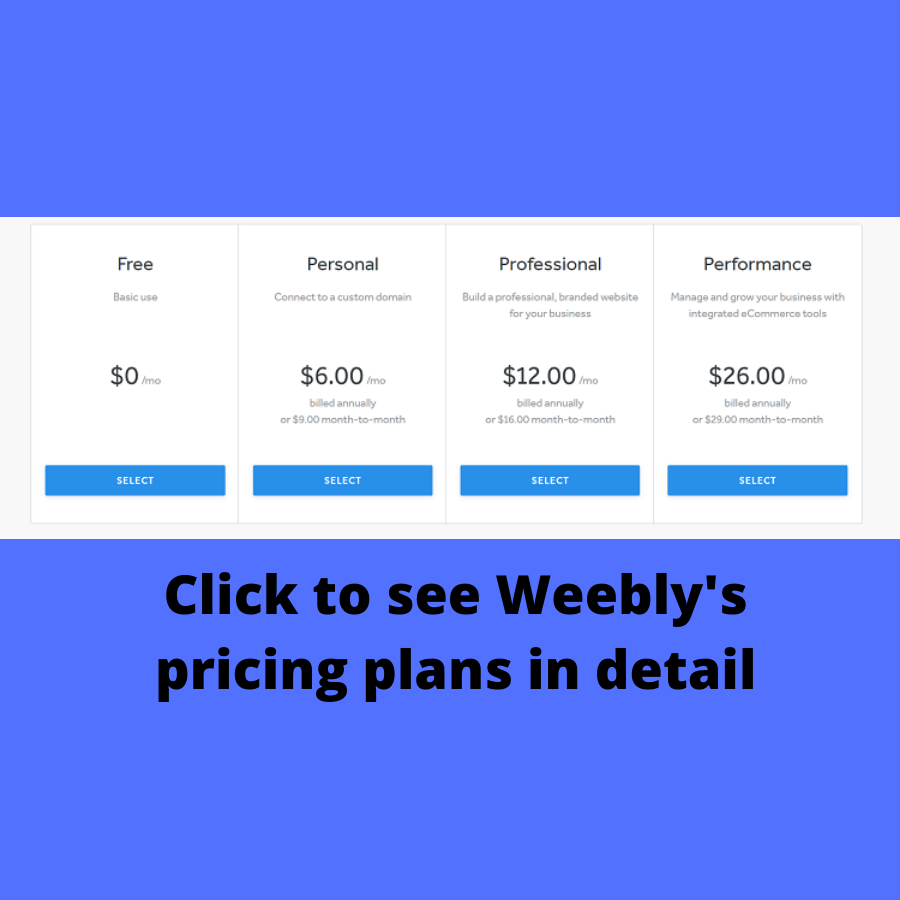 These are the prices if you sign up for the full year. Monthly prices are slightly higher. There are also six month and two year options in paying for Weebly.
Of course you will save more by choosing longer term options. The features you will have access to varies depending on which option you choose. 
While Weebly offers a great platform if you are looking to build an online store, I would not recommend Weebly if your priority is to become a successful blogger. If you are interested in blogging I would advise you to go with a program that will provide training and has a community of successful bloggers to help you along your journey.
Free Training Includes:
 Understanding How to Make Money Online
Choosing a Niche( if you are not promoting a business or your own brand)
Building Your Own Niche Website
Setting up Your Website
Getting Your Site Ready for Search Engines
Creating Your Initial Website Content
Creating Custom Menus on Your Website
Understanding Keywords, the Start of Your Content
Is Weebly the Best Website Builder
Weebly is great to sell physical and digital products for small and medium-sized shops, but maybe not for huge ones. You can even start an online store for free, but not having a domain name to match your business will result in having a website that will not be the best for a professional online store.
Weebly offers you the option of fine-tuning your site by using HTML CSS, and it also exports it for editing elsewhere, so Weebly isn't only for beginners. It also offers a variety of subscription levels, including ecommerce plans.
To get the most out of their Website Builder, I recommend you try their free site to get the logistics of building a site through Weebly.