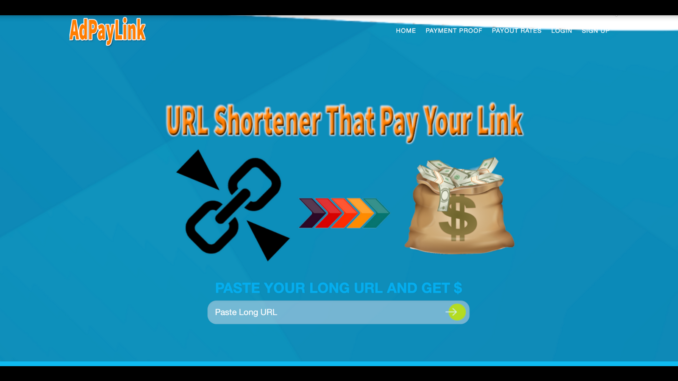 What is AdPayLink About: Adpaylink is a site you can go to for shortening urls to get paid when someone clicks on a link.
There are multiple sites like this that you can go to for shortening links to earn per click.
Now this might seem like an easy way to make money online, but there are reasons why I would not recommend url shorteners as a main strategy to make an income.
Url shorteners are best used if you have a website or know how to market on social media.
However, this method of earning online is a bit outdated and use to be easy when forums allowed people to post these kind of links.
If you try posting links like this nowadays you will get banned from the forum. Another thing is that social media has replaced forums in popularity when it comes to reaching people online.
If you ask why forums ban accounts for posting these kind of links, the answer to this is because it is considered spam.
The process of converting a link to get paid causes the link to redirect to an advertisement.
Sometimes these advertisements come with captchas people must fill out before going to the main page.
The Number 1 strategy people use to make a passive income online is through affiliate marketing which is something I explain in My Ultimate Guide to Make Money Online.
It goes over 4 proven steps to take to start an online business for affiliate marketing.
Adpaylink can be a a good way to increase profit on your website and monetize a page that gets traffic but don't provide a boost in revenue.
You can promote this on your social media accounts, but do you want to be known as that person always posting spammy links. That can be a surefire way to lose followers.
The only way people profit off of this now is through Youtube or having a Website.
While there are some occasions where using shortened links can prove beneficial, I try to minimize how much I include on my website.
So far I have never put it on the Youtube Channel I'm currently building.
How Much Can You Earn with AdPayLink
This depends on your traffic, how many hits from a single IP you get, what country your users are located in, etc.
For an example I will show how much you can expect per 1,000 hits depending on location.
Germany-$13
Switzerland-$11
United States-$12
United Kingdom's-$9.63
Canada-$8.30
Hong Kong $7.80
If you don't get a lot of traffic to your website or Youtube channel then it will be difficult to make much money with this. 
However, if you want to learn the best way to build a website and get free traffic or monetize your following on social media, then Click Here.
Why Use A Link Shortener?
No usage fees– You can sign up and make money with this right away. 
Save space and "beautify" links. Short links looks nice and are more user friendly. Sometimes there is as character limit(as you probably know a tweet is 140 characters long). So sometimes when communicating on Twitter it can be necessary to keep links short to have enough space for the message
Tracking & statistics. Shorteners usually give statistics about clicks, impressions and a range of other trackable data you can use to your benefit.
Making money. Monetize Pages That Are Not Generating Income But Get's Traffic.
Final Thoughts
Most website owners make money by selling ad space, affiliate products or their own digital products and so on.
Some monetization strategies are more or less passive, some require continuous work, some seem to fit a certain website well, others not so much.
Creative website owners can use their ideas and combine a variety of ways to make money online simultaneously. You have to test a combination of methods to find out what works best for you.
Ads served by paid shorteners are not usually of high quality and that's another reason why I don't do it too much. 
Most website owners like me prefer Google AdSense because of the quality of their advertisements.
However, not every website can be accepted by Google depending on the content and what the site is about.
As a result many choose the alternative of making extra money with link shorteners.
So if you have issues with getting Google Ads placed on your website you may consider trying out a paid shortener and it may prove beneficial.