Chances to live means living life on your own terms and having fun in the process.  Why not treat yourself to some exciting times with family or friends.  This page was designed to give you a guide to the top of the line places to go and enjoy.
Grand Views on Its Own Peninsula from Sea to Shining Sea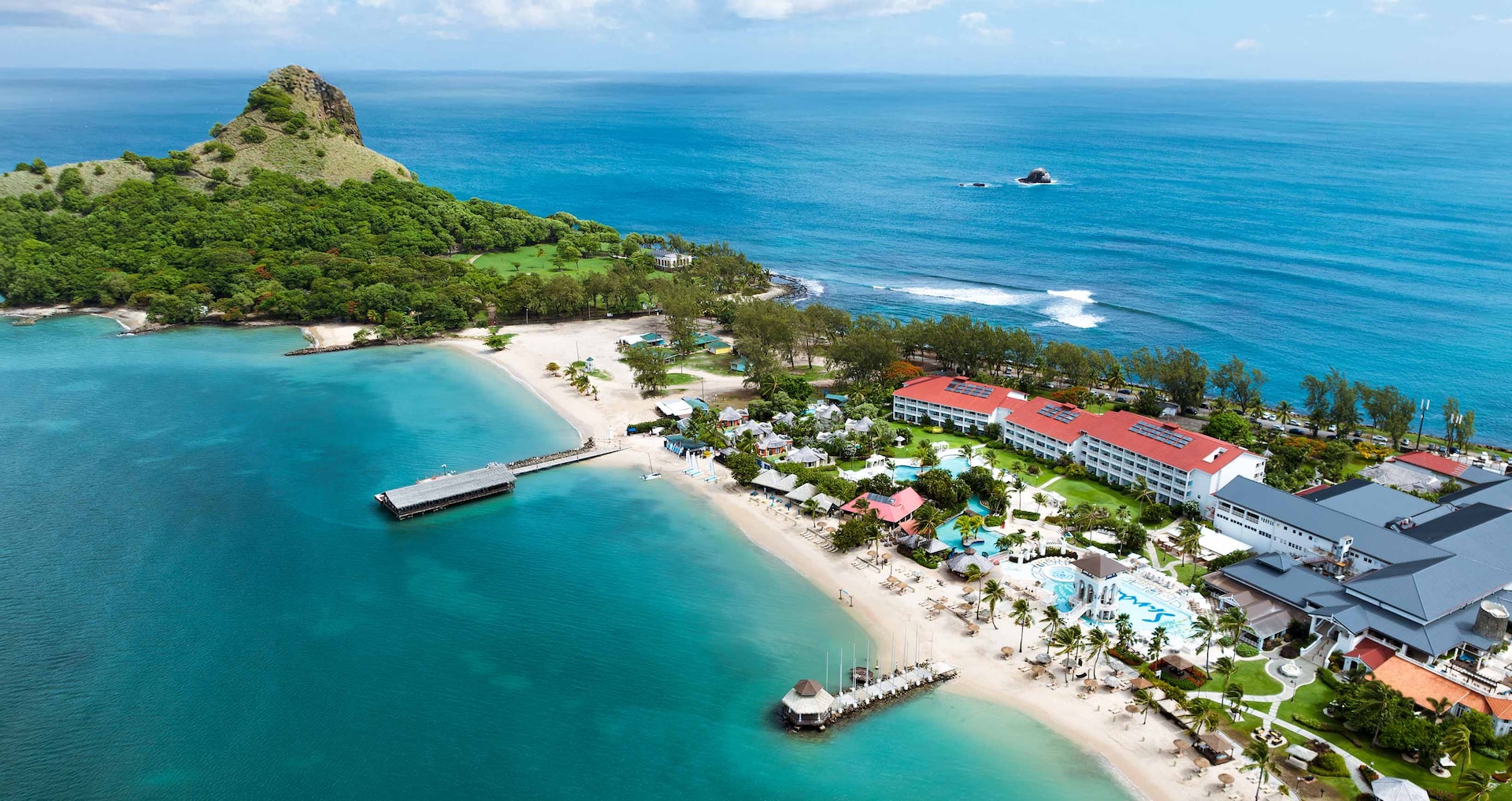 Ideally located on its very own peninsula, Sandals Grande St. Lucian is often described as the "closest vacation to a picture-perfect postcard." Cradled to the west by Rodney Bay – boasting the calmest waters in all of Saint Lucia – and to the east by the majestic Atlantic Ocean, this magnificent resort showcases awe-inspiring panoramic views that will linger in your heart forever. Volcanic mountains draped in blankets of green rise majestically from an impossibly clear blue sea. A sheltered mile-long beach extends an open invitation for days of endless water play. This is paradise as it was meant to be, full of natural beauty, rich in history, and resplendent in pure romance.  Add this to the list of your places to go on vacation.
On the Longest and Best Stretch of Negril's 7-Mile Beach
With its blissful ambiance of laid-back cool and uninhibited revelry, Sandals Negril epitomizes the free-spirited personality that has long made Negril the exotic playground of choice for fun-loving pleasure seekers. Here on sands of pure white kissed by a sea of aquamarine, this decadently carefree resort is nestled within lushly landscaped acres along the island's legendary Seven-Mile Beach, putting you closer to the water than anywhere else in Negril. A love for Mother Nature ensures that Jamaica's hippest resort is also its most green – awarded an EarthCheck Double Platinum Certification for an unwavering commitment to environmental excellence for over a decade. Come let your love blossom amidst the barefoot elegance and chill-out vibe that is uniquely  Negril.
The Most Happening Place is Happening Now
This new all-inclusive resort has a hot new beach club, 11 bars—including the Caribbean's first speakeasy—and 16 totally on-trend restaurants. It's exciting and it's happening – but only when you want it to be.  Ochi Beach Resort is one of the best places to go on vacation as it offers unsurpassed privacy when you want a more serene escape. A true Garden of Eden encompassing over 100 acres, this resort is so vast and lush that, no matter where you find yourself, you'll always feel as if there's plenty of space for just the two of you. All the things that make Jamaica such a uniquely spectacular destination are at the heart of Sandals Ochi. Jamaica's most dramatic luxury all-inclusive resort has truly arrived.
Experience the Caribbean's most exciting water parks at Beaches Resorts. Huge water slides, surf simulator, lazy river and so much
Only Beaches has the best water parks in the Caribbean.  One of the best places to go where kids of all ages will have a blast. Pirates Island is a fantasy world filled with gigantic water slides, kid-friendly pools, and swim-up soda bars. There are also water cannons,
whirlpools, and lazy river journeys, as well as the Caribbean's only surf simulator (at Beaches Turks & Caicos.)
Luxury Included® Vacation
FOR TWO PEOPLE IN LOVE
Come experience the very pinnacle of luxury Caribbean all-inclusive vacations with Sandals Resorts. Sandals delight couples in love with supreme vacation packages at luxury resorts in St. Lucia, Jamaica, Antigua, the Bahamas, Grenada, and Barbados, featuring gourmet candlelit dining for two, gorgeous tropical settings and some of the world's most exquisite beaches, where golf and scuba are included at each all-inclusive resort. If you are planning a wedding, Sandals is the leader in Caribbean destination weddings and honeymoon packages.
Add the ultimate spark to the trip.  A romantic getaway could be taken to the next level while on vacation.  Plan your wedding here as one of the most romantic places to go and start a special time in your life.
MADEIRA AND LISBON – 5 STAR MULTI-DESTINATION
Madeira: Also known as the Atlantic's pearl, this island has a lot to offer. With great warm weather all year round, a unique history, and a ton of new flavors to explore, Madeira seems like the perfect escape.
Lisbon: the cosmopolitan capital of Portugal and Europe's second-oldest capital (after Athens), has now become the new "it" destination for tourists visiting Europe. This is "The City of the Sea", "The City of the Explorers", once home to the world's greatest explorers like Vasco da Gama, Magellan, and Prince Henry the Navigator. Lisbon is also the first true world city, the capital of an empire spreading over all continents, from South America (Brazil) to Asia (Macao, China; Goa, India).
FOUR ISLANDS BY YACHT – PREMIUM PACKAGE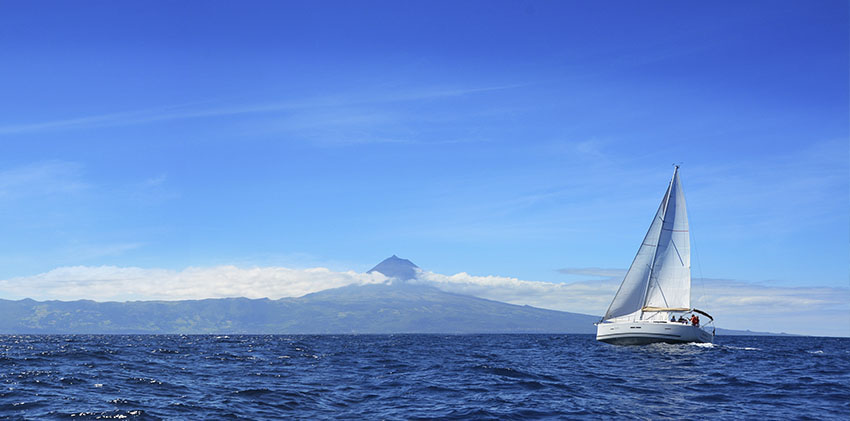 Explore four stunning islands in the center of the Azores aboard a comfortable and elegant Dufour Yacht.
Azores Getaways offers you a special travel package, perfect for friends, families or couples looking to unwind and to enjoy distinct experiences on a fantastic island vacation aboard a yacht. Our package invites you to sail and discover four enchanting islands, Terceira, São Jorge, Pico and Faial, surrounded by natural beauty on an exclusive and personalized Azores yacht vacation. Disconnect from the everyday world, hop from island to island, swim in the crystal clear waters of the Azores, marvel at passing by dolphins and marine life, and enjoy the unique experiences that each island has to offer.
Home to the soaring volcano of Pico is Pico island, an island of unique beauty, authentic customs, and a mesmerizing man-made landscape protected by UNESCO. Explore Criaçao Velha, a unique and well-preserved wine growing area, and descend into Gruta da Torres, one of the world's longest lava tubes. On Faial Island admire the power of the Earth at Faial's Capelinho Volcano, where the most recent volcanic eruption took place in the Azores. Swim in natural lava swimming pools and hike down to the gorgeous Fajã do Santo Cristo, São Jorge's most iconic place. On Terceira marvel at the island's protected UNESCO World Heritage Sites, visit the stunning grottoes of Algar do Carvão and explore the island's fortress and castle.
Admire the mesmerizing coastline of the islands filled with interesting rock formations, caves, and coves. Sip wine next to the fields that produce it off the coast of Pico. Spot sperm whales, dolphins and turtles, and marvel at the sheer beauty of the sights between the neighboring islands. Indulge in fresh fish and seafood, and enjoy the sunset surrounded by the majestic Atlantic and the stunning islands.
Important Notice on the vacations listed below, you must enter location and property number to find it in the search.
El Nautico Suites for holidays
Golf del Sur, San Miguel de Abona, Spain Property 1950621
Luxury apartment in the highly exclusive El Nautico Suites aparthotel complex. It has beautiful sea views and is furnished to luxury standards. Both the lounge and bedroom open onto a large balcony with views over the sea and gardens.  Perfectly located, a 5-minute stroll along the seafront takes you to bars, restaurants, shops, and entertainment.   It really feels like you are in Paradise.  This is one of the great places to go on vacation and just enjoy life. It is a very comfortable, quiet place and well located for everything.
Make the most of your Parisian stay by choosing the EIFFEL TOWER PENTHOUSE. This is a 5-STAR LUXURY apartment with STUNNING EIFFEL TOWER VIEWS and many complimentary amenities, comforts and conveniences not offered by others. Enjoy a property of EXCEPTIONAL LOCATION, STYLE, COMFORT, GUEST EXPERIENCE and VALUE for your travel dollars that's unmatched by most other comparably-sized and priced properties.
Set within exclusive Castle Drive, this stylish, one double bedroomed apartment with super-king bed, ensuite with shower and dressing room is incredibly well located overlooking the sea. Just moments from the beach, five minutes walk to Falmouth Docks train station (connecting to Falmouth University) and a short stroll to Falmouth town and harbour-side Hamilton Place is in a brilliant position.  Hamilton Place is in an incredible position, situated at the far end of the seafront with spectacular views overlooking Castle Beach and Falmouth Bay. Close to the historic Pendennis Castle and its grounds.  Check this off your list of places to go on vacation and visit.
Situated in the prestigious, secluded square of Iverna Court: Hidden in an oasis of serenity, yet less than 1 minute from the bustle and activities of Ken High st.
Private well kept communal garden.
Great location – Walking distances: Places to go
60 seconds to High Street Ken metro station (and "Boris Bike" public cycle hire station), shops and restaurants.
6 mins to Hyde Park and Kensington Palace (Former residence of Princess Diana; and if you are really lucky you might get a glimpse of current residents William and Kate).
8 mins walk to the new Design Museum (opening Sep 16, if no delays) and Holland Park (annual "Opera in the Park" music festival)
13 mins to Gloucester Road tube station (add 2-3 mins for Natural History, Science, Geological and Victoria and Albert Museums) and South Ken.
15 mins to Royal Albert Hall
Beautiful furnished, completely updated, 2 BR / 2 BA condo in Runaway Bay, Anna Maria Island
Bradenton Beach, FL, USA  Property 905754
This gorgeous vacation resort on stunning grounds between the Gulf of Mexico and Sarasota Bay has been voted 'Best Resort' by Bradenton Herald. Enjoy the large heated pool, tennis court, exercise room, sauna, shuffleboard, and a private fishing pier on the bay.
This Smoke free and pet free condo has tile floor throughout the living area and kitchen, and laminate in the bedrooms. The unit is fully equipped and has washer and dryer in the unit. A screened lanai in the back invites to relax.
The world class restaurants, charming 'Old Florida' atmosphere, friendly people, great shopping and art galleries are just a part of what makes this island special. Come on over to Anna Maria and experience the real Florida escape.
Free private Beach Access is located just across the street.