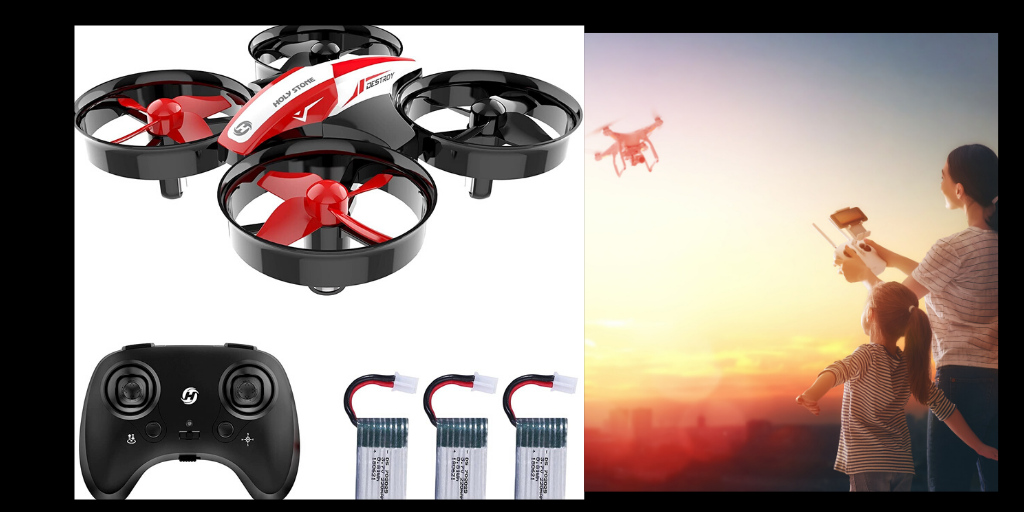 The Holy Stone HS210 Mini Drone might be the best drone for kids. It is also a good choice if it is your first time buying a drone as it has a lot of safety features and is very affordable.
Disclosure: As the owner of this website I have tracked down special deals for some of the products and services mentioned herein. When you use the links on this page to make a purchase I may get a small commission and you may get a great bargain. Its a win win all around!!! See my terms of service for details
While being regarded as the best drone for kids might be debatable, you can usually find this product on the market for just $30.
The Potensic A20W Mini Drone for Kids is a superior drone that comes with more features but may cost up to $60.
While you won't find advanced features such as cameras or the ability to connect with an app, the remote controller it comes with has some pretty cool features which is detailed below.
Design
This drone has a quadrotor helicopter that is lifted by four rotors. The colors are a mix of red, white, and black with the logo embedded in the middle on the quadcopter. The rotors are contained within built guards to protect them from crashes. This design gives it durability as beginners are bound to crash the drone a few times before getting accustomed to the controls.
The Holy Stone HS210 Mini Drone is small enough to fit in your palm and it has empty storage underneath its body where you can insert a freshly charged battery to connect to the drone's battery plug. When the drone powers on, you will see a red and green led light. These LED Lights are a feature used for visual positioning and are especially useful when you are flying in the dark.
Features
The remote controller it comes with resembles a controller for Xbox One. It has an on and off button for starting the drone, and there is also an emergency landing button in case mother nature causes things to go awry.
The left and right buttons are used for flying and landing but there are differences. When using the left, the drone is limited to flying in the direction the quadcopter's nose is facing. The Right establishes a headless mode to enable your drone to fly in any direction regardless of where the nose points.
On the left shoulder part of the controller is a speed mode that consists of two levels. It is best to start at a low speed and challenge yourself with the high speed when you feel more comfortable.
On the right shoulder part of the controller is a 360-degree flip mode. Press it while you are flying the drone in any direction and it will perform the trick.
Performance
The flight time is 7 minutes. However, on Amazon, this drone is sold with three batteries, giving you 21 minutes of flight time.  The connection range of the controller is 50 meters, and there is an auto-hover feature that you can use to fly without having your hands on the controller.
Being that the Holy Stone HS210 Mini Drone is small, it would not be wise to fly the drone in windy conditions. It is best to use this indoors, but if the weather is ideal then you will be impressed with how it handles outdoors.
Customer Feedback

Lydia Grove
Reviewed in the United States on August 1, 2018 Verified Purchase
"This little drone is amazing. Although still a beginner, I have two other mini/micro drones, but this is easily the best of the three. The other two were also more expensive".
James T 
Reviewed in the United States on August 8, 2018 Verified Purchase
"I'm really into drones and I think they are a lot of fun. I thought I would add this one to the collection and I did… and was very happy in doing so. Out of the box, I'd say it took me 5 minutes to add batteries to the remote, connect it to the drone, and start flying". 
SW
Reviewed in the United States on October 8, 2018 Verified Purchase
"So this is an indoor drone to be sure. I first turned it on and ran it and it had a mind of its own. Turns out I had my fan on across the room and the breeze it created played merry havoc with the gyro in the drone. So yeah. Be very careful if you take it outside".
Conclusion
The Holy Stone HS210 Mini Drone is a quality product that was made with exceptional artistry. This is an excellent drone for first-time flyers and a good surprise gift for beginners and hobbyists alike.
For a heftier drone that can do better in withstanding winds and comes with a camera, you may want to look into the Holy Stone HS110D FPV RC Drone.
Design

Performance

Features

Easo of Use

Price
Holy Stone HS210 Mini Drone
With high-quality material, durability, and a set of beginner-friendly features, the Holy Stone HS210 mini drone is a great surprise gift for kids and beginners.