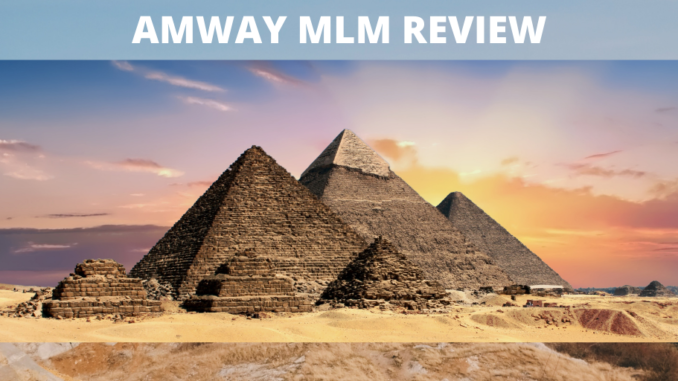 I must immediately start off by mentioning the fact that Amway is the best pyramid scheme out there. Yeah, I know…multi level marketing companies get a bad rap on the basis that most of these companies pay distributors to recruit more distributors instead of selling an actual product. When there is an opportunity to earn more from recruiting others to join as opposed to selling products, it tremendously reduces distributors' chances of making an income.
So you might be wondering what makes this different and better than all the rest of the network marketing opportunities out there. Well for one Amway is the Father of multi level marketing and following companies based their business model off of Amway. As the father of multi-level marketing, none of their kids have grown up to be as good as them. Founded in 1959, Amway makes around $8-9 billion a year which is 3 billion more than its closest competitors in Avon & Herbalife.
So to know whether or not this business opportunity is right for you, this post will provide full details on Amway and all it has to offer. I must share the fact that I am in no way associated with the company and I am in a position to share this review with you because I have past experience with another MLM company called World Ventures.
As I have strived to make a passive income in the past within that MLM company and other past business failures, I have found success with internet marketing which is the best way to go about marketing products in general.
MLM companies will turn you into that annoying friend that harass everyone you come across to join or buy your products.
It's a known fact that there is a low success rate for members within Multi-Level Marketing Businesses and if you consider joining it would be in your best interest to learn everything you can regarding marketing online to reach a wider audience instead of being limited to the people in your circle.
If you want to learn how to market products online for the best chance of establishing a passive income to change your life for the better, subscribe with a question on how you prefer to go about marketing online. Do you like to write and if so build an online business blogging, or would you prefer to market products online without building a website?
Amway Review
Based in  Ada, Michigan, Amway is believed to have3-4 million distributors worldwide. Although they have drawn criticism over the years for their direct selling and network marketing strategies, Amway has been accredited with an A+ rating from the BBB. They have also been ranked by Forbes magazine as the 44th largest privately held company in the United States by revenue.
It must be said that the products offered by Amway are of high quality. Question is, can you really make a decent income just from selling their products.
Amway might be the best or one of the best MLM companies for considering getting involved in..
So lets get to what you really want to know…
Compensation
Before you can make anything with Amway, you must pay $100 to become a distributor and get training for how to market their brand. You will also be influenced to use their household products instead of cheaper alternatives you may be accustomed to buying from the store. It might make sense if those cheaper household products were no good, but there are plenty of brands that offer high-quality household products for a lower cost. Their strategy to influence you would equate to more money for them and more money out your pockets.
Now when it comes to you making money with Amway, their compensation plan is based on a Point Value and Business Volume. The higher these are will result in higher commissions.
Now after researching and trying to understand their comp plan, I could not find anything on how you receive point volumes. Videos that explain how their comp plan works do not provide enough clarity without explaining how to get PV. Business Volume is equal to the amount of money spent through your Amway website.
My thing is if they would make that clear then the same should be done when explaining Point Volumes. I honestly hate that when it comes down to researching Multi-Level Marketing Companies, the people involved in it are not competent enough to give you any clarity. It's either they hiding something or you about to get scammed, or for a better phrase you would be influenced to join based on the numbers you see can potentially be earned.
Ahh, if those numbers could be in your grasp how good life would be.
I have somewhat of an idea of why this stands out from other network marketing companies out there, but until there is more clarity on Point Volume and how to get it then you'll probably understand it somewhat just like me. Below is a video explaining their comp plan. Good Luck
Founder Of Amway ( The American Way)
Amway was founded by Jay Van Andel and Richard DeVos. Before collaborating to establish Amway, they were friends and business partners for a hamburger stand, an air charter service, and a sailing business. Their first product was called Frisk, a concentrated organic cleaner made by a scientist in Ohio. After getting the rights to manufacture and distribute the product, they would rename Frisk into LOC (Liquid Organic Cleaner).
History of Growth
In 1960, Jay and Richard purchased a 50% share in Atco Manufacturing Company in Detroit, the original manufacturers of LOC, and changed its name to Amway Manufacturing Corporation.
In 1964, the Amway Sales Corporation, Amway Services Corporation, and Amway Manufacturing Corporation merged to form the Amway Corporation.
Amway bought controlling interest of Nutrilite in 1972 before having full ownership in 1994.
Amway expanded to Australia in 1971, parts of Europe in 1973, to parts of Asia in 1974, to Japan in 1979, to Latin America in 1985, to Thailand in 1987, to China in 1995, to Africa in 1997, to India and Scandinavia in 1998, to Ukraine in 2003, to Russia in 2005, and to Vietnam in 2008.
Should you Join Amway?
As I stated at the beginning, I was once involved with Multi-Level Marketing and in a lot of ways, it can be similar to affiliate marketing. You basically buy into a membership to try and promote others to join and sell that particular brand's products.
While it has differences that are better compared to other MLM businesses with pyramid systems, the fact is that you dramatically increase your earning potential by recruiting others to join. With affiliate marketing, you do not have to recruit people in a program to make money although it is an option.
With Affiliate Marketing you don't even need to buy into a membership to promote other people's products. If you have a social media presence and you have skills in online marketing then you can be an affiliate marketer today. If you do buy into a membership, it would be because you need a training platform to keep you up to date and provide the knowledge it takes to be a successful online marketer.
Another beautiful thing with affiliate marketing is that you are not limited to having a few products you are putting all your efforts in for other people to buy…You can sell and literally promote almost every product that has ever been made with affiliate marketing!!!
Not to say you can not be successful with Amway, but despite their system being better than other pyramid models the chances of becoming one of the top distributors are slim.
Most network marketing companies that have been around for this long is due to the fact that they've done an excellent job expanding globally and within different business ventures. That fact is the reason why Amway is the business Giant it is today. If you don't know, the Amway Arena that is home to the NBA's Orlando Magic is owned by guess who?
Is Amway a Pyramid Scheme
While this company has been around and won't be going anywhere in the foreseeable future, I would be doing a disservice by saying this is a great opportunity to join. That is really based on the fact that there is a very low success rate from people that join. If you can market and sell their products online, then it may be a beneficial partnership. The video above explaining the comp plan seems to convey that you would get paid a percentage of the business you bring in on top of the money you make selling their items at retail value.
A part of me believes this can be a lucrative business venture if you are getting paid more than just the percentage that was detailed in the comp plan. They are one of the best, if not the best network marketing companies to consider joining. Amway has been around this long for a reason, but I would still be wary and ask further questions before becoming an Amway distributor.
When it comes to your success, members that prosper in these companies are those who recruit others which is why it can be labeled a pyramid scheme. If you are experienced with marketing other people's products then you might be able to make money as an Amway distributor but I would proceed with caution.