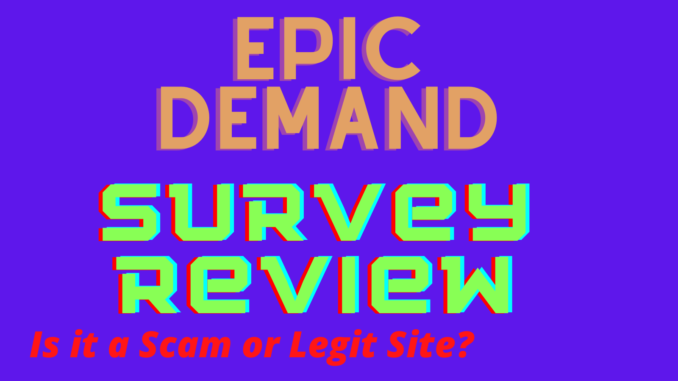 Epic Demand is a site where you can signup to have access to third-party survey sites. You don't necessarily earn through Epic Demand as they do not provide any surveys of their own
As you are seeking a way to make money online, survey sites like these will not help you pay the bills. If you are just looking to earn a little bit extra every month then it might be for you. Me, I prefer to make real money online that can pay the bills and provide a better lifestyle.
In getting back to Epic Demand, this comprehensive review will show you everything there is to know and if you should invest much time in it.
I also posted a video on YouTube if you prefer to see how their platform works. You can check it out below:
Getting Started
When you sign up for Epic Demand, you will have to fill out a questionnaire that is around 10 pages long. It starts by asking how you would like to save on your cell bill and auto insurance if you have a car. It also starts with a question on if you plan on making a big purchase within a year and what that specific kind of product is.
After that, you have to go through 10 pages with offers you might be interested in. As you keep going from page to page you will notice these offers or similar ones keep reappearing. After getting close to the end, I was actually forced to accept all offers because the button to select no wouldn't work. I doubt it was a glitch on the computer because after accepting all the offers it went to the next page without an issue.
After finally going through all the questions, I was redirected to another survey site. It was then that I realized that you don't directly earn by taking surveys through Epic Demand.
How to Make Money with Epic Demand
Once you accept these offers willingly or unwillingly, your email and notifications will become flooded with offers from these different survey sites. It's up to you to go through each one and see if it's legit. Fortunately, I did the work to answer that question for you. That's why you are here right?
Is Epic Demand Legit
Unfortunately, these kinds of sites give legit survey sites a bad name. It's not just the process of having to accept some of the offers whether you want it or not, but it's also how they promote the offers and what they send you.
For instance, some of the offers they send aren't even legit. I just got an email with Epic Demand declaring I might be the winner of this $500 as a finalist. I was taken to another site called everydaywinner.com where the heading says $500 daily giveaway.
First red flag, if Epic Demand is saying I might be the winner I shouldn't be taken to another site. The heading is a trick to get you to fill out your information as it is similar to the information you got in the email from Epic Demand
As far as the everyday winner, after filling out the information I received a text from them stating they give away 500 bux daily. Here's your free change to Win!
Did you mean 500 bucks? Here's your chance to win! I must say you immediately start to judge the legitimacy of what you are being offered when it sounds like it's coming from a preschooler still learning the English language. After clicking on the text from my phone I was redirected to the beginning of where it says to confirm your entry all over again.
So that offer from Epic Demand was a dud and sites like everydaywinner.com make money by selling your data or using it to commit identity theft. So you will get flooded with a bunch of things like that enticing you to provide your information. There's another cash app one saying you can get a $5,000 gift card and so on and so on.
Now Epic Demand gives a bad name to survey sites because at first you are directed to legit survey sites like realsurveysthatpay.com, but after that, they flood you with emails full of scams.
With everything mentioned above, I would say Epic Demand is leaning more towards the scam side than legit.
Epic Demand
Summary
Epic Demand promotes itself as a site that connects consumers with clients who could help them save money, but their connections are not really genuine. You don't make any money directly through Epic Demand and you will be better off signing up to more legitimate survey sites. There is no mention of when this site launched, but it most likely started in either 2020 or 2021.
Cons
Don't Provide Any Surveys of Their Own
Flood Your Email's With Scams 
No Way to Earn Through Epic Demand