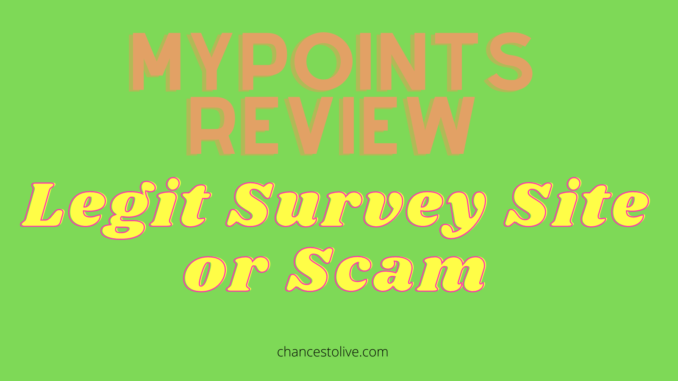 MyPoints is a site where you can complete surveys and other tasks to earn prizes. By completing tasks you will earn points that can be converted into gift cards or cash.
If you are seeking a way to make money online, survey sites like these will not help you pay the bills. If you are just looking to earn a little bit extra every month then it might be for you. Me, I prefer to make real money online that can pay the bills and provide a better lifestyle.
In getting back to MyPoints, this comprehensive review will show you everything there is to know and if you should invest much time in it.
I also posted a video on YouTube if you prefer to see how their platform works. You can check it out below:
How to Make Money With MyPoints
There are a variety of ways to earn at MyPoints. Not only can you earn from completing surveys, you can also get paid for things you might be interested in and for things you will need as well. This will be detailed below in the list of ways to earn.
Before going into details regarding the list, it's important to understand how their point system work. That is important to judge whether or not completing any of the tasks are worth your time. Unfortunately they do not have a point system that is easy to dissect. There is no set amount of points equal to dollars(100 points =$1). Instead, the gift cards and cash can be redeemed at different rates. On average, it takes 159 points to turn into $1 cash and the gift cards vary depending on what brand it's for.
I think Prize Rebel is a better survey site because they have a simple system in which 100 points=1 no matter if you are exchanging for cash or gift cards.
Surveys
Complete simple surveys to redeem points.
There are a list of surveys offered that shows the amount of time and points you will get for completing. Currently their best survey stands out at 340 points that can be redeemed with an estimated time of 15 minutes to complete. If that was to convert into cash that would be around $2 and some change. Maybe that would be a decent payout if all of the surveys were at that rate, but if thats the best then you will be making less than $10 an hr completing surveys.
You must first complete a profile before unlocking these surveys. After completing you will be given three special offers along with a so called exclusive survey that can be completed for a $1. When I started taking the survey I was 20 minutes in with more questions to go. Needless to say it was a waste of time.
Offers
As stated above, you can get paid for things that might be on your to-do list.
If you like dolce and gabana perfume then you can buy it through there to earn points.
Want to sign up for Starz? Do it through MyPoints to earn points
Want to check your credit score? Do it through MyPoints to earn points
Want something from Best Buy? Do it through MyPoints to earn points
Want to Become member at Costco? Do it through MyPoints to earn points
There are many things you might already be interested in that you can get points for by doing it through MyPoints.
Watching Videos
You can watch videos to earn, but these videos do not provide you with much points. At the time of this review, their highest paying video will give you 3 measly points for watching. In this case you would be better off taking surveys to accumulate points opposed to watching videos.
Grocery Shopping
We all need certain items when we go grocery shopping and you can earn points from uploading receipts from various retailers. If you need milk, bread, onions etc, you can earn points when shopping at stores like Targets and Walmart. In learning everything about this site I think this might be the best reason to get involved.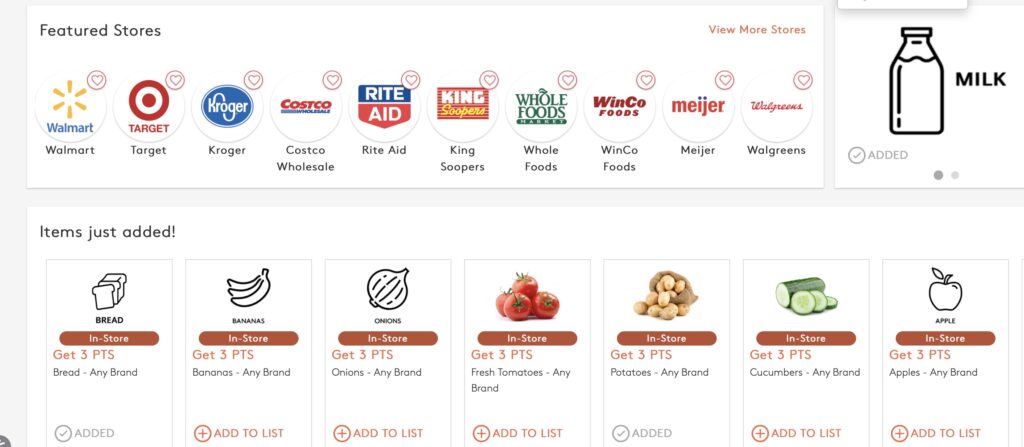 Referrals
The most passive way to earn with MyPoints is by simply sharing your referral link and getting others to join. There are three ways to earn by referring members. First you will get an initial 25 points when you refer someone. Then you can earn an additional 750 points when a referral spends more than $20 on their deals. Last, you can earn a 10% bonus on any points your referral earns. So if your referral earns 100 points you will receive 10.
Getting Started
All surveys are in English so if you are from a country like, the U.S, U.K, Canada or Australia then you may want to try it out.
To create an account all you have to do is enter your name, email, and create a password. After creating an account, you must fill out a profile questionnaire. You must answer basic questions like your birthday, gender, ethnicity, level of education, employment status. After some basic questions, they get into questions about your political views and how you voted in past elections. Once that is done all the surveys on their platform will be unlocked.
I don't know why they ask the political questions or if they just doing surveys themselves, but the basic questions are usually necessary on sites like these in order to present you with deals you will most likely be interested in.
Note: The political questions might not come up based on where you live.
Payments
There are two options to receive your earnings from Prize Rebel which is detailed below.
Gift Cards
There are a variety of gift card options you can use your points on. Being that the points varies from one brand to another, you will have to do a lil math to see which ones have more value. For instance, you can get an amazon gift card with a value of $3 for 480 points. So with the Amazon gift card it equates to 160 points for every dollar you receive. To get a gift card at AMC theatre requires 1,470 points to earn $10. So the gift card at AMC equates to 147 points for every dollar you receive. For more details regarding their gift cards you can check out the image below.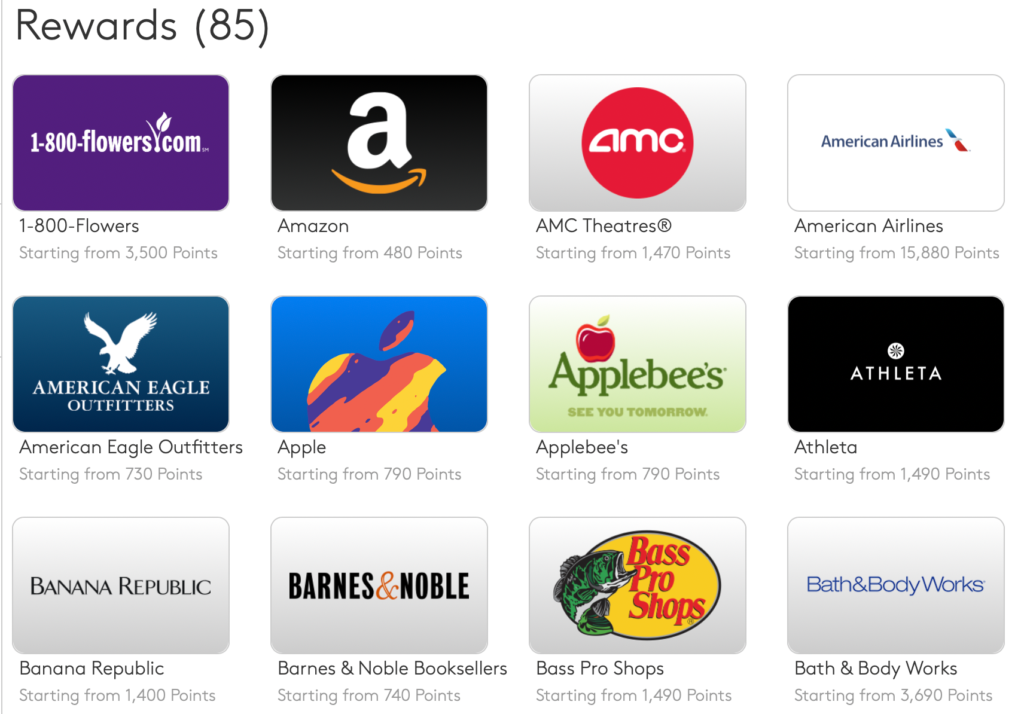 Paypal
If you prefer cash, you may redeem your points balance for a PayPal cash payment or a visa prepaid gift card.
There are plenty of survey sites that require people to accumulate a lot of points before these types of cash payments are made available. Unfortunately that is somewhat the case with MyPoints. While it could be worse, you will need 1,590 points to receive $10 in your PayPal Account. On average it will take around 159 points for every dollar earned. The Visa card pays out at 150 points per dollar with 1,500 points required to receive $10. With PrizeRebel you don't need to accumulate a lot of points to turn into money as only 500 points=$5 is necessary to cash out.
How Long Has MyPoints Been Around?
MyPoints has been in business since 1996. Prodege, LLC acquired the company in 2016 and is the parent company of multiple online rewards, market research and media brands including its flagship consumer site, Swagbucks. One of the good things about MyPoints is their mobile-friendly app you can download to perform surveys and other tasks directly from your phone.
Is MyPoints Legit or a Scam
With its history in business, MyPoints would not be around if it was not legit. Established in 1996, MyPoints is a popular rewards website and one of the original cash back websites still going strong. With over 10 million members and over 235 million dollars in cash and gift cards paid out, there is no need to question the legitimacy of this company.
However, as stated earlier the earning potential is low with these kinds of sites so you will have to choose the best method to make it work for you.
If you want to learn how to make money online with a huge payout potential:
Click Here to Learn the Best Way to Make A Passive Income Online.
Click Here For a Review of the Best Survey Sites.
Hope this article provided clarity on what to expect with MyPoints and if you have any questions feel free to leave a comment below.
Summary
Name: MyPoints.Com
Description: MyPoints is a site where you can complete surveys and other tasks to earn prizes. By completing tasks you will earn points that can be converted into gift cards or cash.
Is MyPoints Legit?
Established in 1996, MyPoints is a legitimate site you can use to get cash back incentives and rewards. However, the earning potential is low so you will have to be wise on how to best use their site.
Pros
History In Business
Earn Points for Basic Grocery Shopping
Mobile App Available
Earn Points on Deals You Might Be Interested In
Cons
Low Earning Potential
Repeated Offers
Must Accumulate a lot of Points to Redeem Cash
No Point System With a Set Amount of Points Equal to Dollars