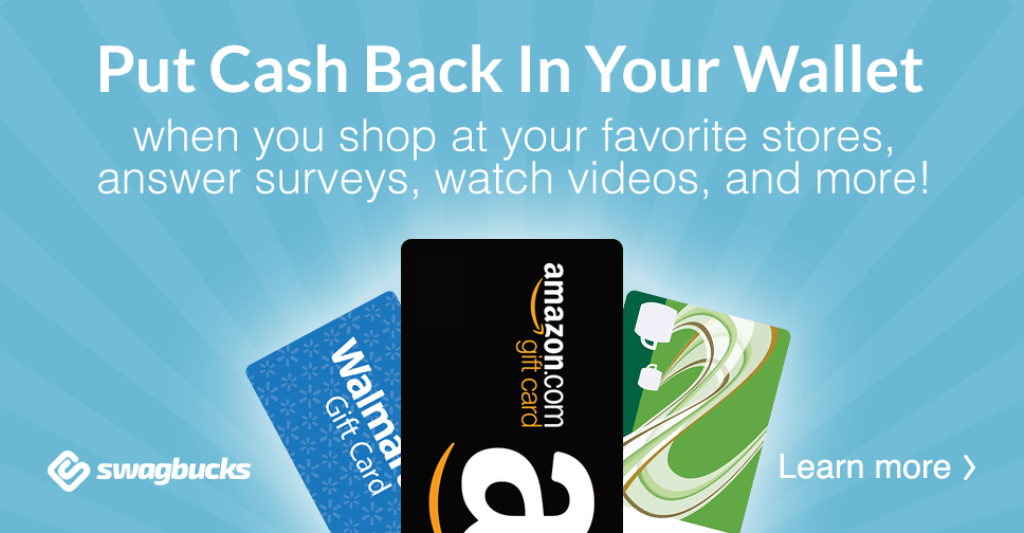 In joining Swagbucks, it surprised me in the fact that there is more to the site besides opportunities to earn by just taking surveys.  Swagbucks is a search engine just like Google or Yahoo, and you can simply earn reward points by searching the web through Swagbucks.  While the search engines of Google and Yahoo are superior for search results, Swagbucks provide quality results and is also a great option for gaining rewards points.  Not only can you get rewards for searching the Web, but their site also offers a variety of options for building up your SwagBucks.
Ways To Gain Swagbucks Points
Watch videos:  You can simply earn reward points from watching a host of video playlists that are on their site.  Some videos vary in length and offers points according to how long the videos are.  A few videos do not offer enough points correlating to its time which is something to take notice if your sole purpose is to earn points.
Play Online Games: You can also earn points by playing online games on their site.  This is one of the faster ways to earn points through Swagbucks.
Surveys:   You can also earn Swagbucks by filling out surveys through their site. You'll have to consider the time involved here when debating whether online surveys are worth it or not.
Sign Up for Deals:  You can simply earn points by subscribing to offers you may have already subscribed to.  Sign up to Hulu through Swagbucks to earn points or subscribe to Groupon deals to earn.  There are plenty of other deals on the list that can gravitate to a variety of people's personal interests.
Shop:  You can earn SwagBucks points by simply shopping at your favorite retailer.  They have a shopping section where you can earn one Swag Buck for every dollar that you spend there.
Search the web: As mentioned earlier, SwagBucks points can be earned by simply searching the web through their search engine.
What You Can Earn
A Swagbuck is equal to one penny. Once you earn enough points you can cash in or earn gift cards to go shopping.  It is better to save more SB before cashing out.  Every 1000 SB is worth $10, but it will only take 2200 points to receive a $25 gift card.
If you visit the Swagbucks reward store, you will find a lot of options to choose from:
Apparel & Accessories, Department Stores, Electronics, Food & Beverage, Fun & Games, Gas Cards, Health & Beauty, House & Home, Music & Entertainment, Sports & Outdoors, Travel etc. You can redeem your Swagbucks for actual dollars and send it to your PayPal account or buy Amazon gift cards.
Final Thoughts
Swagbucks is definitely worth looking into.  While navigating through all the ways to earn points may become addicting, it is important to balance your time and do not base your whole day on filling out surveys or signing up to every offer.  Searching the web is something we do everyday and is convenient way of earning.
That is by no means a criticism of the ways to earn but this is a simple word of advice. I can envision many people going to the site, checking out all of the things that Swagbucks has to offer, and then looking up at the clock to find that three hours have passed by. In some ways, this has the potential to be like a social media time warp. Just be conscious of the time you're spending on a site like Swagbucks!
Now that you have a basic understanding of Swagbucks it is time to check it out yourself to get a full understanding of the site and see if it fits your needs.
Personally if I can get rewards and prizes by doing things I do anyway then why not jump on the opportunity. The search engine is just enough that it's worth me moving my searches over there. And when I have some free time, I'll also take advantage of their other ways to earn additional Swagbucks like their special offers and shopping.