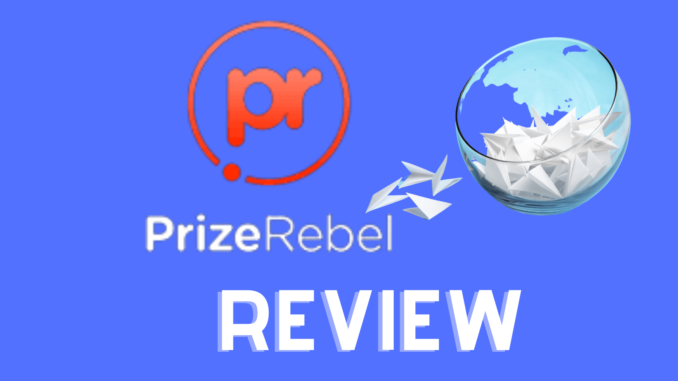 PrizeRebel is a site where you can complete surveys and other tasks to earn prizes. By completing tasks you will earn points that can be converted into gift cards or cash.
As you are seeking a way to make money online, survey sites like these will not help you pay the bills. If you are just looking to earn a little bit extra every month then it might be for you. Me, I prefer to make real money online that can pay the bills and provide a better lifestyle.
In getting back to PrizeRebel, this comprehensive review will show you everything there is to know and if you should invest much time in it.
I also posted a video on YouTube if you prefer to see how their platform works. You can check it out below:
How to Make Money With PrizeRebel
There are a variety of ways to earn at Prize Rebel. While the majority of the ways to earn will be from completing surveys, you can also get paid to sign up for things you might be interested in. This will be detailed below in the list of ways to earn. Before getting into the list, you should know that every 100 points=$1.
Surveys
Complete simple surveys to redeem points, While there are plenty of surveys offered, I wouldn't waste much time on ones that take a half-hour to complete and offers less than 500 points.
Of course, there are not many surveys that will constantly pay at that rate. However, there are some surveys that offer samples of certain products along with the points upon completion. For some surveys completed, you can earn samples of shampoo, soap, toothpaste, and cosmetics from popular brands(Olay, Crest, Clinique, etc).
Offers
As stated above, you can get paid for things that might be on your to-do list. From life insurance to pest control or checking your credit score, there are many things you might already be interested in that you can get points for by doing it through Prize Rebel.
Watching Videos
You can watch videos to earn points, but the videos they offer do not provide much points. On average you will get 3 points for watching videos and after watching a couple I did not see any points accumulate in my account. I"m not sure, but you probably have to subscribe to the channel after watching the video as well. With such a meager reward I wouldn't waste my time with this.
Raffles, Lucky Number, Contests
I must admit that there are not many survey sites where you can earn these ways. At Prize Rebel, you can enter your name in a raffle where you can receive gift cards valued as high as $150 if you win. If I notice something higher I will update the article.
As I am currently writing this, there is a jackpot of 19,500 points=$195 that can be redeemed by guessing 4 numbers between 1 and 17. Unfortunately with this, you have to pay to play as each ticket will cost 20 points. There are also contests in which people get rewarded based on being a leader in a specific task. For instance, if you referred the most or signed up for the most offers within a certain time span then you will be eligible for more rewards.
Referrals
The most passive way to earn with Prize Rebel is by simply sharing your referral link and getting others to join. Instead of getting points, you will earn a 15% bonus based on the earnings of your referrals which makes this part of earning with Prize Rebel a bit confusing.
Getting Started
There are two things to consider when getting started with Prize Rebel. If you are between the ages of 13-18 you must have your parent's consent. All surveys are also in English so if you are from a country like, the U.S, U.K, Canada or Australia then you may want to try it out.
After taking that into consideration, all you have to do is enter your name, email, and create a password. After creating an account, you must fill out a profile questionnaire. You must answer basic questions like your birthday, gender, ethnicity, level of education, employment status, cellular company, and annual household income.
Some questions may seem personal, but there is a simple reason for this. Surveys are based on things you will most likely be interested in. The last thing you want is a survey that offers samples of Depends diapers for adults if your 25 years old.
Working Up The Ranks
PrizeRebel rewards those who use their platform often.
Every member starts off at the Bronze level and can work their way up to Diamond. As you climb the ranks you will be eligible for more points from each activity you do.
Here is a breakdown of each account level: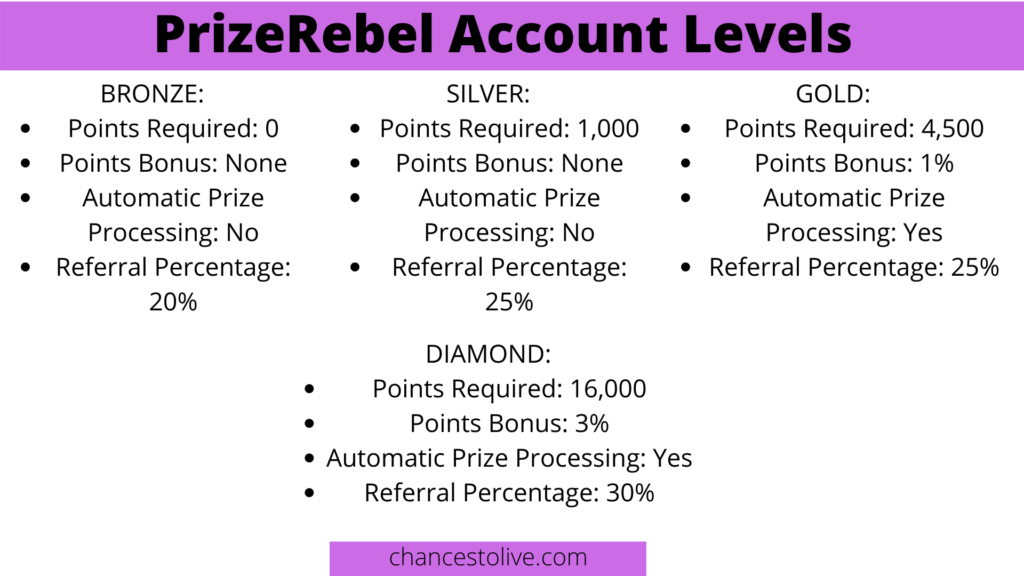 Payments
There are two options to receive your earnings from PrizeRebel which is detailed below.
Gift Cards
There are a variety of gift card options you can use your points on. Every now and then Prizerebel will offer discounts on specific gift cards which will be advertised at the top of the rewards page. For more details regarding the kinds of gift cards to expect you can check out the image below. It is believed that PrizeRebel provides the most options in regards to this in comparison to other survey sites.
PayPal Cash
If you prefer cash, you may redeem your points balance for a PayPal cash payment or a Visa prepaid gift card.
There are plenty of survey sites that require people to accumulate a lot of points before these types of cash payments are made available. Fortunately, you don't need to accumulate a lot of points to turn into money as only 500 points=$5 is necessary to cash out with PrizeRebel.
How Long Has Prize Rebel Been Around?
PrizeRebel has been in service since 2007. With over 10 million members, they have awarded more than $22 million to their members and have over 200k following on Facebook. Although they don't have a mobile app available, the PrizeRebel website is mobile-friendly and can be used to perform surveys and other tasks directly from your phone.
Is Prize Rebel Legit or a Scam
With its history in business, Prize Rebel would not be around if it was not legit. However, these survey sites always have a scam-like feel to me due to how much you have to constantly fill out your information and provide your email to earn rewards. All the emails you receive from the various sites can turn into the majority of emails you get altogether.
Ultimately, the earning potential is low with these kinds of sites so you will have to choose the best method to make it work for you.
If you want to learn how to make money online with a huge payout potential:
Click Here to Learn the Best Way to Make A Passive Income Online.
Click Here For a Review of the Best Survey Sites.
Hope this article provided clarity on what to expect with PrizeRebel and if you have any questions feel free to leave a comment below.
Prize Rebel
Name: Final Thoughts
Description: Prize Rebel is one of the better survey sites to look into with so many ways to earn. This site also pays out faster than most and its ranking system is also unique. As you rank up it might be more worth the time.
Summary
PrizeRebel is a legit survey site that has been around since 2007. They offer surveys from third-party sites like peanutlabs.com which is also integrated into their platform. PrizeRebel has an easy-to-use interface and many users have reported a positive experience with the site.  If you are looking to make a little extra cash every month then sites like these can be good to look into, but if you want to make real money online then there are better methods to do so.
Pros
Variety of Ways to Earn
Don't Need Many Points to Convert Into Cash
History in Business
Positive User Reviews
Cons
Earning Potential
Must-Know English