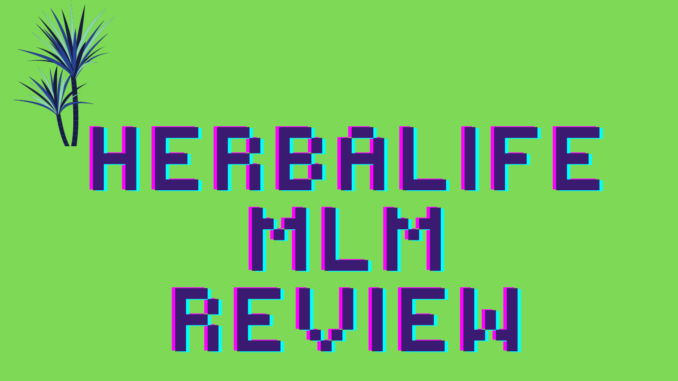 Herbalife is a multi-level marketing company that has been around since 1980. Multi-Level Marketing companies usually get a bad rap as it is always being referred to as some kind of scheme or scam. They have had some bumps on the road till the present day, but for the most part they have been one of the more respectable MLM opportunities to consider joining.
Before I go any further I must state that I am in no way associated with Herbalife or stand to benefit from you joining. I will provide a detailed review and I hope this will give you more clarity on this opportunity and whether it is worth joining.
I was once a part of a multi-level marketing company called World Ventures and I have experience in this kind of business. I am in a position to share this review with you because I got involved with affiliate marketing. If you ask me, affiliate marketing is the best way to make money by promoting and selling other people's products.
If you are not familiar with affiliate marketing I have written an article to educate people on the subject.
Herbalife Review
The Herbalife Multi-Level Marketing Business focuses on weight-loss and protein shakes, as well as protein bars, teas, aloes, vitamins, sports hydration, energy, and personal care products. Their original product is the Formula 1 protein shake which came out in 1980. Formula 1 was the company's best selling product accounting for nearly 30% of total sales until 2015.
In a Los Angeles Business article that was published in 2010, it was stated that Herbalife was one of the most profitable companies in Los Angeles, and the city directly benefitted from its business model. In 2015, their business was investigated by the Federal Trade Commission which would result in Herbalife agreeing to change its business model and pay $200 million to its distributors in a settlement with the FTC.
The Federal Trade Commission is an independent agency of the United States government whose principal mission is the enforcement of civil U.S. antitrust law and the promotion of consumer protection.
Apparently Herbalife was not honest with the FTC and inflated the retail price of their products to hide the fact that most of their revenue came from the recruitment of others to join.
Although most MLM businesses falter after some time, Herbalife has survived decades of lawsuits stemming from lying about their products to pyramid scheme accusations and everything in between.
The fact that they have managed to stay in business and not get sued out of existence is a feat in itself.
Multi-Level Marketing Companies tend to start off strong and eventually falter because there is really no product to sell. Herbalife is better than most MLM opportunities in regard to that fact, but to be successful at selling their products and recruiting others to join would take some knowledge in internet marketing.
If you are a social media influencer that already has a lot of followers in the health and fitness niche then this could be a great opportunity. If you do not have such a following and are interested in selling health products such as what Herbalife has to offer, I would recommend building a website based on the health and fitness niche and learning how to get traffic to your site. You can also make good money with affiliate marketing without setting up a website if you do not have a passion for building your own site.
Experienced marketers of Herbalife will also list their products for sale on eBay or Amazon.
Compensation
As stated earlier, the best way to make money with Herbalife is by recruiting others to join. When doing reviews of Multi-Level Marketing Companies, I try to give a clear picture of how you can earn within the opportunity you are interested in.
I usually research and find a way to provide details in simple terms. If I research a business opportunity and I do not have a clear understanding of how you can make money then I would call the company to give me more insight into exactly how you get paid.
After doing research and getting in contact with one of their members, the Herbalife compensation plan is one of the most difficult things to explain so I will post this video for you to try and figure it out.
Good Luck
Founder of Herbalife
In February 1980, Mark Hughes began selling the original Herbalife weight management product from the trunk of his car. Hughes often stated that the reason he created this product and program stemmed from the weight loss concerns of his mother Joanne, whose premature death he attributed to an eating disorder and an unhealthy approach to weight loss.
Mark would create Herbalife to be the direct selling multi-level marketing business that it is today. Herbalife would first come under criticism in 1982 and had to modify its products after getting complaints from the Food and Drug Administration for the inclusion of mandrake, poke root, and 'food grade' linseed oil.
On May 20, 2000, Mark Hughes died at age 44. The Los Angeles County Coroner autopsy results ruled that the entrepreneur had died of an accidental overdose of alcohol and doxepin, an anti-depressant.
Leaders of Herbalife after Mark Hughes
After his death, the company would be lead by Christopher Pair until October 2001.
In 2002, the company was acquired for US$685 million by J.H. Whitney & Company and Golden Gate Capital, which took the company private again.
In April 2003, Michael O. Johnson joined Herbalife as CEO following a 17-year career with The Walt Disney Company. The company announced in November 2016 that Chief Operating Officer Richard Goudis would take over the position of CEO in June 2017 and Johnson would transition to executive chairman.
In January 2019, Herbalife announced that it was replacing Goudis after learning of comments he had made before taking over as CEO that was "contrary to the company's expense-related policies and business practices" and inconsistent with the company's standards and culture." Former CEO Johnson subsequently took over the role on an interim basis.
History of Growth
By 1985, Herbalife was considered the fastest-growing private company in America.
By 1988, the company had expanded its reach to Japan, Spain, New Zealand, Israel and Mexico and increased its worldwide sales to $191 million in 1991.
The company launched a line of personal care products in 1995 which included fragrances and facial cleansing products.
 In 1996, the company had expanded its reach to 32 countries, with international sales accounting for more than half of Herbalie's total sales. 
On December 16, 2004, the company had an initial public offering on the NYSE of 14.5 million common shares at $14 per share, netting the owners $1.3 billion. In the mid 2000s, Herbalife upgraded its manufacturing facilities, moving manufacturing to around 60% in-house, and changed how the company sold its products to distributors.
Should You Join Herbalife?
As I stated at the beginning, I was once involved with Multi-Level Marketing and in a lot of ways, it can be similar to affiliate marketing. You basically buy into a membership to try and promote others to join and sell that particular brand's products.
With Affiliate Marketing you don't even need to buy into a membership to promote other people's products. If you have a social media presence and you have skills in online marketing then you can be an affiliate marketer today. If you do buy into a membership, it would be because you need a training platform to keep you up to date and provide the knowledge it takes to be a successful online marketer.
Another beautiful thing with affiliate marketing is that you are not limited to having one particular product you are putting all your efforts in for other people to buy…You can sell and literally promote almost every product that has ever been made with affiliate marketing!!!
Not to say you can not be successful with Herbalife, but for Multi-Level Marketing companies the chances of you being successful are slim. Top distributors remain at the top and the people all the way at the bottom are most likely to fail.
Getting on top will take a combination of luck, a social following, and internet marketing skills. I would say 1 out of the 3 might be enough.
Two of these are self-explanatory, but luck depends on when you join. For instance, new members in a particular state or country might attend one of the first gatherings to promote an MLM business and people start to jump on the opportunity. If you are one of the first people to sign up and subsequently sign up others at that gathering then you can be set from there.
You would have a healthy downline from the jump and being that it is relatively new in your area then your downline will promote it enough in that area until that area becomes watered down.
That is exactly why these kinds of business models are not good to consider because it will eventually become watered down in your area and then you will have to expand.
This is how Herbalife has been around so long as it has expanded globally. Herbalife has done a great job of sponsorships and marketing around the world. The company has spent millions of dollars to sponsor Portuguese soccer stars, Olympic athletes, even LA's entire soccer team.
There methods have kept them profitable and flourishing to this day.
When I say profitable, they made the Forbes Best 500 Midsize Employers list in 2019 but that refers to the people who are actually getting a salary from them. The vast numbers of independent distributors buying pills and powders to sell as a home business are not successful within Herbalife.
Is Herbalife a Pyramid Scheme?
While it appears that Herbalife negotiated away the words 'pyramid scheme' from the settlement agreement with the Federal Trade Commissions, everything we know about MLM business models points towards being a pyramid scheme.
Maybe some MLM businesses have some products that you can make a living off of selling, but to my knowledge all of these opportunities that promises a way to make good money are based on the recruitment of others.
Conclusion
My best advice is to stay away from these kind of business models. While some people are successful in MLM businesses, it is hard to be comfortable with your success when that kind of business can crumble anyday.
It would be wise to save your money and invest into other ways of making a passive income that can be sustainable forever.
If you are a member of Herbalife, had past expeience with Multi Level Marketing, or ever considered joining feel free to drop a comment below.
Is Herbalife worth Joining?
Herbalife Nutrition
Herbalife is a popular MLM that has been around for a long time.   Although they have been around for a while, there are things to consider before becoming a member.
Pros
Herbalife has been around for 40 years and has stood the test of time.  They are one of the more popular programs to join.
Has a one-year refund policy to entice people to join which is unlike other MLMs.
Herbalife has many high-visibility sponsorships which can add credibility to their brand.
The Herbalife Family Foundation, Herbalife Nutrition Foundation, and Casa Herbalife are charities that the company invested in to give back to children in need.
Cons
There are countless lawsuits over the years from unacceptable business practices.
The company has a lot of consumer complaints ranging from bad reactions to their products to bad experiences with distributors or difficulty getting refunds.
There are similar high-quality products on the market which are cheaper and can make Herbalife's pricier products difficult to sell.
Herbalife's compensation plan is difficult to understand and just like all MLM business models your success depends on the recruitment of others to join and become distributors.