Rory Ricord is another program promoting itself as a platform to help individuals make substantial money online.
You have most likely come to this page because you're doing your research and due diligence to find out whether or not the Rory Ricord program is worth joining.
I am in the position to share this review with you because I was involved with the Rory Ricord program before finding a much better way to earn online. I believe this review will help you into making the best decision.
Rory Ricord Review
---
Name: Rory Ricord
Website: roryricord.com
Cost: Varies
My Score:2/10
Verdict: Rory Ricord places much emphasis on link post blogging, but his methods and teachings will not provide you with the most effective way of building a business on the web.
In addition, there are numerous scam complaints against Rory Ricord and the BBB has also given the company an F rating which is concerning
If you are newbie, and are looking for a legitimate way to make money online then you should get my Ultimate Guide for free.
I have videos that are less than an hour and shows step by step a strategy I use to make close to $2,000 a week
What is Link Post Blogging
Link post blogging is something invented by Rory Ricord. In my view, it is a fancy or different way of saying blogging.
If you think about it, you set up a website and post content promoting affiliate products through links you have throughout the content (Hence, you are posting links through your blogs).
With the way he set's up your website…which I will get to soon- you will have little success with his so called link post blogging.
There are better programs to help build your own brand and guide you step by step towards success within affiliate marketing.
Most companies and websites talk about adding links to their blog posts, but there is no mention of link post blogging. Rory Ricord says link post blogging goes beyond simple linking.
According to this program, link post blogging requires only one website to be created for marketing.
Outside of this explanation, Rory Ricord does not expand on link post blogging. This is a trap to get potential customers to purchase his program to find out more details.
Website Installation
After buying into the Rory Ricord program, you are hit with an upsell to pay for your site to be installed.
The website from Rory isn't exactly gonna live up to your expectations because the domain name isn't yours to keep, the function of the site is very limited, and the blog doesn't really belong to you at all.
Members will get a site that's already done for you with duplicate content that every other member gets when joining which is terrible for seo purposes.
That will give you zero chance at getting Google rankings and organic traffic to your blog.
Just a little word of advice here, even if you were to overcome all of the SEO problems that come along with using one of his LPB sites, having a domain name made up of only random numbers and letters will most likely never rank on it's own for free.
The main reason why people new to internet marketing fail with LPB sites is due to the fact that Google and the other Big 3 search engines do not take kindly to websites when their Niche topic is not easy to distinguish what the primary focus is on.
While it will be almost impossible to make money in the long term, theses are a a couple options you can do to make the site a success.
Invest a huge amount of money (1,00o's monthly) out in advertising fees to places like Google Adwords,  popular social media sites, or really any ad space you can obtain where there is already 1,000's of daily visitors. To make it work out in your favor you're going to need a good return on investment and a good number of clicks on your link in order to get the search engines attention.
Get the top authoritative sites in each of your LPB sites niches topics to mention and link to your site as much as possible and using anchor texts that have your site name and/or the keyword you most want to be ranked for. Which, mind you, will still cost you a few dollars. As a matter of fact it would be much more than just a few dollars.
This option is less expensive, but by far probably the hardest to do. Ask a highly respectable, Top Authoritative name, to use his heavy Google Authorship status and bring your rankings right to the top by having him or her put their credentials as the author of your posts and pages.  it may also be ideal to put them down as one of the owners of your site.
Training
A weird and confusing part of the training is how Rory directs you to watch a clickbank video detailing how to make money online after making members watch similar videos from Rory himself.  The Clickbank video makes you feel as if you signed on for the Rory Ricord program and are now unsure afterwards of whether you are suppose to sign up for the clickbank opportunity to get the complete package.  Here is a complaint from a person who joined: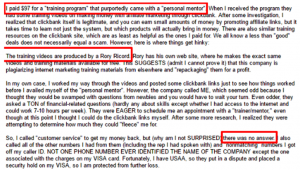 Rory Ricord sells a training program online that includes 1-on-1 support and advice from his team.
This program also includes various resources relating to link post blogging and how to make money off of this system. This program places a lot of weight on its 1-on-1 training sessions.
Rory claims that his staff is trained by him alone and have a great understanding behind the concepts of link post blogging.
These staff people do exist, and there are mixed reviews on the quality of their help provided to members of the program.
Personal Experience
This is the first video I ever posted. I now use a strategy that makes me close to 2,000 a week online which I share in my ultimate guide to make money online.
Not do I only go through steps you can apply right away, but I show much better alternatives to make money with affiliate marketing. Wether you want to start a blog to promote affiliate products, credible done for you solutions to make money online, and best social media trainings that are available.
My personal experience within the Rory Ricord platform was brief as it started off with a bunch of red flags that lead me to research for better opportunities.
First off I wad lead to his program through an ad that did not mention anything about Rory Ricord, but just as a a way to learn how to make money online by just paying $67.  After paying the $67, I then got the sales pitch to join the Rory Ricord program.
I was hit with an upsell to pay for the website to be installed after paying a decent amount for the training.
The name of the site was something like www.2R72.siterubix.com.  If you are new to internet marketing then you just got scammed because you just paid a substantial amount of money for a site that belongs to and is hosted by siterubix.
I did not fully understand that at first as I was more concerned about why the name of the site was just a few letters and numbers.  Rory response would be to not worry about that and to get to the training.
After Rory advises me to join and market products for Brunette Marketing, Clickpartners, and a few other affiliate sites, I was then showed a video on clickbank which had me confused.
I was about to buy into clickbank after that but thought to myself , "didn't I just pay for something like this".
Rory Ricord eventually guided me to post ads on sites that gets traffic such as classifiedsforfree.com, advertigo.com, and a few more.
I guess after posting ads on these sites you hope someone clicks on the ad and buy something in order to get paid.
Lets just say after posting and posting and posting these ads over and over, it started to feel as if I was just wasting my time.
Rory advises to keep posting like I did and did not give any clear cut answer on how many times to do so, but the answer seemed to indicate if you do it a thousand times you might make something.
Will as I mentioned I posted links countless times and did not make any money doing so. With this method, Rory claims that individuals will make money doing this once they master the art of link post blogging.
I almost forgot to mention that after paying for the training, I had to dig deep and reach out to the program just to get started.  It is very suspicous to pay for an opportunity to make money online and have to reach out first to get details on the opportunity.
After that I would eventually get a phone call from someone asking me a bunch of questions that was all about digging into my personal finances to see if I could pay more money for even better training.
That is three red flags if I am not mistaken.  Then the money back guarantee or Rory Ricord's personal guarantee that if you pay into the program and do not make any money he will personally give you $500…forget it.
I spent like ten minutes on the phone going back and forth with customer service on why I did not want to be a member anymore and getting my refund just to join.
I got refunded for the initial purchase to join but not the upsell of the site which was quite expensive.
Back to the phone call.  The phone call questions alone was the number 1 red flag.  The representative spoke as if they wanted to see how motivated I was because they would invest in my better training based on our conversation.
It made me feel as if I would not get everything I wanted out of the opportunity if I did not have the money for it.
Of course there investment in individuals is b.s. Their questions related to credit score and yearly income seems to be another way to see if they can get more money out of you.
Who Is Rory Ricord
Rory Ricord is an internet marketer who has been around for a long time and also has his hands in various money making programs.
Rory Ricord has achieved a lot of success and has made plenty of money as an internet marketer, but he has done so by misleading individuals to buy products that do not live up to be as advertised.
In his numerous years of experience he has had more negative reviews than positive which is a huge red flag.
Rory Ricord has been brought up time and time again in relation to many different scam complaints with the BBB.
Is Rory Ricord A Scam?
I am not big on labeling a company as a scam, but with Rory Ricord I would be lying if I said it would be a good business opportunity.  Rory Ricord is the face behind a few scam sites which are named the following:
The Work at home institute
Profits Master Academy
Home Job Placement
Leads Stream
After one system is caught onto by the public he goes out, renames it something flashy, changes the steps around a bit, and then market it to unsuspected individuals searching for a legitimate way to make money online.
Rory Ricord owns a company called Brunette Marketing and if you check their profile on BBB you will see they are not accredited which does not mean they are a scam.
But there are complaints that Brunette Marketing has yet to respond to  which is quite concerning.  I am suspicious of the fact that 5 positive reviews popped up in one day which leads me to believe it was coerced by Rory Ricord or members of his team.
When it comes down to investing in the Rory Ricord program, paying cash for a WordPress website that's gonna be absolutely useless when it comes to SEO, and also using an outdated "link posting" method for trying to make money online isn't really worth your time, effort, and money, in my opinion.
There are far better programs than Rory Ricord that will teach you how to build an online business, and one that can actually be very successful too.
If you want to learn more on how to build a website for affiliate marketing:  Wealthy Affiliate  is my number 1 recommendation for beginners.
WA provides you with step-by-step training on how to make a full-time income online. In addition, WA provides a vivid community of online entrepreneurs who support and help towards each other success.
Another benefit in WA is that you can join for free. Click here for my personal review of Wealthy Affiliates and the path towards online success.
Rory Ricord Program
price

transparency

training

website
Summary
There is more to lose than earn when investing your time and money into this program. With an upsell and phone calls regarding your financial situation, it is no telling how much money Rory Ricord will try to get out of you. The website created for you will have you confused and even though you paid for the site you will not own it. It was very misleading to begin with when ads leading to his site mentions nothing about Rory Ricord, but instead preys on beginners searching for a way to make money online.