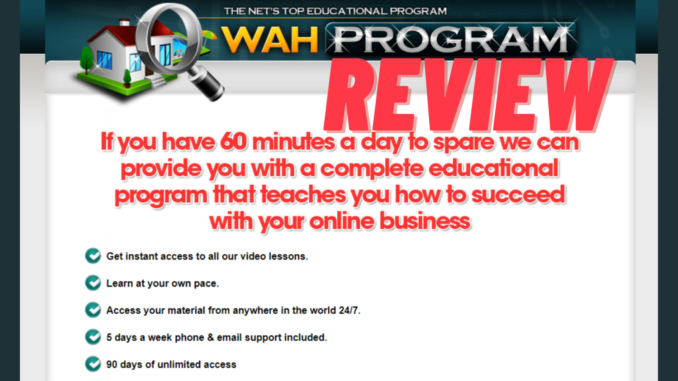 If you are interested in making money online you probably came across something called the Wah Program. This review will answer the following questions you may have regarding this site:
What Can You Learn from the Wah Program?
Will You Make Money with the Wah Program?
Who Owns the Wah Program?
Is the Wah Program a Scam or Legit Opportunity?
You did the right thing by researching this before moving forward. Hopefully you won't fall victim to a scam when you begin searching for a way to make money online.
I know it can be a deterrent and it might make you skeptical of opportunities that are genuine and will put you on the right path when starting.  
From my experience of making money online, I was once scammed into an opportunity like this when I first started and I will share my experience with you in this review.
What You Will Learn With the Wah Program?
The Wah Program advertise itself as an easy way to make money online by posting links. That is very misleading because there is no way you will get paid just by posting links.
When you post links you can earn in two ways. 
If someone clicks on a link and proceed to buy something
You can get paid per a click.
The number 1 method is done through a process called affiliate marketing which is something I explain in My Ultimate Guide to Make Money Online. It goes over 4 proven steps a lot of successful entrepreneurs take to start making money with affiliate marketing.
The number 2 strategy sounds easy, but that way of making money online does not work the way it use too.
When it comes to making money when someone clicks on a link, you must first join a site that spam viewers or readers with ads and offers.
You must then copy a url and shorten it on the site you joined. Once you shorten that url it will redirect people to advertisements before going to the main page.
If you ever clicked on a link and got taken to a page you didn't expect and quickly tried to find a way out, chances are you clicked on a link that pays per click.
The problem with this method is that if someone don't watch the ads or exit the page quickly, then you might not earn anything? 
It is also considered spam in most forums nowadays and you will quickly get banned from posting links like this.
It use to be easy to make money with shortened links. All you needed to do was write an article and post these kind of links in popular forums.
But now…the best way to make money with this is if you have a website or a huge social media following.
Can You Make Money by Joining the Wah Program
There is no way to make money with the Wah program. When it comes to making money posting links, your success depends on the program you invest in. Being that this is an out right scam and you are misled to think posting links can simply make you money, anything you are taught will be general information that seems legit.
The thing is, when I first got scammed I was presented with a similar opportunity that followed up with more offers. You will continue to be misled with information that seems like you are learning something if you don't know much about what it truly takes to make money online.
This is a tactic used just so they can get more money out of you. And Good Luck getting your refund.
If there was an opportunity to invest $47-$97 and easily learn how to make huge amounts of money, everybody would be talking about it. So my question is, have you ever heard of someone talking about some amazing opportunity called the Wah program?
Now there are genuine opportunities to make money online that can turn into easy money if you get the proper education. 
With that said, hard work and effort is necessary when starting out to get to the point where making money online becomes easy. If you really want to find a legitimate opportunity that will teach you to make a substantial amount of money online then click here.
Who is the Owner of the Wah Program?
Another red flag is that the owner does not disclose who they really are.
At the end, they are going to keep revising their scheme. Sites like these change things around so you will never know who is really behind this.
If you look this up on the BBB you will see this is not accredited and actually says it is out of business.
It is no secret that this scam was exposed before, so they will keep changing things around and shield their true identity. That is to protect themselves so they can keep taking advantage of people looking for a legitimate opportunity to make money online.
Is the Wah Program a Scam?
If you got this point of course you know the answer to this question. There is just no way you can make money just by posting links. If you ever see a program advertising itself as an easy way to make money like this then then it is a scam.
If you invested in the Wah Program, ditch it right away and try to get your refund. There is a reason why you won't see reviews or testimonials from people talking about this company. Any testimonials they put on there site are fake and there are a few sites like this that you must avoid.
I recently written a review on a company called Computer-Connect which is the same scam. I also came across another company like this that I will provide details on soon.
So I hope this review provided clarity on the Wah Program. If you have any experience or invested in this platform, please don't hesitate to share your experiences in the comment section below.
And for the knowledge it takes to build an online business, Look Into My Ultimate Guide to Make Money Online.