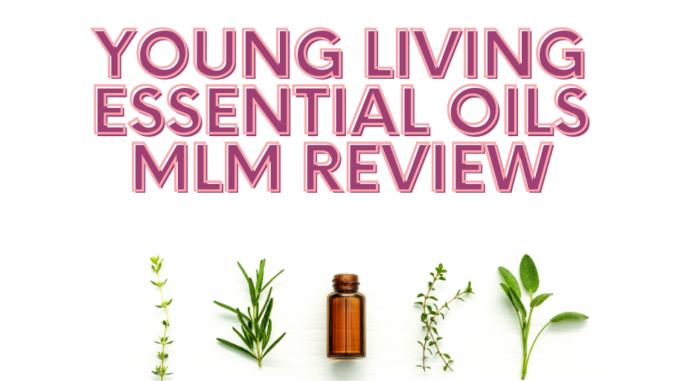 If you have not heard of Young Living Essential Oils, it is one of the best multi-level marketing opportunities out there.
Young Living Essential Oils was founded in 1993 by Gary Young as a proprietary production process that he would name Seed to Seal®.
Members that market their product usually give them rave reviews to make the public perceive them as "the best in the essential oils industry".  So what puts them above the competition? To answer that thought, I will provide you with a detailed review of what Young Essential Oils has to offer.
BTW… I use to be involved with a multi-level marketing company called World Ventures before getting into affiliate marketing.
From experience, I can say that affiliate marketing is a much better way to market and make money from referring others to a business… Now let's get back to the Young Essential Oil's MLM Review.
Young Living Essential Oils Review
What puts Young Living Essential Oils above the competition is in the production process.
In comparison to other essential oil brands on the market, Gary Young's quality standards & control (QSC), as well as the distillation process of Young Living essential oil-based products, is the most large-scale researched production process. Other essential oil brands QSC may be subjected to strict requirements and independent-testing. Only Young Living Essential Oils is backed by the proprietary Seed to Seal production process.
The distillation process itself is a remarkable feature in the production of Young Living Essential Oils in comparison to other brands that use a low-heat steam distillation process, compression, or cold-pressed without any supplements. Young Living Essential Oils are made through a slow steam extraction procedure which enables it to bring out the essential oils without any unwanted contaminants.
Young Living Essential Oils has transformed its creative use and reached out to people to share their beauty and wellness benefits as well.
The company has created an official Essential Oils Guide where you can learn about the advantages Young Living Essential Oils have over other essential oil brands in the market today.
Tiered Starter Packages
Young Essential Oils offers 4 different starter kits.
Welcome Home Starter Kit: The Welcome Home Starter Kit will infuse your home with the power of pure essential oils. It is priced at $125 and the following list is included.
Frankincense, 5 ml
Lavender, 5 ml
Peppermint, 5 ml
Valor®, 5 ml
Grapefruit, 15 ml
Lemon, 15 ml
Lime, 15 ml
Tangerine, 15 ml
CBD Premium Starter Kit
CBD Premium Starter Kits are available in two strengths, so you can pick the potency that meets your needs. By combining pure essential oils with 0.0% THC CBD, these introductory collections give you the best that nature has to offer. This kit is priced at $165 and the following list is included.
Calm CBD Roll-On, 300 mg
Citrus CBD Oil, 500 mg
CBD Muscle Rub, 300 mg
Getting Started with CBD brochure
2019 PSK with Rainstone Diffuser
Created from a rare purple clay found only in certain parts of China, the Rainstone Diffuser requires approximately 5 hours for artisans to create techniques that can take several years to master. The following is included:
Lavender 5-ml
Peppermint Vitality™ 5-ml
Lemon Vitality™ 5-ml
Copaiba Vitality™ 5-ml
Frankincense 5-ml
Thieves® Vitality™ 5-ml
Citrus Fresh™ 5-ml
Raven™ 5-ml
DiGize™ Vitality™ 5-ml
PanAway® 5-ml
Premium Starter Kit CBD – Extra Strength
The Premium Starter Kit CBD – Extra Strength is also available in two strengths. While it is basically the same as the CBD Premium Starter Kit, you will receive more quantity of the same products. This kit is priced at $250 and the following is included.
Calm CBD Roll-On, 600 mg
Citrus CBD Oil, 1,000 mg
CBD Muscle Rub, 600 mg
Getting Started with CBD brochure
What sets Young Essentials Living Oil apart from most Multi-Level Marketing opportunities is the fact that you don't have to be a member to have access to these products. If you do not want to buy such a kit, but may want to sample their oils then you can get it on Amazon.
There is an optional auto-ship program where members earn free products and points for ordering monthly – but it is not a requirement.
Comissions
The company sells its oils at retail level pricing. In fact, their prices are 24 percent higher compared to wholesale pricing. Therefore, it's easy to see the difference between the retail as well as wholesale pricing.
If you purchase a Premium Starter Kit then you would get the product at the wholesale price. At the same time, you will get a one-time new customer commission of $25 from the company. There is also an 8 percent commission on starter kits that you will receive from recruiting others to become members of Young Essential Oils.
Young Living Members must adhere to certain requirements in their policies. These requirements are listed below.
Promote the Young Living Independent Distributor logo.
Must register the website to be used for sales, with Young Living.
Such a website must have a mechanism for getting customer feedback and replying in a timely manner.
Is Young Living Essential Oils a Scam
This company has become one of the largest companies in the direct sales industry. It is safe to say this is not a scam and it provides a legitimate opportunity to make an income.
With that said, I am not sure how beneficial it is to become a member if your intentions are to make a substantial income being that the products are easily accessible to the public.
Members that lack knowledge in online marketing may struggle with this opportunity. Successful members will most likely have some experience in internet marketing and will be able to build a website to drive traffic to a store you may have on Ebay or Amazon.
If you do not have any experience with building a website:
Fill out the information Below For a Free Website and Beginners Course on setting up your site in a way to drive traffic to promote your products.
If you are a member or have ever tried out their products, please feel free to share your experience with Young Essential Oils in the comment section below.