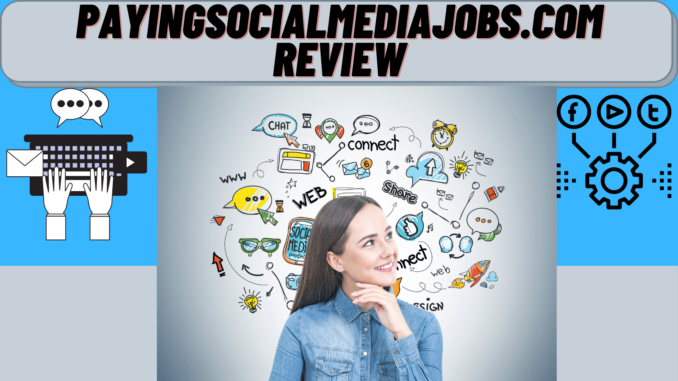 Are you interested in making money online and came across a site called payingsocialmediajobs.com? If so, this review will answer the following questions you may have regarding this site.
What Kind Of Jobs Can You Expect?
How Much It Cost To Get Started?
Is PayingSocialdMedia.Com a Scam or Legit Opportunity?
Is There A Better Alternative to PayingSocialMediaJobs.Com
As someone that makes money online, I was intrigued when I came across this site and seen promotions for jobs earning $25 an hr on Facebook. So I had to research and find if it is a good opportunity to make easy money online to provide clarity on what this site has to offer.
I also posted a video on Youtube regarding this site if you want to check it out.
Disclosure: As the owner of this website I have tracked down special deals for some of the products and services mentioned herein. When you use the links on this page to make a purchase I may get a small commission and you may get a great bargain. Its a win win all around! See my terms of service for details
What Kind Of Jobs Can You Expect From PayingSocialMediaJobs.Com
PayingSocialMediaJobs.Com offers an opportunity to make money through businesses all around the world that are hiring people just to help manage their social media accounts such as Facebook, Twitter, and YouTube?
It is indeed an opportunity to make a decent income with these kind of jobs. As you can make money doing this anywhere, all you need is a few spare hours per week, a computer with an internet connection and a good knowledge of how to use these social media platforms.
PayingSocialMediaJobs.Com claims you can make money from anywhere by performing the following tasks.
Make $25 per hr Posting Facebook comments
Make $20 per hour Commenting on and 'liking' YouTube videos
Make $200 per week part time Tweeting' special offers and promotions
Make $1050 per week as a full time Social Media Manager
Make $27 per hour Managing Facebook groups and contests.
How Much It Cost To Get Started
It costs $27 to have access to PaidSocialMediaJobs.Com offer, however, if you try to exit the page you'll get a $10 discount.
Of course this will just get you inside the members area. Once inside you will be given a few offers which includes the following.
Upsell #1 – Paid Social Media Jobs VIP Pass $77-$97
Upsell #2 – Paid Online Writing Jobs and Write App Reviews
Upsell #3 – Social Media Arbitrage Course $37
To get the full experience of what Paid Social media Jobs has to offer, you will most likely have to invest in the VIP Pass. So altogether you might pay between $94-$124
Inside the members area, there are even more offers but it is not necessary to invest in.
Here's the list of these extra offers:
20 Ways To Make $100 a Day $9.95
How To Get Out Of Debt Fast $14.95
How To Quickly Repair Your Credit $14.95
Launch a Digital Product Business $47
Is PayingSocialMediaJobs.Com a Scam Or Legit Opportunity to Make Money Online?
There are a lot of negative reviews regarding payingsocialmediajobs.com. While it might be warranted as the way they promote it has a get rich quick scheme kind of feel, it is true that there are opportunities to make money the way they detailed.
However, it is misleading on how they say you can make money on comments, likes, and shares. A lot of negative reviews come from people complaining about there being a lack of job opportunities. There is a simple explanation to this.
Making Money with likes and comments on Facebook is a bit outdated although some people still do it. The strategy to this is to sell these likes and comments for a fixed fee.
If you look on Fiverr under relevant social media categories, you will most likely find a seller advertising this. The thing is, you'll need to deliver however many likes and comments you promise and those who sell this usually have a solid network of other Facebook users to help get the job done.
Several sellers use bots with fake Facebook profiles to complete the task, but this is frowned upon on Facebook and could lead to the buyer's profile getting banned.
This is the same with Twitter, Instagram, Youtube etc.
The best way to make use of PayingSocialMediaJobs.Com is to have a beginners approach for becoming a social media manager.
It will be next to impossible to get hired by a business to manage their social media account with no knowledge of what to do.
There is a lot of competition for those kind of jobs and people that get hired usually have years of experience.
So if you join payingsocialmediajobs.com with the assumption that you will make easy money on day 1 then you will be disappointed.
Another knock on this site is that they offer job opportunities you can get on free sites like Upwork & Freelancer.
Who Is PayingSocialMediaJobs.Com For?
The training inside could be useful for anyone looking on how to become a freelance social media manager.
PayingSocialMediaJobs.Com purpose also seems to keep you updated on social media jobs offered through different sites.
When you have access to their full training you can expect the following:
Module 1: Understanding What A Social Media Manager Is
What social media jobs are
Why businesses are hiring people to help them
Understanding social media clients
Module 2: How To Get Started As A Social Media Manager
How to find social media jobs?
Understanding freelance marketplaces
Social Media Jobs For Beginners
Becoming an expert
Module 3: Finding Clients
What kinds of business will hire you?
Examples of good social media management
How to Find Clients

Earning Potential as a social media manager?
Advanced Training
The importance of social media marketing to business?
Why most businesses hire social media managers?
What are the most important social media networks?
How to Build Up Your Reputation
The Best Ways to Find jobs
How to make good money working 30 minutes or less per day
Converting prospects into buyers
The profit formula
Negotiating Higher Pay
Building Long Term Relationships with Clients

Building a virtual sales team

Your 'Social Media Proposal Document'
Reputation management
Ways to Become more productive
Reporting and analysis
Is There a Better Alternative?
If you are interested in becoming a social media manager then you need to start from somewhere. However, it will take some time and effort to make the kind of money that is in their hyped sales pitch.
However, when it comes to making money online, there are ways you can generate an income while you are sleeping. The method I use along with a lot of successful online business owners can be much more lucrative.
While learning how to become a social media manager might be worth the price, that kind of job still requires you to work for someone.
So if you want a chance to make a real passive income, you should look into my Ultimate Guide to Make Money Online.
Conclusion of this PayingSocialMediaJobs.Com Review
PayingSocialMediaJobs.Com would get a better rep if it promoted itself as a training for beginners to become a social media manager. They promote it as if it is easy to make money with this in a week and say things like you don't need any skills or special qualifications.
However, you do need skills to become successful and this can be a good start if anything. I guess they say things like that to get you to buy in, but that can lead to heightened expectations and disappointment.
So I hope this provided clarity on what to expect with PayingSocialMediaJobs.Com. If You have any questions or experience using this platform then please leave leave a comment below.