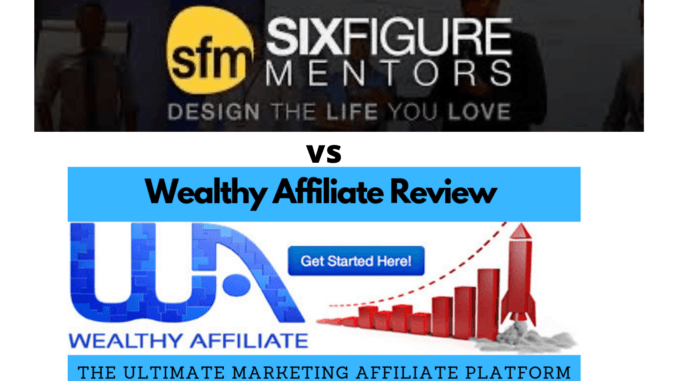 If you are looking for a genuine opportunity to make money online then you have probably heard of Six Figure Mentors and Wealthy Affiliate.
Both programs teach beginners a way to make money online by building a website for affiliate marketing.
The knock-on both programs is that they teach you to market their programs which is not something you necessarily need to do depending on the niche you want to focus on. Unfortunately, if you are new and strictly taught how to promote their products then you will not be given the tools to go about building an online business the way you envision.
With that said, the benefit of promoting their programs, especially six-figure mentors is the fact that you can make good commissions.
The training in both programs aims to provide you with the skill-set to market on the internet and earn either affiliate commissions should you be marketing someone else's products or your own.
Six-Figure mentors program is a bit expensive as opposed to Wealthy Affiliate, so a couple of sales can bring in huge commissions all at once.
The thing about SFM is that they are quite aggressive in getting new members to market their brand and there are not many members that experience success online by promoting anything else.
Before going any further…
…if you do not have a complete understanding of affiliate marketing and how it all works then you should check out this article.
Pros to Joining Six Figure Mentors
Free Month to get Started
Earn high-ticket commissions and instead of having to make a 100 sales to turn a profit
There are not much pros to joining SFM, but high paying affiliate programs are extremely hard to come by and this is one.
Cons of Joining Six Figure Mentors
The affiliate training is not in-depth enough in some critical areas;
The high price
Upsells
New members are encouraged to promote the SFM program itself instead of being influenced to get into a niche of your own.
Six-Figure Mentors offers 3 forms of memberships, but the upsells are the main product that they are luring members to buy into.
Student Access: Free 30 Day Test-Drive ($25 per month thereafter if you remain a member
Essential Membership: $297 upfront plus $97 per month
Elite Membership: $2500 upfront plus $97 per month
As far as their training and overall feel for what it is like to join their program, below is a quote from a member that once joined Six Figure Mentors.
"At the initial stages, the training is fit for purpose, but in my opinion only up to the level of 'Essential' Membership.
For the cost of the course material that's on offer above 'Essential', there's significantly better out there.
If I was starting out in affiliate marketing right now, with no prior experience…
…I would be signing-up with someone else".
Pros of Joining Wealthy Affiliate
Beginner Friendly
Easy to understand lessons
Free to join
Thousands of active members in the community
You can contact the owners
Great support
Great web hosting
Free keyword tool
Spam free community
No Upsells!
In learning how to market online, Wealthy Affiliate is a better program for beginners wanting to build a website for affiliate marketing. The platform also provides a quality keyword tool for researching what phrases can drive traffic to your site.
Quality SEO tools for researching keywords can separately cost online marketers $100 a month or more.
Wealthy Affiliate has over a thousand experienced marketers within the program to help answer questions, give advice, and point you in the right direction.
There are no upsells unlike Six Figure Mentors, and for the value it provides it can very well charge $1,000s like other training programs.
The price to be a member and receive premium training at Wealthy Affiliate is $49 a month.
Cons
After the first week of the free membership, you lose some privileges if you do not upgrade to Premium.
Like Six Figure Mentors, WA could have better training in certain critical areas
It would be misleading to say that Wealthy Affiliate provides the best training, but if you utilize the community and communicate with other experienced marketers within Wealthy Affiliate then you can very well learn almost everything you need to know.
But…
For advanced training and a faster path to succeeding with affiliate marketing, I recommend a community called Legendary Marketers.
It is quite expensive and there are upsells just like Six Figure Mentors, but as the name implies, Legendary Marketer training is Grade A and gives you the knowledge it takes to become a legendary marketer.
Below is a comparison chart of Wealthy Affiliate and Six Figure Mentors
Comparison chart of Wealthy Affiliate and Six Figure Mentors
Conclusion
Not to be redundat, but Wealthy Affiliate is a better choice for getting started. The price, community, and training provides a better environment to help you succeed online.
However, if you are stuck and do not find yourself progressing then you may want to look into Legendary marketer.
I hope this transparent review has given you clarity about how to start an online business for affiliate marketing, but if not you can check out this review of what are the best affiliate marketing training programs.
If you have joined Wealthy Affiliate or Six Figure Mentors feel free to share your experiences by leaving a comment in the section below.