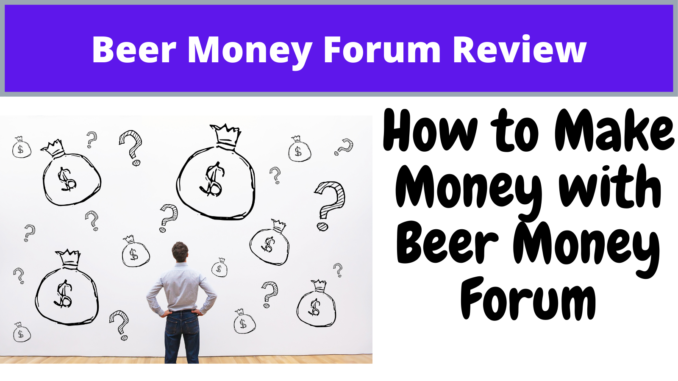 What is Beer Money Forum: BeerMoney Forum is a site where people discuss ways to make money online. In communicating their methods of earning online, the advantages and disadvantages of every business opportunity is a topic of discussion.
In deciding whether or not this is worth investing time in, this review will provide full details of what to expect once becoming a member.
What Is Beer Money Forum About?
Getting Started
After you register and create a user account, you are free to post on the different forum topics.
The site pays you in BMF currency in which 1000 BMF coins equates to $1 on the site.
You can accumulate 50 BMF coins for posting a new topic in the paid topic areas. You will be limited to posting 3 new topics per hour to earn 150 coins.
You can also earn BMF coins for commenting on different topics on the site. You are limited as well to 3 comments per hour and you accumulate 20 BMF coins for each comment you make that is +100 characters.
Each time a person likes one of your comments, the person pays you 5 BMF coins from their account.
For accumulating more coins, Beer Money Forum offers a marketplace where you can earn for completing some tasks. You may also earn rewards and coins on the site for entering into the different contests.
As an example, BMF has recently started a drawing contest that is held once a week. You can enter the contest by purchasing a ticket for 10 BMF coins. Three winners will be selected each week from the contest and awarded the prize money.
The site also has a referral program in which you can earn 1,000 BMF coins for anyone that joins under your referral link.
Pros
Social Engagement
Money Making Ideas
Participating in forums is a great way to become socially engaged by communicating with like-minded people. People in the forum share their thoughts and experiences they've had in the past with different business opportunities online. If you have ebooks or tutorials you've written, then you can promote it to fellow members within the forum.
When it comes to money-making ideas besides the experiences of fellow members shared in the forum, the program itself offers a chance to learn about investing, the different types of cryptocurrencies, platforms that pay you to write, take surveys, use apps, and pay to click on links and ads.
Cons
Earning Potential
Waiting Time for Payments
While you can earn some money on this site, this is by no means a way of establishing a substantial income. For most people, it takes 3 to 4 days to accumulate 1,000 coins.
In the past, there were more ways available for accumulating coins faster.
For instance, you use to get coins just for logging into the forum each day. When Beer Money Forum first started, there also was no limitation to the number of comments and threads you created each hour.
Last but not least, for certain tasks such as commenting on certain topics, the amount of coins you earn is less than what it use to be.
All of this boils down to a low earning potential which makes it harder to cash out and be paid for the work on the site.
Receiving Payments
Once you reach the threshold of 1000 BMF coins you will be able to cash out and get money sent via Paypal.
The coins must be given to the owner of the site so he can convert it into cash to be sent into your account.
You will need to pay the PayPal charges, so it is necessary to send the coins to the owner to pay these charges. The more coins you have, the less extra coins you will have to dish out per 1,000 coins to receive the money in your PayPal account.
As an example, it would take an extra 34 coins per 1,000 to cash out a dollar as opposed to 5,046 it would take to cashout $5.
Conclusion
This is a legitimate paying site that you can earn from posting on the forum, but if you are there with the intention of making money then there are other sites that are more worth the time. Whether you want to take surveys or look into other ways to make money online…
Click Here For a list of the best ways to earn online
The Beer Money Forum is a great site if you're new to working online as the forum provides plenty of topics and reviews of programs regarding online marketing.
The site has changed the payment structure 3 times in the past as the owner is trying hard to keep the site legitimate and pay all the members for the work they do.
However, with the earning potential being pretty low, I would not recommend investing too much time in it, but instead doing this in a way that is convenient to your schedule.
Two Users Reviews
Jun 21, 2020
"This is one of the sites that help me grow my online business.
Since I discovered this site and have been getting leads for my business.
Members here help one another to succeed in their business.
I like this community".
thank you.
Nambea Sunday
jonflow-1 year ago
"I've found that it's mostly full of short posts that have absolutely no helpful information. The forum pays you for each post or comments you make that is over a minimum character limit, so the majority of comments are people rambling on and on in an extremely unhelpful manner and saying nothing at all.
Majority of the posts about different apps or services are untested and unvetted, literally hundreds of posts daily that give attention to Play Store apps that don't pay out and have horrible reviews. Because once again, they get paid to post, whether the information is helpful or accurate, or not.
The forum encourages these spam posts to help attract more people and generate more traffic. I don't find the forum to be very helpful at all, mostly outdated techniques for generating passive income that make the process seem easier than it is.
I'm not saying there aren't some gems in there somewhere, but I strongly advise to quadruple-research any information you find there".
If you have any experience or thoughts regarding the Beer Money Forum, feel free to leave a comment in the section below.