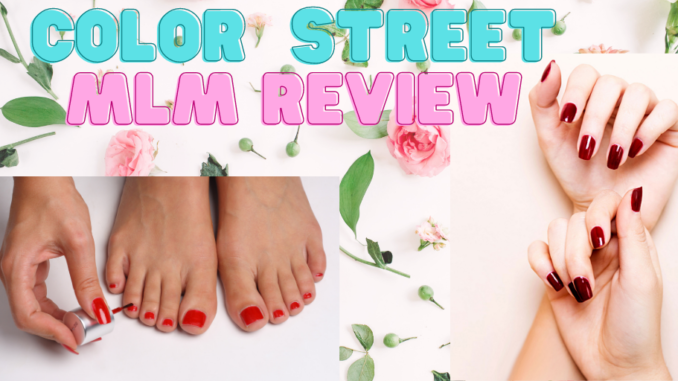 Color Street Review: Quick Summary
Name: Color Street
Description: Color Street is a network market company that focuses on promoting nail products. It doesn't cost much to become a member and they seem to have a generous compensation plan for it"s distributors. This might be one of the better MLM companies to consider joining with its low startup costs. However, without any marketing skills, most people fail to succeed as these companies tell you to recruit friends and family.
Price: $129
Is Color Street a Pyramid Scheme?
I wouldn't label Color Street a Pyramid Scheme, but their business model is set up in similar aspects. This is not a company I would recommend joining, but Color Street is unique as there are not too many network marketing companies strictly promoting nail products. If you have a good marketing strategy and can build an audience then you might be one of the lucky few to have success with Color Street.
Cons
Training
Recruiting Business Practices
Low Success Rate
Color Street is a multi level marketing company established in 2017.
If you have come to this page then there is a chance that you have been approached by a family member or friend in regards to an amazing business opportunity to earn money selling nail products and becoming a stylist.
The truth of the matter is that you have been presented with this opportunity by someone you know because the best chance to earn an income within Color Street comes from recruiting others to join.
That fact leads to all MLM companies being labeled as pyramid schemes, but I will not label Color Street as such. That is due to the fact that it is possible to make an income from selling their products.
So to know whether or not this business opportunity is right for you, this post will provide full details on what is Color Street about and all it has to offer. I must share the fact that I am in no way associated with the company. I am in a position to share this review with you because I have past experience with another MLM company called World Ventures.
As I have strived to make a passive income in the past within that MLM company and other past business failures, I have found success with internet marketing which is the best way to go about marketing products in general.
MLM companies will turn you into that annoying friend that harasses everyone you come across to join or buy your products.
It's a known fact that there is a low success rate for members within Multi-Level Marketing Businesses and if you consider joining it would be in your best interest to learn everything you can regarding marketing online to reach a wider audience instead of being limited to the people in your circle.
If you want to learn how to make money online for the best chance of establishing a passive income and live a more free lifestyle, subscribe and get weekly content and a 7-day course for making money online.
Ok now lets get to the review of Color Street and see if it's the right opportunity for you.
Color Street Review
Based in New Jersey, Color Street was founded by Fa Park. As an immigrant from South Korea, he traveled to the United States in the early 1980s to pursue a career in opera.
One day while on a bus to a music lesson he observed a woman polishing her nails in the back of a cab.
Brush a coat on, blow to dry,
brush, blow.
In noticing her he thought there had to be a better way to design your nails so he eventually started Color Street to specialize in nail polish that is blended with a base coat, color coat, and topcoat all in one layer. No brushing, no blowing, no waiting, and no mess.
Membership
It costs $129 to get started and become a distributor with Color Street. You will recieve a starter kit valued at $250.
There is also a sales quota of $50 every month that is necessary to keep your membership active. If you do not meet the required amount in sales then you will have to buy back your own products at retail value.
Compensation
Compensation plans are always tricky when it comes to Multi-Level Marketing. It's never straight forward of buying products at wholesale value and reselling for a profit.
For more details regarding their compensation plan, you can check out the video below from one of their directors trying to explain it so we can understand.
Now I must Warn you that trying to Fully Understand the video of the compensation plan below may cause headaches and migraines.
Products
As mentioned before, Color Street specialize in dealing with nail products. Upon purchsing a starter kit you will recieve a list of the following materials below.
13 Full sets of nail strips
1 French, 2 Solid, 2 Glitter, 5 Design, 1 Pedicure, 2 Petite
72 Testers
40 remover pads (2 boxes)
100 Prep Pads (1 box)
2 Large Nail Files
2 Nail Buffers
60 Mini Files
50 Cuticle Sticks
Tote bag
25 Catalogs
25 Colorful Opportunity Brochures
Color Street's nail products seem to be more expensive than alternative options on the market.
This is an issue that most distributors are faced with as the company needs to charge more to pay its members.
So with that said, it will take some really good selling points to convince people to buy Color Street's nail products when there are similar options that are less expensive.
Pros
Has momentum
Decent Products
A good thing about new mlm companies is that it usually has a lot of momentum starting out as many people haven't been presented with the opportunity.
In June 2017, with just over 1,400 original consultants on board, Color Street launched with 62 nail strip designs to choose from.
The first Stylists were offered the opportunity to participate in the company's Presidential Founder Campaign where they could work towards the milestones of the program and be rewarded with
a 1 percent share of Color Street's sales volume.
In contemplating becoming a member, I would not usually recommend joining network marketing companies as there's an element of risk because some are shutdown due to unethical practices and lawsuits.
The thing is that if you can get in early then it is possible to make some serious cash.
Color Street does indeed have a unique selling point and people seem to enjoy the products which is great because it means it's possible to get repeat customers.
Cons
Training
Recruiting Business Practices
Low Success Rate
Color Street provides a replica website to sell their products online, but there will be lots of identical ones that exist which means it will be impossible to get organic traffic from people searching for nail products online.
Building a website of your own or creating landing pages and sales funnels that leads to the replica website is something that MLM companies simply do not teach.
If you want to make real money within network marketing then you must certainly recruit and their training will mostly lead to you trying to do so with friends and family.
Color Street is technically not a pyramid scheme because you can make money selling their products but profit margins are low.
A 25 percent commissions on an $11 product will yield you close to $3.
You can make over $3.50 per sale if you sell enough in a particular month, but if you want $2,000 a month to quit your job (most people want more than that!) then you need to sell 568 packs every month!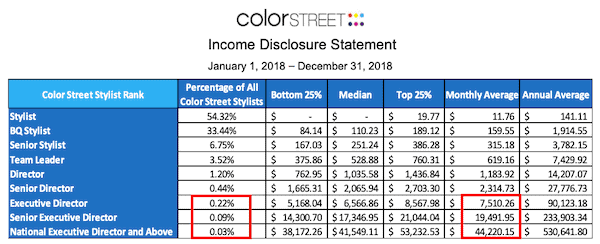 You can see in the Color Street income disclosure above that only 0.34% of all "Color Street Stylists" made over $2,314.73 per month. 
Conclusion
Color Street is not a business opportunity I would recommend if you are an inexperienced marketer.
There is much more to lose than gain by joining Color Street, and being taught to recruit family and friends can ruin relationships which is something that happens every so often when talking about multi-level marketing.
There are some newer network marketing companies that understand the importance of marketing online and will teach you some social media strategies to promote their brand.
Color Street does not offer such training to give you advanced knowledge in regards to marketing online.
If the person that signs you up really knows what they are doing and can provide you some real training then it might work out.
With that said, there are plenty of opportunities to make an income online which will require less work and can eventually replace your day job. For a chance to make a passive income to change your life for the better and take control of your own fate instead of having to rely on recruiting…
Click Here for a list of ways to make money online
or Click Here for My Number 1 Recommendation to start making money online
If you have any experience or have used any of Color Street products, feel free to leave a comment in the section below