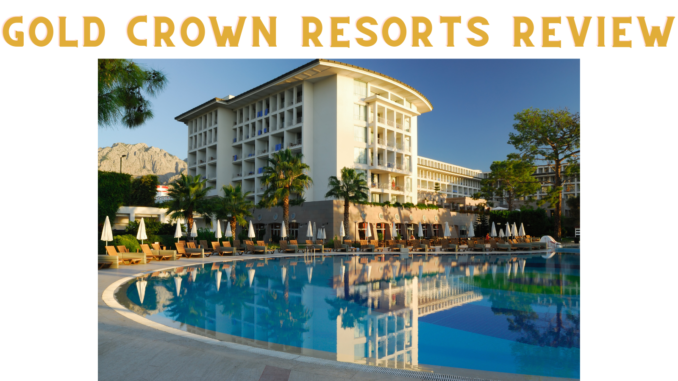 Gold Crown Resorts Network was established in 2006 and located at  N 17th Ave, Phoenix, AZ 85027 22601  by Al Morales.  Global Resorts Network is another  MLM Travel business opportunity.
I was involved in a similar company called World Ventures before becoming an affiliate marketer.
From experience, I can say that affiliate marketing is a much better opportunity for earning an income by promoting different brands and products.
Gold Crown Resorts Review
Gold Crown Resorts is a luxury travel club in which members can book some of the world's finest 4 and 5 star hotels, resorts, and condominiums at deeply discounted prices between $298 to a maximum rate of $799 for a week stay.  Some of these properties include Shell Vacations Club, Wyndham, Worldmark, Sheraton, Perennial, WIVC, Club Intrawest, Diamond Resorts, just to mention a few.  Global Resorts Network promotes travel club memberships offering properties and resorts in over 5,000 locations worldwide.
Members have 24/7 access through the travel provider to discounted cruise lines, airlines, hotels, tours, and vehicle rental agencies. Members can build their complete luxury vacation packages precisely as they choose.
There are various ways that Gold Crown Resorts Network Affiliates can run their home-based business.
 Market the travel club membership as a retail product
 Market the product and opportunity to those seeking a home-based business
 Market the product to those who go after the affiliate marketing business
 Market the product Business to Business 
 Market the product as a fundraiser
Any other way you think of
Gold Crown Resorts product is a membership that has been sold for 20+ years to the customers who attend a personal Gold Crown Resort sales presentation.
Years before, as an established timeshare host, Gold Crown Resorts, began selling memberships to access timeshare properties worldwide. Gold Crown Resorts purchased inventory from timeshares and resorts around the world known for dealing almost exclusively with 5 Star properties.
The 20+ years of experience in the industry have helped to shape GCR in changing to popular interests in which people are more inclined to renting instead of owning timeshares, and the eventual week-long vacation stays opportunities for the broader public.
Global Resorts Network gained the exclusive rights to offer this GCR membership through online marketing and purchasing privileges beginning in 2006.
At the end of 2013, they announced that they would no longer be using the name Gold Crown Resorts, but rather the Internet Lifestyle Network.  This caused a stir among long time affiliates who have been marketing the company for years and where content through blogs and articles, forum posts, videos and etc have been embedded on the internet for years.
After members protested the change, they decided to keep the Global Resorts Network name for the "retail only" side of marketing.
They would implement the name Internet Lifestyle Network, a name, and company created by Vincent Ortega, Jr. for the "home-based business" side of it.
Membership
Membership cost:
• $11,995 Diamond Lifetime Member has 20 Premium weeks annually with concierge services
• $7,995 Platinum Lifetime Member has 10 Premium weeks annually with concierge services
• $2,995 Silver Lifetime Member has 2 Premium weeks annually with concierge services
Compensation
Gold Crown Resorts operated a one-up compensation plan, sometimes called a "pass up one" plan.  To become active as an affiliate the very first Platinum sale any affiliate makes in the GCR arrangement is passed to your sponsor, you don't receive any portion thereof. Once the first sale is passed up, then all sales thereafter provide a $1,000 commission to the member who makes the sale and $1,000 to the sponsor of the member who made the sale. Every sale, after passing up the first one, produces a $1,000 commission to the seller and the same to the seller's sponsor.
Final Thoughts
If you're looking to save a lot of money, stay at awesome resorts and build a legitimate 6-figure business online, Global Resorts has a great compensation plan with high earning potential.
Despite this being a good opportunity, upfront costs to join are steep and may not be affordable for many individuals looking to start the business.  However, if you are still interested in joining here is a link to their official website: https://www.goldcrownresort.com
If you are looking to start an online business without paying such a hefty price:
Click Here for my number 1 recommended business opportunity. This opportunity provides you with the knowledge to start a successful online business with a broader option of products to market including travel if you want.
If you are looking to save money traveling without paying such a hefty price or you have interest in becoming a travel agent: click here to learn about a company called Dream Vacations.
As always, I welcome your comments on Gold Crown Resorts and I will be more than willing to discuss it with you. If you have ever joined Global Resorts Network, feel free to share your personal experience in the comments below.