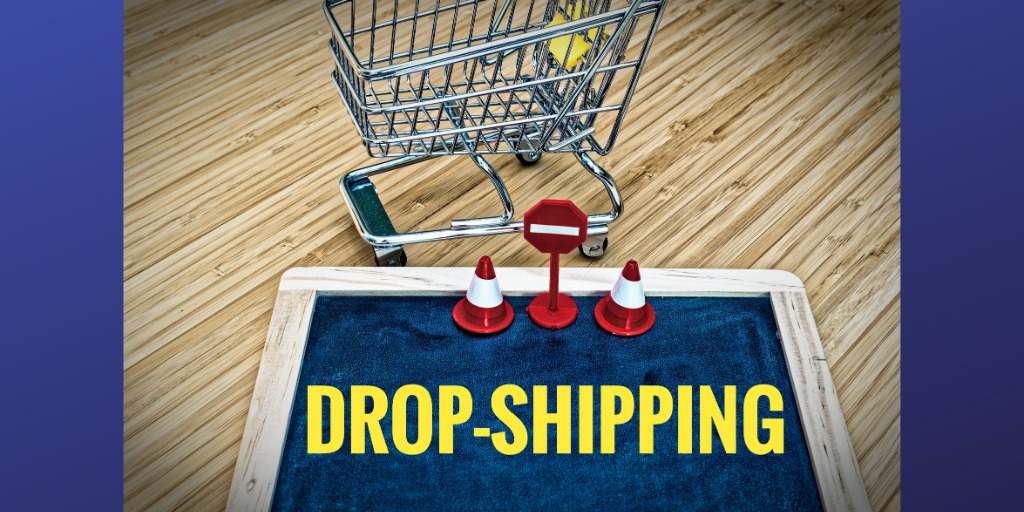 Want to Know How to Dropship with a eCommerce website? When I first started dropshipping, I did not fully understand what I had gotten myself into. With the knowledge I have now, I am pretty confident I could be a successful dropshipper so I will share my knowledge and give guidance on the subject.
What Is Dropshipping?
Drop shipping is a fulfillment model that allows you to buy products from a wholesaler and ship them directly to your customer.
Instead of purchasing a large amount of inventory, you simply partner with a drop shipping supplier and list their merchandise for sale. Then, once you receive an order you forward it to the supplier for fulfillment. The supplier will ship the product directly from their warehouse to your customer, and charge you only for the price of the shipped item.
The biggest perk when it comes to drop-shipping is that you don't need to front the costs for the products you are selling. There will be some startup costs, but you won't need to dish out thousands to start your online business.
Dropshipping doesn't carry inventory nor does it ship goods which makes it a low risk.  If your vendors are reliable and send products that are in good condition, it can be a very rewarding venture.
Another benefit of having a drop-ship business is that your funds become available each week. If you consider starting a drop shipping business, I would recommend signing up for Salehoo.
Salehoo Review – What is Salehoo?
Salehoo is a wholesale supplier directory service that connects drop-shippers to suppliers.  Dropshippers use Salehoo to connect with suppliers, manufacturers, and liquidators to get access to products at wholesale prices to market on platforms such as eBay, Amazon, or Etsy to turn a profit. You can also create your own eCommerce website to start dropshipping products. Below are the pros for Salehoo
Great customer service – When it comes to customer service, Salehoo delivers it well. It has an A+ rating on Better Business Bureau. It's obvious that this established brand, since 2005, knows how to treat its customers. Customers of all price plans have access to phone and email support, though this is standard across most companies. Generally, people who use this service feel that customer service is fair. Customers don't struggle to cancel subscriptions making this a legit company.
Supplier fees. Some suppliers might charge a fee to use their dropshipping services. Choosing the right dropshipping supplier can save you time and money in the long term.
By the Way…
If I remember correctly, Salehoo also shows the hottest selling items on eBay. When you look up these items, eBay shows you a seller's account and details how many items they sold. With that said, there was this digital camera that was selling like hotcakes. The seller must have sold at least a 1,000 and the wholesale price was around $28. He was selling them for $40 or more so you do the math… And I'm Saying 1,000 Moderately because it may Have Been Way More than That. Sorry but my memory sometimes betrays me.
Starting Your Online Store
Choose a marketplace to sell your product: You can sell products on established online marketplaces like Amazon, eBay, and Etsy, or you can start your own online store using a service like WooCommerce.
If you use a selling platform such as eBay or Amazon, you'll need to factor in listing and sales fees. Running your own store lets you avoid these fees, but in exchange you'll need to pay for hosting and any extras such as website themes or add-ons.
You will be able to give visibility to your products through social media, blogging, and email marketing.
You can also set up a nice Amazon store to connect to your blog instead of using WooCommerce.
List of the Best eCommerce Platforms for Dropshipping
The below comparison focuses on each platform's user support, price, and ease of use.
1. WooCommerce
WooCommerce is the most widely used eCommerce platform around the world. It has a market share of more than 28% percent in overall eCommerce stores and the major factor is that it is free and easy to install the plugin. In using WooCommerce, you can install it with just a single click which makes it an ideal platform even for non-technical users.
WooCommerce is built on WordPress. For more information on WordPress, Click on this Link for the Review.
2. Magento
Magento is the second most used eCommerce platform in the world but it is complex and may not be suitable for beginners. Magento is a developer-friendly eCommerce platform and requires some basic programming knowledge. Most drop-shippers using Magento as an eCommerce platform either know about Magento store development or have hired developers for that purpose.
Like WordPress, Magento is a completely free eCommerce platform and anyone can launch it with little help
3. Shopify
Shopify is undoubtedly one of the most powerful eCommerce platforms for drop-shipping. Shopify hosts around 500,000 eCommerce stores and drop-shipping websites. In 2016, Shopify acquired Oberlo, a drop-shipping plugin that makes product import and order fulfillment easy. It is one of the most used eCommerce platforms by users who are not technically savvy. Unlike WooCommerce, Shopify is a paid eCommerce platform.
It has three plans ranging from $29 to $299. Enterprises that are interested in getting premium services, can opt for Advanced Shopify.
4. BigCommerce
BigCommerce is a hosted eCommerce platform. There is a fair share of websites built through BigCommerce with more than 50,000 small business sites and 2,000+ enterprise companies. It is known for its simple user interface and quick eCommerce setup process. As opposed to Shopify, BigCommerce is more affordable because it doesn't charge any transaction fee and it offers unlimited staff accounts along with other prominent features.
BigCommerce offers three basic packages ranging from $29 to $250. It also offers an enterprise version but the price of it is undisclosed. You will have to get in contact with BigCommerce for more information.
5. OpenCart
OpenCart is a free eCommerce platform that's easy to set up. Anyone who is a little tech-savvy can easily set up an OpenCart store. The platform has multiple free and paid plugins and themes for dropshipping as well.
OpenCart is completely free to use. You will have to only pay for hosting it.
If drop shipping is so profitable, why isn't everyone doing it already?
Drop shipping is most profitable if you have a unique product or brand name that makes you different from the competition.
If you are trying to drop ship products on eBay and are using the exact same item from the same supplier that many other sellers are buying from, you will have trouble being competitively priced. There will be small profit margins because not only will you have to pay a fee on eBay or Amazon, but you will also have to pay extra fees to the dropship supplier for using their services. Remember, suppliers do not care about which one of their customers makes the final sale. They make the same profit no matter who sends them the order.
You must also develop some unique and creative ways to convince the customer to buy from you instead of all of the other sellers offering the same product. Trying to compete off of price alone would be the wrong mindset for success. Someone else can always cut their price to compete, and if you are dropshipping and someone else is importing and fulfilling orders directly from their own warehouse, I guarantee, they are paying a lower price than you.
My Recommendation On Ho w To Dropship With A Ecommerce Website
In order to stand out, it is best to incorporate some kind of blogging strategy with your drop ship business. Whether you build a blog and connect it to an Amazon store, or incorporate your eCommerce website with a blog, it will give you a competitive edge opposed to someone trying to simply set up an eBay account and trying their hands at drop shipping.
All the eCommerce platforms listed in this article are great for drop-shipping, but I am in favor of WooCommerce as it is number 1 for a reason. With WooCommerce you will have unlimited plugins and features to build any kind of site you want.
I will also advise that having some products of your own from buying wholesale would be a great strategy. You will have a main product to market along with supplemental items from drop shippers on display to match the main product you may have.
It is great to have your own product because you have no control over how fast a drop-ship supplier will process and ship your order for you. If a bigger customer comes along with more orders he may go to the head of the line, then maybe your orders get pushed back for a day or 2. You can build a reliable reputation from selling your main product, but you must make a conscious decision when displaying the expected time of arrival for products you sell through drop shippers.
 Another thing that drop-shippers have to worry about is returns. If a customer wants to return a defective product or just doesn't like what he received then how will you handle the return process.
Do you accept the return back to your address or,
do you have it returned back to the supplier and hope the supplier handles it properly?
Remember, if you are marketing on Amazon or eBay, your account can be suspended because of poor service or lots of customer complaints. That would be a big price for you to pay for the convenience of drop shipping since it is extremely difficult to get your account reinstated.
Dropshipping on Amazon is a business of scale. Margins are low and the competition is high. Products are relatively the same and are sold by dozens of merchants racing to the bottom to win the Buy Box. Winners in the drop shipping game outpace the competition by adding new suppliers and catalogs, posting listings, profitably repricing, and managing inventory faster and more accurately than the other guys.
Then they leverage their new higher volume to negotiate better deals from their suppliers which further increases their competitive advantage. They do it through end-to-end sales-to supplier automation. Two factors are critical for automating drop shipping at a high level:
Accurate Data
Integrated Systems
Most experienced drop shippers understand the value of automation as it will allow you to spend time on finding and negotiating new suppliers, investigating new channels, and focusing on other strategies to grow your business