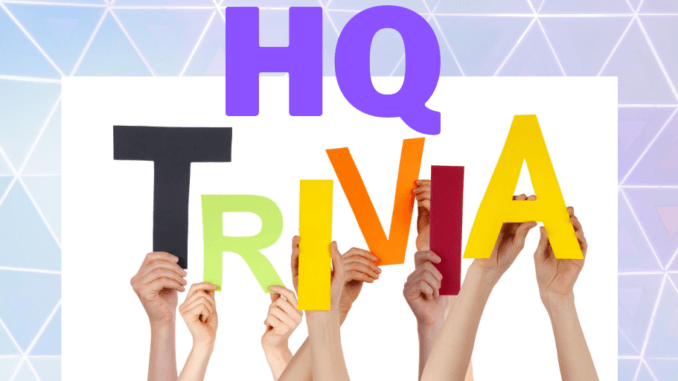 HQ Trivia Review: HQ Trivia is a popular live game show app where you can win cash prizes by answering 12 questions correctly. There is usually a cash pot of $5,000 every night that is up for grabs. The thing is that you will have to split the winnings with others. When this was first brought to my attention, my sister won $212 the first time she played. I have seen cash winnings split at $56 between winners, so do not go into it thinking you will win $1,000 or more.
But what is there to lose. Simply dedicating a half hour in the evening towards HQ Trivia can be an easy way of making extra money in the comfort of your home while also being a little entertained. If you are good with solving word puzzles and have a bit of knowledge in the questions that will be asked, then HQ may definitely be for you.
Questions range on a variety of topics such as geography, sports, math, politics, music, movies, food, and animals. The questions start off relatively easy, but they get harder once you get to 5 and after. To have a better chance at winning, you can purchase lives or get free lives by referring to others or playing consistently. For every 3 days, you play in a row, you usually will get a free life.
One life can be used per a game to revive your chances of winning after getting a question wrong. They also provide erasers for you to take back one of your wrong answers, but using that feature is a little confusing to me. If I grasp a better understanding of how to use it I will update the article.
HQ Trivia History
HQ Trivia was first released on August 26, 2017, for iOS, and on December 31, 2017, for Android. Shows are broadcasted live from New York City and HQ games were originally hosted by Scott Rogowsky.
 In April 2019, Rogowsky was replaced by Matt Richards as the primary host of the game. Matt Richards is a stand-up comedian from Queens, New York who had previously worked regularly for HQ Trivia as a fill-in host.
HQ is available worldwide with the exception of Russia and India. The average number of participants ranges from 100,000 to 125,000. The app's record high of concurrent players was 2.38 million on March 28, 2018
Additional Hosts includes Beric Livingstone as the main host for the British Games and Alexandra Maurer as regular host for German games.
On February 14, 2020, it was announced that HQ would immediately cease operations after their main investors had stopped funding the company and a potential sale of the app to an "established business" fell through
On February 18, 2020, it was announced on Twitter that HQ had reached a tentative deal with an unspecified company to purchase the franchise, thus allowing it to continue in the near future.
Cons of Playing HQ Trivia
Technical issues
Split Winnings
Here is a review written two years ago that has been slightly edited.
Author TrinityyGracee
3 out of 5 stars
It's fun but doesn't always work
So I try to play this every day because it's pretty cool and a lot of fun but it glitches really hard a lot and to make it glitch less you have to be connected to a super-strong WiFi. I have been far along with the game many times when it glitches, and when it goes back to normal it says I clicked an answer when I never did and its always the wrong one so I get kicked out and lose the game due to its malfunction. I understand they are live-streaming a game show but if this gets fixed the game would be a 100x better.
If you have super strong WiFi and you like Trivia games for a chance of winning money then I would recommend HQ. If your WiFi is bad to moderate then you might want to steer away or just watch because chances are it will glitch which will result in a loss. I have found that the creators created Vine. For some people that have created such a huge app, they should work harder on this one. Many people have it lag a lot and as stated in many other reviews, the hosts talk way too much and drag it on and make aborting jokes plus they try to hype up $2000 when the reality of it is on average 150 people win and the most I have seen someone win is $32.
For a $10,000 prize, people won $5 because so many people played and won. They should start the games when it hits a certain number of people so the prize is better and it doesn't lag(400,000 people)
Conclusion
As stated, that review was written two years ago when HQ was at the pinnacle of hype. There are still plenty of people that join this free game every night for a chance at winning some extra cash. There are similar apps that can be downloaded for winning cash prizes. For a similar app that can be downloaded for trivia questions, you can look into Swagbucks live. I have written a review on Swagbucks as it offers more opportunities to earn besides answering trivia questions.
If you try your hand at winning HQ trivia, please enter my code Maxamillion_30 after signing up. There is no immediate monetary gain, but it gives me an extra life and a better chance of winning the game. If I am correct, you may get a free life to start out as well if you enter the code.
If you have any experience, advice, or questions regarding HQ Trivia feel free to leave a comment in the section below.