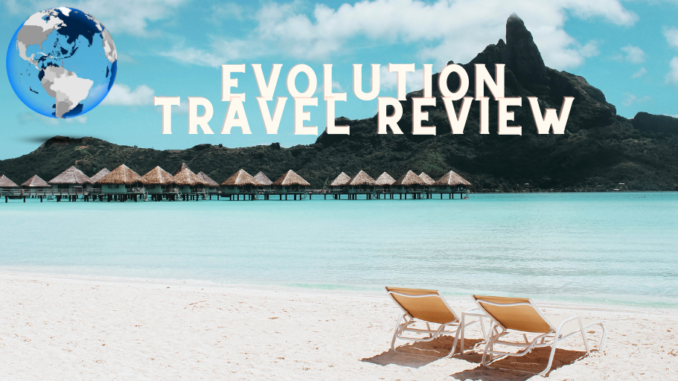 Evolution Travel is another home-based multi-level marketing company in the travel industry.  Headquartered in Las Vegas,  the company was started in 2015 by lifelong entrepreneur David McCovy.  Evolution Travel works in partnership with Archer Travel Service, an older company that was established in 1952.
I am in the position to share this review with you because I was involved with a similar company called World Ventures a couple of years ago before I got into Affiliate Marketing. Some people may disagree with me on what I am about to say on Evolution Travel, however, from personal experience it is very difficult to build a successful business through their methods. You can form your own opinion of Evolution Travel and decide for yourself if it is worth joining.
Membership
As a member of Evolution Travel, you enjoy the perks of deals on travel packages, along with the business opportunity of recruiting others to join in on the fun and make money at the same time.
Evolution Travel and Archer Travel Service have teamed up with some major vendors across the world to distribute their travel packages and deals. Some of their travel partners include the following companies:
Carnival Cruises
Disney
Royal Caribbean Cruises
Southwest Vacations
Universal Orlando
United Vacations
Sandals
It costs $30 to join Evolution Travel and then $69.95 monthly to maintain membership.  As a member of Evolution Travel you will also receive the following:
Customized travel website
Direct Access – to vendors worldwide
Travel Training – Industry-leading travel training and support from a company with over 60 years experience
Discount Directory – 20% – 60% off movie tickets and concessions, dining, dry cleaning +more
Tax Benefits
When talking about the business aspect of Evolution Travel, most MLM companies like this rely too much on recruitment than selling an actual product.  Multi-Level Marketing companies should have products to sell to customers along with affiliates to be on the safe side. As a distributor for Evolution Travel, you are simply a sales rep, working for free unless you recruit other members to join and promote products that Evolution Travel doesn't even own. They save money on advertising and paying a workforce while the distributors do all the work. Essentially you don't own anything and instead of being a sales rep for Evolution Travel(an affiliate for the companies they represent), you can become a direct affiliate and market a variety of products including travel packages. With my online business, I can travel whenever I want and still make money which is a famous quote from most of these travel MLM companies. Click here to learn more.
Pros
Business partner Archer Travel has been in business for more than 60 years
Cons
The average yearly earnings for anyone involved in any MLM is just $500 per year, while 90% of participants make zero dollars
Has only been around for a few years being founded in 2015
There is no retail selling as a travel agent of this company. It's all about recruitment into your downline so people can get discounts on travel
People more likely to be successful with Evolution Travel
Have Sales experience
Have prior MLM experience
Have extra monthly cash to spare
Hard-working and determined
Have time to build a full-time business (Part-time will not cut it as MLM (Direct-Marketing) requires a lot of time and attention to be successful. Part-time is advisable for people who have influential powers like a Chairman, CEO or high ranking officers of a company)
Have a network of successful people already
People more likely to fail with Evolution Travel
Is heavily in debt
If you are expecting to make money without hard-work
Do not have the time to build a full-time business
Lack of sales experience
Lack of a network of people with money
Final Thoughts
I'm not a fan of the MLM way of doing business due to the fact that all the benefits are with the company and not to the individuals doing all the work to make those at the top rich.
While there may possibly be some good travel deals to be had by becoming a member, there are also the monthly fees to contend with. This company has zero products of its own and is really operating as an affiliate of all the travel vendors it is in partnership with.
While I won't label it a total scam, there are better travel MLM opportunities out there.  World Ventures is one, but just like Evolution Travel, its main focus is on the recruitment of others to build a down line and earn commissions. It looks like a money matrix MLM but uses the travel discounts as some semblance of a product.
There's much more to lose than gain in Evolution Travel. You definitely have to put in a lot of effort to make a successful business out of it, however, even with your hard work, there is still no guarantee of success.  If you are still interested in this opportunity here is the link to their official website http://www.myevolutiontravel.com/
If you really want to learn how to make money without paying such a hefty price, I would recommend you to check out my #1 recommended business opportunity. This opportunity provides you with the knowledge to start a successful online business with a broader option of products to market including travel if you want.
If you are just looking to travel or are interested in becoming a travel agent: click here to learn about a company called Dream Vacations.
As always, I welcome your comments on World Ventures and I will be more than willing to discuss it with you.  If you have ever joined Evolution Travel, feel free to share your personal experience in the comment section below.