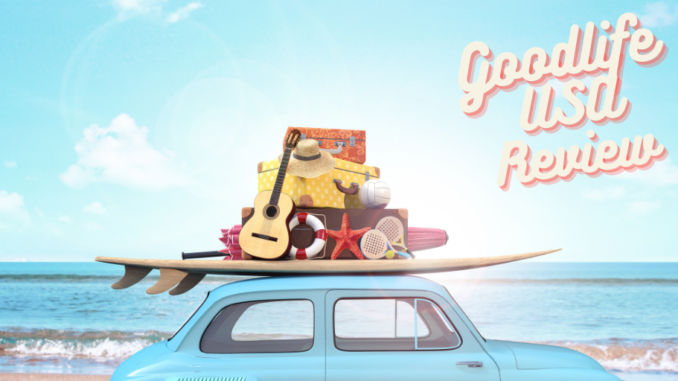 The Goodlife USA is a company gaining recognition within the travel market and network marketing industry.  You have most likely come to this page because you're probably doing your research and due diligence to find out whether or not the Goodlife USA is worth signing up as a customer or representative. Before going any further, I have to mention:
I am in no way associated with Goodlife USA, so this is not a biased review.  I do not have any financial gain as to whether you sign up or not. I am here to provide you with the details regarding Goodlife USA so you will come to a sound decision on this business opportunity.
I was involved in a similar company called World Ventures before becoming an affiliate marketer.
From experience, I can say that affiliate marketing is a much better opportunity for earning an income by promoting different brands and products.
GoodLife USA Review
The Goodlife USA is another multi-level marketing company in the travel niche.  The company launched in 2016 and was founded by Mark Seyforth and Edward Dovner.
Mark has the most experience in network marketing as he partnered with Herbal Life back in 1980, and has launched another company called One24 in 2013.
Membership
The Goodlife USA offers potential members to sign up as a customer or representative.  There are three tiers in which people can join to have access to travel opportunities.
Silver membership is $11.95 a month
Gold membership is $99 and then $39.95 a month
Platinum membership is $199 and then $59.95 a month
Basic affiliate membership with Goodlife USA is $79.
Full participation in the Goodlife MLM business however also requires the purchase of a travel membership:
Silver affiliate membership = $129 and then $9 a month
Gold affiliate membership = $179 and then $39.95 a month
Platinum affiliate membership = $279 and then $59.95 a month
The more expensive memberships give members the possibility of a higher income through their compensation plan.
Goodlife USA markets themselves as a wholesale discount club, and upon joining member benefits include:
Access to over 100,000 hotels including the Marriot, Hyatt, Hilton, Holiday Inn, and more.
Members also have access to week-long vacations in over 100,000 luxury resort condos.
Access to over 12,000 cruise itineraries under some of the world's leading brands including Norwegian, Royal Caribbean, Oceania, Celebrity, Carnival and more
Exclusive shopping experiences at over 4,000 online retailers including Bed Bath and Beyond, Best Buy, Wayfair, Target, Kohl's, Dining, Movies, Concerts, Events, and more.
Compensation
Affiliates can earn by recruiting new members to join Goodlife USA. Members will earn based upon the cost of the membership level that they themselves signed up for, as well as the number of memberships they have sold.
Silver membership affiliates will receive $25 for recruiting another silver or $75 for recruiting a Gold or Platinum affiliate.
Gold membership affiliates receive $50 for recruiting a Silver affiliate, $100 for recruiting a Gold affiliate, and $125 for recruiting a Platinum affiliate.
Platinum membership affiliates (as well as any that have sold and continually maintain 20 active memberships or more) earn $50 for recruiting a Silver affiliate, $100 for recruiting a Gold affiliate, and $150 for recruiting a Platinum affiliate.
This company seems to have a lot of similarities between an MLM company I joined in the past called World Ventures as there are also 'Dream Dollars' which are awarded when new affiliates are recruited and can be used towards personal travel expenses.
There is also a 2X20 "Shared Social Network" Commissions and commission sharing with your team that can be further explained through their website https://goodlifeusa.com/.
Final Thoughts
I would not label Goodlife USA as a scam as it reminds me of World Ventures, which is one of the best travel MLM companies.  From personal experience with World Ventures, the sooner you join the company will give you a better chance of being successful. As it started in 2016 and is relatively new, Goodlife USA has the potential to have a wave of new people looking to join.
Although I see similarities to one of the best multi-level marketing travel clubs in World Ventures, there are also holes in the program that should change.   The membership really only gives access to third-party discounts on products. Since all services offered by Goodlife USA are provided by third-party services which the company has affiliate agreements with…they make money when you book anything, but you don't.  They save money on advertising and paying a workforce while the distributors do all the work. Essentially you don't own anything and instead of being a sales rep for Goodlife USA(an affiliate for the companies they represent), you can become a direct affiliate and market a variety of products including travel packages.  Click here to learn more.
If you travel and go on vacations consistently this may be worth joining, but you are most likely looking to earn and build a successful business.  The commission sharing element of the plan hardly benefits new recruits for the first month, and only serves to benefit the affiliates higher up in the chain.  This goes back to why I mentioned joining sooner than later could prove beneficial.
The different tiers of memberships are also an issue, with those paying more gaining access to substantially better terms.
This rewards how much an affiliate spends each month, rather than it correlating to their performance in sales which is not a good setup in MLM. You need to reward sales performance to grow the number of membership sales in conjunction with the other side of things. If those numbers are low and the main income comes from affiliates then things start seeming very much like a product-based pyramid scam.
Representatives whose profits do so primarily from the payments of others who are themselves making payments in order to obtain their own profit.  Like most Multi-Level Marketing businesses, you will start off with real enthusiasm because of your belief in what you are doing.  Despite hard work, there is still no guarantee of success if people do not share the same enthusiasm for joining.
To take control of your destiny without relying heavily on recruiting other individuals to succeed, I would recommend you to check out my #1 recommended business opportunity. This opportunity provides you with the knowledge to start a successful online business with a broader option of products to market including travel if you want.
If you are just looking to travel or if you are interested in becoming a travel agent: click here to learn about a company called Dream Vacations.
As always, I welcome your comments on Goodlife USA and I will be more than willing to discuss it with you. If you have ever joined Roi Unlimited, feel free to share with us your personal experience in the comments..