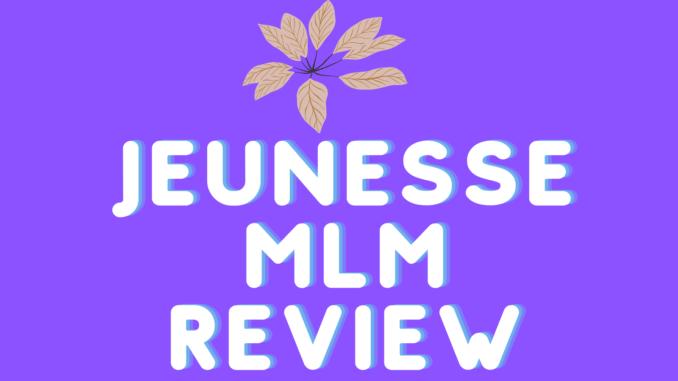 Jeunesse Global is a multi-level marketing company that has been in operation since 2009. If you have come to this page then there is a chance that you have been approached by a family member or friend in regards to an amazing business opportunity to earn money marketing skincare products.
The thing is, with MLM companies the opportunity to earn a decent income is through recruiting others to join. That fact leads to all MLM companies being labeled as pyramid schemes, but I will not label Jeunesse Global as such. That is due to the fact that it is possible to make an income from selling the products they offer.
So to know whether or not this business opportunity is right for you, this post will provide full details on Jeunesse Global and all it has to offer. I must mention that I am not in no way associated with the company and am in a position to share this review with you because I have past experience with another MLM company called World Ventures.
As I have strived to make a passive income in the past within that MLM company and other past business failures, I have found success marketing online which is the best way to go about marketing products in general.
MLM companies will turn you into that annoying friend that tries to get everyone you know or come across to join or buy your products. The simple fact of the matter is that there is a low success rate for distributors within Multi-Level Marketing Businesses and if you consider doing so your best bet is to have some skills to reach a wider audience instead of being limited to the people in your circle.
If you want to learn how to market products online for the best chance of establishing a passive income to change your life for the better, subscribe with a question on how you prefer to go about marketing online. Do you like to write and if so build an online business blogging, or would you prefer to market products online without building a website?
Ok now lets get to the review of Jeunesse and see if it's the right opportunity for you.
Jeunesse Global Review
Based out of Orlando, FL, Jeunesse Global was founded by Randy Ray & Wendy Lewis.
Randy has had over 19 years of experience within network marketing before establishing Jeunesse Global.
He used to be CEO of two other Multi Level Marketing companies
Alpha Computer Services – a company that services computer hardware and software installation and support
Forever Freedom International – a company that services innovative fuel technologies
Wendy was the co-owner of Alpha Computer Services. In working with Randy, they would lead the company to become number 184 in the INC 500 fastest-growing privately-held companies in America before eventually selling the company.
While at a doctor's office in 2009, an anti-aging serum sparked Wendy's interest and she thought it was amazing.
She and Randy would eventually take the serum and remodel it to make it a product of their own.
In focusing on anti-aging products they prioritized creating a company that provided services to help people look young. A series of products they created is called Y.E.S (Youth Enhancement System) and that's how Jeunesse was founded.
Membership
You will have to purchase an enrollment kit in order to become a Jeunesse Distributor. You will have a choice between the two options below.
Starter Kit – $29.95 (One-time payment)
JKit – $49.95 (One-time payment)
After you purchase your enrollment kit, you also have the option to purchase additional product packs which cost between $200 and $3000.
It is actually not an option if you want to become a distributor as you will have to invest in one of the packages as well. You must also recruit two members in your downline to earn the title of a distributor.
In order to earn Team Commissions, you will also have to maintain a $60 Personal Sales Volume during a 30-day period which can come from either retail customer sales or from personal purchases.
If you sell $20 worth of products during a 30 day period, you'll have to purchase $40 worth of products in order to earn commissions from the sales of the Distributors within your team.
Also, after the first year of being a member there is a $19.95 renewal fee on a yearly basis.
Compensation
If MLM companies could provide a compensation plan that is easy to understand it would be the first ever since I have been doing reviews on these companies.
There are 6 ways to earn which is detailed below.
Retail Profits
Retail Sales Bonus
Team Commissions
Matching Bonus
Customer Acquisition Incentive
Diamond Bonus Pool

1 • Retail Profits
Distributors can make up to 15% – 40% commissions per retail sale you make in person or through your replicated website.
2 • Retail Sales Bonus
Distributors may receive a Retail Sales Bonus on the first product package sold to each retail customer, Preferred Customer, and Distributor you personally sponsor.
This Retail Sales Bonus ranges between $25 and $250 depending on which product package is sold.
Team Commissions
This is where we get to to pyramid side of the business. You have a left and right leg and by recruiting members on each leg you will maximize your earning potential.
To explain how much you receive from your downline is confusing, but for a brief example, when one of your legs, left or right, reaches 600 GV and the other reaches 300 GV, you earn a $35 commission, or as they call it a "Cycle
Bonus."
Matching Bonus
If you reach the Jade Executive rank or higher, you qualify for a Matching Bonus that is paid through a uni-level structure up to 7 levels of Distributors deep.
Customer Acquisition Incentive
The Customer Acquisition Incentive is related to the Matching Bonus mentioned above. This incentive is based on how many products you sell to customers each month.
Diamond Bonus Pool
If you reach the rank of Diamond Director or higher, you can earn shares of the company's global sales by qualifying for this Diamond Bonus Pool.
Jeunesse Pros
Free Replicated Website
Affordable to Join
Established Company
History of Growth
Free Website-When someone visits your replicated website and purchases one or more products you will earn up to 40% of the total amount of money paid by that customer.
People also have the option to sign up as Preferred Customers through your website which will allow you to build a recurring income through retail sales.
In addition, if someone signs up as a Jeunesse Distributor through your website you will automatically become their sponsor. As you build your downline you could earn a commission from their sales as well as the sales from their own recruits, their recruits' recruits, etc.
Everything may sound good, but distributors' success rate within MLM companies would be much higher if they taught their members what it takes to market their brand online instead of relying on friends and family by throwing house parties to sign up new distributors or sell their products.
With some training in regards to marketing products online, you will be in a position to maximize your earning potential with the free replicated website provided by Juenesse.
Hence, the only traffic you will get to the site will come from the people you know, and once that runs out then what?
History of Growth
Since its founding in 2019, Jeunesse Global has experienced consisitent growth in a 7 year span which lead it to becoming the youngest direct selling company in history to reach a billion in sales in such a timespan.
Jeunesse Cons
Pyramid System that Focuses on Recruiting Family and Friends to Earn an Income
Overpriced Products You Have to Promote
Very Low-Income Potential Without Proper Training
History of Complaints
Pyramid System
As mentioned earlier, I was once a member of an MLM company and I am not fond of their business practices for a few reasons.
First of all, the success rates of MLM participants are awfully low (74% – 99%) because they do not train distributors to really become successful marketers.
Secondly, I hate being that pushy person promising an amazing opportunity to make money when I have not made much from the business opportunity myself.
There are plenty of people that have lost friends, family, and money due to being that pushy and sleazy person they were taught by their "mentors" to be.
Third, their compensation plan is not clear cut so you can not just purchase their products at wholesale value and set your own price to make a profit. Instead, they usually rely on a point volume in which you have to sell products to accumulate points to earn a percentage of commissions from the price they set on the website provided to you.
If you don't have access to their products and are unable to market it however you want, then you are putting in a lot of effort to be marketing a product you don't actually own.
Overpriced Products to Promote
Another thing I don't like about Jeunesse is that its products are expensive and there are alternative quality products on the market that is sold for much less.
A 750ml of juice (MONAVIE) costs $184.95 and $139.95 2 bottles of vitamins runs for $139.95.
I honestly wouldn't buy them unless the bottles or juice lasts me a few months and what are the odds of that?
Being involved in an MLM is just not worth the trouble unless you are an experienced marketer.
Very Low Income Potential
According to Jeunesse's Income Disclosure Statement, 74% of Jeunesse Distributors made $0 – $4500 during 2018. That is nothing to brag about and would you if you made that for the entire year. This statistic attributes to Distributors who have sponsored at least one other Distributor.
The Distributors who haven't recruited anyone weren't even included in Jeunesse's IDS because if they were the statistic above would be a lot worse.
There are legit programs to teach individuals how to earn money online without having to go through all the struggle of becoming a sleazy salesperson and jeopardizing your relationships with those around you in order to make a buck.
Complaints
It seems like no MLM company can't escape from having a long list of complaints in their past.
Jeunesse's profile within BBB (Better Business Bureau) has 17 complaints  with the BBB.
In addition, Jeunesse has also accumulated some complaints from the FTC too!
Furthermore, a leading expert FTC economist issued a report declaring that Jeunesse Global is a pyramid scheme (report here).
Jeunesse has been involved in multiple lawsuits since it first started operating as there are a number of complaints in regards to Jeunesse Distributors making unrealistic health-improvement claims in order to sell their products.
From treating cancer to heart disease and diabetes, preventing strokes, healing injuries, etc.
For a history of all the unrealistic claims that Jeunesse Distributors have made over the years, you can look into truthinadvertising.org.
Conclusion
Jeunesse Global is one of the better MLMs to consider joining, but I would not recommend this business opportunity if you are an inexperienced marketer.
The simple fact of the matter is that it is not easy to become successful within multi-level marketing and a majority of distributors will fail. For a chance to make a passive income to change your life for the better…
Click Here for a list of ways to make money online or…
Click Here for My Number 1 recommended business opportunity to make money online.
If you have any experience or have used any of Jeunesse products, feel free to leave a comment in the section below.