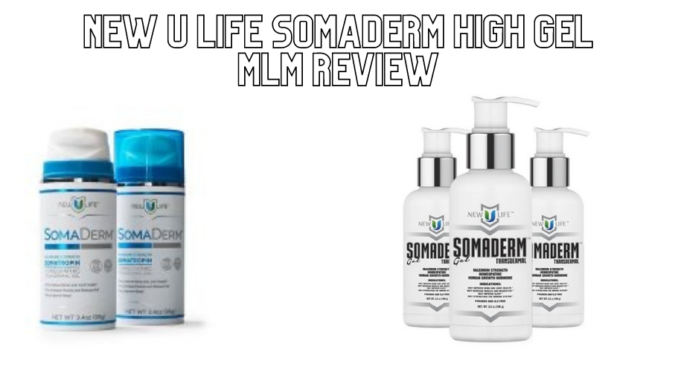 New U Life Somaderm Hi Gel is a multi-level marketing company established in 2017. The companies purpose is to provide consumers with a synthetic version of growth hormone (GH) that is suppose to improve bone and joint health, build muscles, reduce fat, and improves your quality of sleep.
If you have come to this page then there is a chance that you have been approached by a family member or friend in regards to an amazing business opportunity to earn money marketing health and wellness products.
The truth of the matter is that you have been presented with this opportunity by someone you know because the best chance to earn an income within New U Life comes from recruiting others to join. That fact leads to all MLM companies being labeled as pyramid schemes, but I will not label New U Life as such. That is due to the fact that it is possible to make an income from selling the products they offer.
So to know whether or not this business opportunity is right for you, this post will provide full details on New U Life and all it has to offer. I must share the fact that I am in no way associated with the company and I am in a position to share this review with you because I have past experience with another MLM company called World Ventures.
As I have strived to make a passive income in the past within that MLM company and other past business failures, I have found success with internet marketing which is the best way to go about marketing products in general.
MLM companies will turn you into that annoying friend that harass everyone you come across to join or buy your products.
It's a known fact that there is a low success rate for members within Multi-Level Marketing Businesses and if you consider joining it would be in your best interest to learn everything you can regarding marketing online to reach a wider audience instead of being limited to the people in your circle.
If you want to learn how to market products online for the best chance of establishing a passive income to change your life for the better, subscribe with a question on how you prefer to go about marketing online. Do you like to write and if so build an online business blogging, or would you prefer to market products online without building a website?
Somaderm Hi Gel Review
New U Life Somaderm Hi Gel is a Utah-based MLM company founded in California in November 2017 by Alexy Goldstein. The company is believed to have over 100,000 distributors and were successful in selling over a half million of their products within the first year of business.
Like most, if not all MLM companies, New U Life have recently come under scrutiny for claims that are made regarding the products.
For one, in trying to capitalize on the pandemic, claims have been made on how it can strengthen the immune system and probably treat or prevent COVID.
For two, the company claims Somaderm as "the only FDA registered, medicine or drug that can be applied through the skin and contains a legal homeopathic growth hormone that's available without a prescription.
Before wasting your time reading a full review, I'm save you the time if you currently reside in the United States.
In 1990, the Anabolic Steroids Control Act was put into law so that the distribution and possession of human growth hormones for any use other than the treatment of a disease or other recognized medical condition could be criminalized as a five-year felony under the penalties chapter of the Food, Drug, and Cosmetics Act of the FDA.
According to the FDA, "Distributing human growth hormone to customers in the United States without the order of a physician is in direct violation of Section 303(e) of the FD&C Act. 
So food for thought, you can go to jail in the United States just for selling these products. If that's the case, you may wonder if it's worth getting involved at all.
I basically would run away from selling a product that can land myself in jail for 5 years. In checking their website, it seems that they offer services in the U.S, Hong Kong, and Taiwan.
With such a limited market, I would say this is not worth getting involved, and if your intent is to try to live a healthier lifestyle by reviewing this company, I advise reading some of the articles this site offers on the subject of health.
If your intent was to join for their business opportunity, I would advise looking into this list of ways to make money online.
To finish the job of providing a full review on this company if you are somehow still interested, you can continue reading.
Compensation Plan for Distributors
There are 5 ways you can earn as a distributor for New U Life Somaderm Hi Gel. Before getting into the compensation plan, some terms to know are the following.
PV-Personal Volume
GV- Group Volume
QV-Qualifying Volume
CV-Commissionable Volume
LVL-Lesser Volume Leg
GVL- Greater Volume Leg
You must maintain 140 PV within a 5 week rolling period to stay active. Having an order for 140 PV is the best way to stay active.
To be qualified you must maintain active status along with two sponsored members on each leg.
Below will feature a list of how to get paid.
1. Retail Commissions-Distributors can earn weekly commissions based on customer orders.
2. Team Acquisition Bonus– Distributors will be eligible to bonuses every week for sponsoring members to join New U Life.
3. Team Commissions– This is earned in cycles, and distributors must have 400 GV in their LVL and 600 GV in their GVL. The commissions earned on every cycle vary depending on the distributor's rank.
4. Coaching Bonus– Coaches and higher can earn a coaching bonus in their personal sponsored leg for every associate that signs up, whether they were sponsored by them or not. The percentage of the coaching bonus is paid out each week for those that are eligible. Percentages varies depending on qualified positions.
5. Matching Bonus-Qualified Coordinators and higher will earn a bonus based on team commissions earned by personally sponsored distributors and their personal sponsored distributors.
Founder
Alexy Goldstein is the founder of New U Life Somaderm High Gel. With a resume dealing with health, he is a certified homeopath, herbalist, and Nutritional Consultant. At the age of 18, he took over his family business and started companies such as Natural Life Foods and Strike First Nutrition.
Natural Life Foods provides vitamins, minerals, herbs, protein powders, fish oils, essential oils and a variety of other products for health, nutrition and performance needs.
Strike First Nutrition provides high-quality proteins, strength and recovery products, hormones and activators, and sleep aids. In less than 15 years, Goldstein and his team have turned Strike First Nutrition into a supplement powerhouse in the San Francisco Bay Area, catering to athletes of every sport.
Is Somaderm Hi Gel a Scam?
When it comes to the main products that are promoted through the company, there are a lot of doubts in regard to claims that are made. For one, it is impossible for oil or lotion to be applied to the skin and penetrate to get in the bloodstream.
The outermost layer of the skin acts as a barrier to prevent molecules from entering the blood, and even if it was possible for the Somaderm Gel to penetrate the skin, some of the active ingredients can cause serious negative side effects or even death.
Somaderm has been on the FDA's radar and in January 2019 the Forensic Chemistry Center of the FDA tested the product for human growth hormone and testosterone. In their studies, it was concluded that there were no human growth hormones (HGH) or testosterone in the gel.
Below is a following statement on Somaderm by the FDA
There was no evidence for the presence of hGH at a level greater than approximately 7 micrograms per gram in the contents of the bottle based on comparison to a corresponding standard using LC-MS. … There was no evidence for the presence of any drugs or poisons in the bottle contents using GC-MS.
One of the active ingredients in Somaderm is "Somatropin 30x which is a synthetically produced human growth hormone. The 30x represents how many times the Human Growth Hormone was diluted with presumably water, ethanol, or sugars.
I would have a hard time recommending this company based on the product and the fact that their primary market is in Hong Kong. They also market in Taiwan, and distributors are able to reach an extended audience in Canada for those that are interested in purchasing Somaderm High Gel Products.
If you reside in the United States you may want to steer away from the business side of this company. For a better way of promoting and selling products, I advise looking into this article on affiliate marketing.
Affiliate marketing provides a way to market and promote a variety of products instead of being narrowed down and putting all your efforts to promote one product. If you are interested in learning how to make money on the internet…
Click Here for a list of ways to make money online
or Click Here for My Number 1 Recommendation to start making money online
I hope you enjoyed the review and if you have any questions or experience with Somaderm High Gel, feel free to leave a comment in the section below.