Beauty Counter
Name: Beauty Counter
Description: Beauty Counter is a network market company in the beauty industry. It doesn't cost much to become a member and they seem to have a generous compensation plan for it"s distributors. Although this may be one of the better MLMs to consider joining, it still costs a bit to get fully involved. Without any marketing skills, most people fail to succeed as these companies tell you to recruit friends and family.
Price: $98+product packs($132-$735)
Is Beauty Counter a Pyramid Scheme?
I wouldn't label Beauty Counter a Pyramid Scheme, but their business model is set up in similar aspects. This is not a company I would recommend joining, and the beauty industry is saturated with competition. It seems like almost every business I review is marketing skincare and makeup products.
Pros
Good Quality Products
History In Business
Cons
Training
Low Success Rate
Sales Quota
Expensive Business Opportunity
Beauty Counter is a multi-level marketing company established in 2010.
As this company specializes in promoting beauty products, you may have stumbled on this page because a family member or friend recommended you to join and referred to it as being a GREAT BUSINESS OPPORTUNITY!!!
The truth of the matter is that you have been presented with this opportunity by someone you know because the best chance to earn an income within Beauty Counter comes from recruiting others to join.
That fact leads to all MLM companies being labeled as pyramid schemes, but I will not label Beauty Counter as such. That is due to the fact that it is possible to make an income from selling their products.
So to know whether or not this business opportunity is right for you, this post will provide full details on what is Beauty Counter about and all it has to offer. I must share the fact that I am in no way associated with the company and I am in a position to share this review due to past experience with another MLM company called World Ventures.
In striving to make a passive income in the past with World Ventures and other past business failures, internet marketing has proven to be a success and is the best way to go about marketing products and services.
MLM companies will turn you into that annoying friend that harasses everyone you come across to join or buy your products.
It's a known fact that there is a low success rate for members within Multi-Level Marketing Businesses and if you consider joining it would be in your best interest to learn everything you can regarding marketing online to reach a wider audience instead of being limited to the people in your circle.
If you want to learn how to make money online for the best chance of establishing a passive income and live a more free lifestyle, subscribe and get weekly content and a 7-day course for making money online.
Now it's time to get to the review of Beauty Counter and see if it's the right opportunity for you.
What is Beauty Counter About?
Based in Santa Monica, California, Beauty Counter was founded by Gregg Renfew. Renfrew launched Beautycounter to create safer beauty products by identifying a list of 1,800 harmful ingredients to be avoided.
Membership
You must invest in one of two enrollment kits to get started as a Beauty Counter consultant. Details of what you will receive and the cost to enroll are provided in the image below.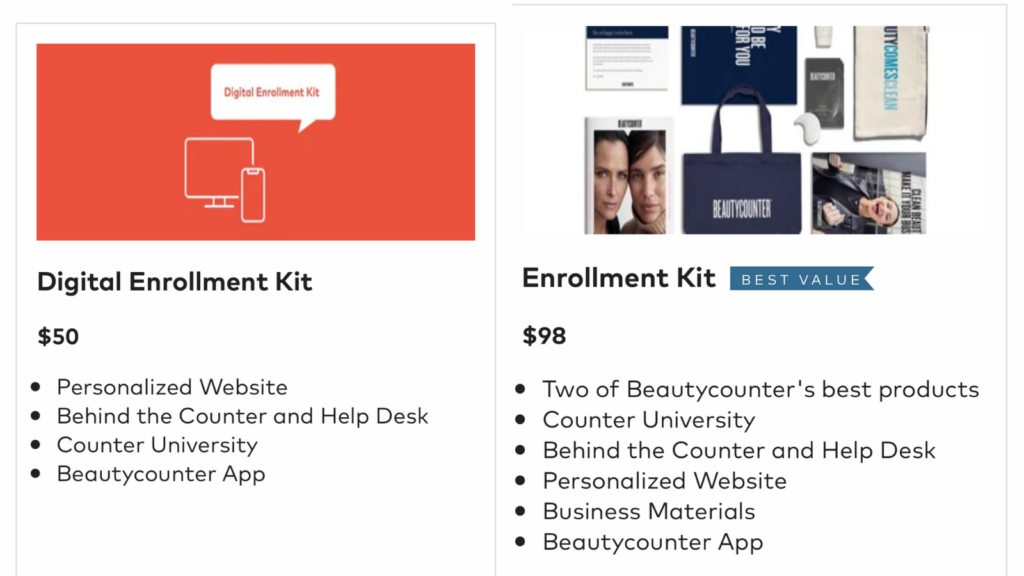 To become a full-fledged distributor for Beauty Counter, you would have to invest in 1 of 4 product packs ranging between $132-$735. To keep your membership active and get paid, you must also reach a sales quota of $1,200 every 6 months to earn commissions on what you sold. If you do not meet the sales quota you will have to buy back whatever amount you are short of in order to stay in the business.
Compensation
MLM companies usually have a compensation plan that is hard to understand. Fortunately, Beauty counter has a little transparency on how you get paid. However, it can still be confusing when they use terms like PV, GV, and percentages you can make from your downline.
Details on how you get paid are in the following list.
Retail commissions (25%)
Personal sales bonus (5-10% if you sell $750+ a month)
Bonus commissions from your "downline" sales
Frontline business builder (bonus for promotions in your downline)
You can check out the video below for more details on Beauty Counter's compensation plan.
Instead of catching a headache in trying to fully understand how you get paid, the only thing you must focus on is recruiting and selling.
Beauty Counter's Products
Beautycounter has a wide range of products under the following categories:
Skincare – moisturizers, sunscreens, cleansers, serums, treatments & masks
Makeup for the face, eyes & lips, brushes, makeup remover & sets
Bath and body-Handcare, body wash & scrubs, haircare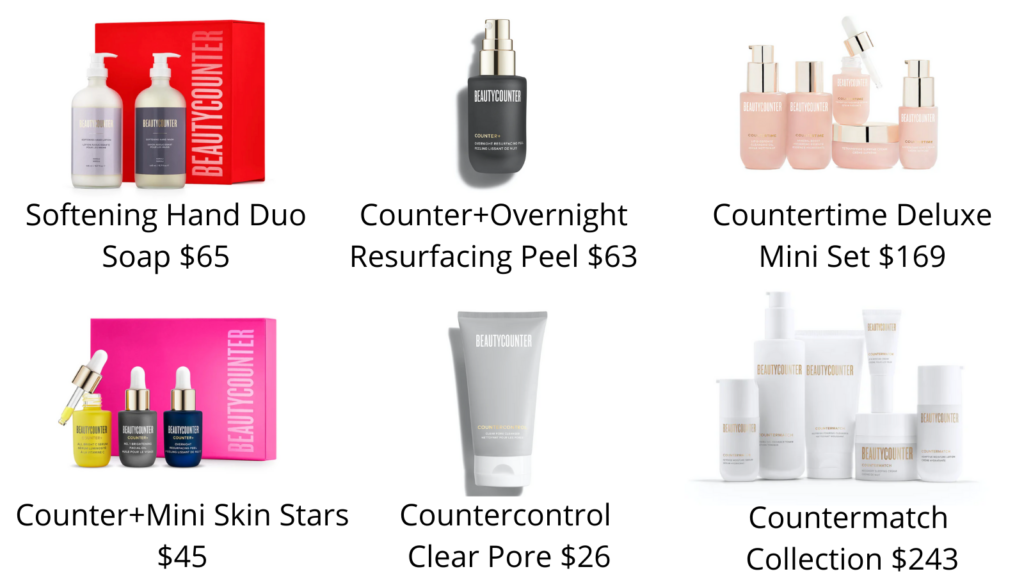 When it comes to promoting their products, Beauty Counter's main selling point is that it is safe from harmful ingredients but there are a lot of alternative beauty brands that claim the same.
I just recently reviewed another MLM company called Farmasi, which is by the way a better opportunity to make money in the beauty care industry. A major selling point for Farmasi is that the products are made with no animal-derived ingredients, however, well-known names like Kylie cosmetics and Sephora has a vegan product list as well.
Pros of Joining Beauty Counter
There is more to lose than gain by becoming a Beauty Counter consultant. In struggling to find reasons to join, the only thing I can come up with is the fact that they offer good quality products. Although the company uses safe ingredients in its products, as mentioned before, it is not a unique selling point within the competitive market of the beauty industry.
Cons of Joining Beauty Counter
Training
Low Success Rate
Sales Quota
Expensive Business Opportunity
There is no real training to teach members how to market and promote Beauty Counter and its products. Although you will receive a personalized website after becoming a consultant, it will not be of much use without any online marketing skills. Beauty Counter's income disclosure statement shows that only 4.7% of their consultants make over $1,000 a month.
The lack of training is one of many factors into why there is a low success rate for Beauty Counter consultants. Although they try to pretend as if there is no monthly sales quota, having to sell $,1200 worth of products in 6 months is the same thing.
Most multi-level marketing companies are relatively cheap to join and keep your membership active, but if you do not sell enough within 6 months then the expense will start to add up.
When it comes down to it, the best way to make money in Beauty Counter is by recruiting a lot of people into the company. Pyramid Schemes are defined as companies in which recruitment is the only way to make money because there is no actual product to sell, but if the best way to earn is by recruiting others to join then it is more pyramidal than legit.
Conclusion
Beauty Counter is not an MLM company I would recommend joining especially if you are an inexperienced marketer. Recruiting a family member or friend can ruin a relationship which is something that happens every so often when talking about these types of businesses. Due to their $1,200 sales quota and other added costs, the financial loss is greater and so is the risk of a falling out.
There are some newer network marketing companies that understand the importance of marketing online and will teach you some social media strategies to promote their brand.  Although Beauty Counter does not provide advanced training, if the person that signs you up really knows what they are doing then it might work out.
With that said, there are plenty of opportunities to make an income online which will require less work and can eventually replace your day job. For a chance to make a passive income to change your life for the better and take control of your own fate instead of having to rely on recruiting…
Click Here for a list of ways to make money online
or Click Here for My Number 1 Recommendation to start making money online
Now that you know what is Beauty Counter about I wish you the Best of Luck In Your Business Endeavors.
If you have any experience with Beauty Counter or have used any of their products, feel free to leave a comment in the section below.