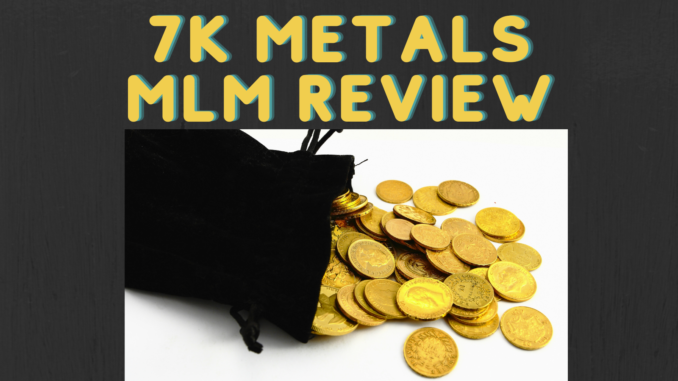 7k Metals Review: Quick Summary
Name: 7K Metals
Description: 7K Metals is a network market company that focuses on gold and silver. It doesn't cost much to become a member and have access to their coins and bars at wholesale price. They also seem to have a generous compensation plan. Although this may be one of the better MLMs to consider joining, it still costs a bit to get fully involved. Without any marketing skills, most people fail to succeed as these companies tell you to recruit friends and family.
Price: $249-$499+monthly fees
Is 7K Metals a Pyramid Scheme?
I wouldn't label 7K Metals a Pyramid Scheme, but their business model is set up in similar aspects. This is not a company I would recommend joining, but if you can establish a targeted audience for those looking to invest in gold or silver then you might be one of the lucky few to experience success as a 7k Metals consultant.
Pros
Wide collection of gold and silver 
Cons
Training
Limited Market
Low Success Rate
Expensive Business Opportunity
7k Metals is a multi-level marketing company established in 2016.
As this company specializes in promoting gold and silver coins and bars, you may have stumbled on this page because a family member or friend recommended you to join and referred to it as being a GREAT BUSINESS OPPORTUNITY!!!
The truth of the matter is that you have been presented with this opportunity by someone you know because the best chance to earn with 7K Metals comes from recruiting others to join.
That fact leads to all MLM companies being labeled as pyramid schemes, but I will not label 7K Metals as such. That is due to the fact that it is possible to make an income from selling their products.
So to know whether or not this business opportunity is right for you, this post will provide full details on what is 7k Metals about and all it has to offer. I must share the fact that I am in no way associated with the company and I am in a position to share this review due to past experience with another MLM company called World Ventures.
In striving to make a passive income in the past with World Ventures and other past business failures, internet marketing has proven to be a success and is the best way to go about marketing products and services.
MLM companies will turn you into that annoying friend that harasses everyone you come across to join or buy your products.
It's a known fact that there is a low success rate for members within Multi-Level Marketing Businesses and if you consider joining it would be in your best interest to learn everything you can regarding marketing online to reach a wider audience instead of being limited to the people in your circle.
If you want to learn how to make money online for the best chance of establishing a passive income and live a more free lifestyle, subscribe and get weekly content and a 7-day course for making money online.
Now it's time to get to the review of 7k Metals and see if it's the right opportunity for you.
What Is 7k Metals About
Based in Idaho Falls, Idaho, 7k Metals is a network marketing company that was established by Zach Davis. There is not much information on him regarding his experience in marketing except for the fact that he has earned a Bachelor in Marketing & Business from Brigham Young University
Membership
There are two membership options to choose from:
7k Basic Membership-This membership costs $249 anually and will give you access to their precious metals at a wholesale price.
7K Premium Membership– To join as a network marketer will cost $499 annually. This will grant you access to their precious metals at a wholesale price and you will also receive a few coins. A $10 monthly fee also applies to premium members.
Next, they're going to make you pick 1 out of 3 options for a monthly AutoSaver Coin – from the AutoSave Program
Basic – $95 / monthly
Varierty – $129 / monthly
Specialty – $299 / monthy
As if that's not enough, as you join 7k Metals you are also required to pay for the 'Travel savings card' to find the best travel deals and set up the AutoSaver Coin Subscription monthly!
Compensation
The 7K Metals compensation plan has a point value system in which you get paid based on the number of points you accumulate. It is often difficult to understand how you get paid in network marketing companies and 7K Metals are no different. The video below is from a member trying to explain how to earn as a consultant.
Instead of catching a headache in trying to fully understand how you get paid, the only thing you must focus on is recruiting and selling.
7K Metals Products
7k Metals offer a variety of precious metals such as gold, silver, bronze, copper, and even platinum. A quick glimpse of the options are in the following image.
As you can see in the image, the gold is worth much more than silver. The price of gold increases every time there is an event that causes the value of paper investments, such as stocks and bonds, to decline. While both gold and silver have attractive features, gold is the better investment for the average precious metals investor.
Silver is more volatile than gold and may have a weak return on investment. Those that decide to become a premium member of 7K Metals will receive 1 Silver Eagle Coin, 1 Medallion, 1 World Coin, and 1 Silver Round Coin.
I couldn't find the value of the Medallion or World Coins from the 7K Metals website, but the eagle and round coin have a combined value of around $54. Chances are that the Medallion and World Coin you get after becoming a consultant will not be worth much.
Pros of Joining 7K Metals
7K Metals has a wide selection of gold and silver coins to choose from, but there are better options for investing in these precious metals. The truth of the matter is that it's hard to find any reason to join a multi-level marketing company that prioritizes investing and selling gold.
Cons of Joining 7K Metals
Training
Limited Market
Low Success Rate
Expensive Business Opportunity
If you are interested in the business side of 7K Metals, there is no special training to teach you how to recruit and sell their precious metals. Even if they provided some meaningful training, the amount of people looking to invest in precious metals makes for a limited market. Targeting those that are at least 35 and up should be the approach when investing or selling gold and silver.
I couldn't find an income disclosure statement for the associates that promote 7K Metals, but the best way to make a steady income in these kinds of businesses is by recruiting. Each recruit can help you earn at least 20 – 25 points and you need to build two teams with 500 reward points each to earn a $500 commission check and become an associate. Breaking that down, you will need 40 to 50 people in your downline just to earn a $500 residual check every month.
Conclusion
7K Metals is not a good MLM company to consider joining. Recruiting a family member or friend can ruin a relationship which is something that happens every so often when talking about multi-level marketing. Due to monthly expenses and other added costs, the financial loss is greater and so is the risk of a falling out.
There are some newer network marketing companies that understand the importance of marketing online and will teach you some social media strategies to promote their brand. 7K Metals does do not offer such training to give you advanced knowledge for marketing online, and even if they did their services and expensive precious metals seem to be a hard pitch.
With that said, there are plenty of opportunities to make an income online which will require less work and can eventually replace your day job. For a chance to make a passive income to change your life for the better and take control of your own fate instead of having to rely on recruiting…
Click Here for a list of ways to make money online
or Click Here for My Number 1 Recommendation to start making money online
Now that you know what is 7K Metals about I wish you the Best of Luck In Your Business Endeavors.
If you have any experience with 7K Metals or have used any of their products feel free to leave a comment in the section below.