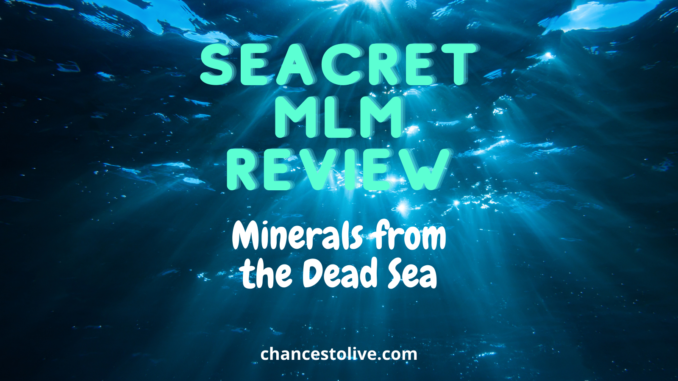 Seacret Review: Quick Summary
Name: Seacret
Description: Seacret is a network market company that focuses on beauty and wellness. It doesn't cost much to become a member and enjoy discounts on products, and they seem to have a generous compensation plan for it"s distributors. This might be one of the better MLM companies to consider joining with its low startup costs. However, without any marketing skills, most people fail to succeed as these companies tell you to recruit friends and family.
Price: $49+launch pack($50)
Is Seacret a Pyramid Scheme?
I wouldn't label Seacret a Pyramid Scheme, but their business model is set up in similar aspects. This is not a company I would recommend joining, and the beauty and wellness industry is saturated with competition. It seems like almost every business I review is marketing either skincare, protein powders, or weight loss products.
Pros
Inexpensive Business Opportunity
History In Business
Cons
Training
Low Success Rate
The Best Way to Earn is to Recruit
Seacret is a multi-level marketing company established in 2011.
As this company specializes in promoting beauty and wellness products, you may have stumbled on this page because a family member or friend recommended you to join and referred to it as being a GREAT BUSINESS OPPORTUNITY!!!
The truth of the matter is that you have been presented with this opportunity by someone you know because the best chance to earn an income within Seacret comes from recruiting others to join.
That fact leads to all MLM companies being labeled as pyramid schemes, but I will not label Seacret as such. That is due to the fact that it is possible to make an income from selling their products.
So to know whether or not this business opportunity is right for you, this post will provide full details on what is Seacret about and all it has to offer. I must share the fact that I am in no way associated with the company and I am in a position to share this review due to past experience with another MLM company called World Ventures.
In striving to make a passive income in the past with World Ventures and other past business failures, internet marketing has proven to be a success and is the best way to go about marketing products and services.
MLM companies will turn you into that annoying friend that harasses everyone you come across to join or buy your products.
It's a known fact that there is a low success rate for members within Multi-Level Marketing Businesses and if you consider joining it would be in your best interest to learn everything you can regarding marketing online to reach a wider audience instead of being limited to the people in your circle.
If you want to learn how to make money online for the best chance of establishing a passive income and live a more free lifestyle, subscribe and get weekly content and a 7-day course for making money online.
Now it's time to get to the review of Seacret and see if it's the right opportunity for you.
What is Seacret About
Based in Phoenix, Arizona, Seacret was founded by Izhak Ben Shabat and Moty Ben Shabat. In the early 2000s, they launched a family-run holiday business selling toys in mall kiosks before diverting their attention to Israeli skincare products. From the advice of co-Founder and experienced marketer Betty Perez, A recession in 2010 leads them to put their products online and transition the entire business to direct sales/network marketing.
Membership
It costs $49 to become a member and get discounts on their products. If you want to become a distributor, it will cost an additional $50 for a 5-in-5 Agent Launch Kit. Overall, Seacret seems like a relatively inexpensive business opportunity, however, there is a monthly sales quota of $50 a month that can turn into another added expense if you don't make the required sales.
Another thing to consider, there does not seem to be many items to sell in this launch kit as it is detailed as a durable case to keep your products in.
As you can see from the image, you will certainly need to invest more than $100 to have an extensive list of products to promote.
Compensation
Multi-Level Marketing companies usually have a compensation plan that is complex and hard to understand.
To grasp the complexity of their compensation plan:
Below features a video from an experienced Seacret consultant trying to explain how their agents get paid.
While there is considered to be 6 ways to earn, all of the extra bonuses basically comes from selling and recruiting.
Seacrets's Products
The secret to Seacret line of products is that it contains 26 essential minerals, with 12 of those found solely in the Dead Sea. SEACRET offers a variety of products which include facial cleansers, creams, serums and toners, as well as a line of hair care.
In 2010, L'Oréal was manufacturing the full line of SEACRET products which was the first time the cosmetics giant was manufacturing a brand outside of its own. While the prices are high for Seacrets skincare products,it seems to be reasonably priced compared to other products that have dead sea minerals in their ingredients.
Pros to Joining Seacret
Inexpensive Business Opportunity
History In Business
There is more to lose than gain by becoming a Seacret consultant. In struggling to find reasons to join, the only thing I can come up with is the fact that they offer decent products. It is also affordable to join as a distributor or just to enjoy discounts on their products.
Cons to Joining Seacret
Training
Low Success Rate
The Best Way to Earn is to Recruit
When it comes to training on promoting and selling products, Seacret has the same problem as most multi-level marketing businesses. The problem most members face when becoming a member of these businesses is that you are lead to believe the opportunity presented is GREAT and STAND OUT from the REST and HOW AMAZING it would be to INTRODUCE this to your FRIENDS and FAMILY!!!
Seacret training methods are a big part of why most people fail, but then again these kinds of businesses are not set up for a majority to succeed. If you are an owner of any business, especially nowadays with the Covid situation, you need to know how to MARKET ONLINE.
In the recession in 2010, the owners were aware that it would be more beneficial to start promoting their business online instead of building a shop.
Upon watching a training module from a successful Seacret agent, he says that the number 1 recruiting tool is success. "Success breeds Success". That kind of message does not give their members the tools to truly succeed.
Another thing to mention if you watched the video above, don't be fooled to believe they are the only ones with dead sea minerals in their ingredients. There are other similar brands that are of good quality which you can find by clicking on this link or doing a quick google search.
Conclusion
Seacret is not a pyramid scheme as it is one of the better MLMs to consider joining.
However, most multi-level marketing methods of teaching members to recruit family and friends can ruin a relationship. It's a fact that a lot of people that join these kinds of businesses lose thousands of dollars. Chances of this happening are low with Seacret since prices are affordable to join, but there are other fees that can add up to a thousand or more over time. .
There are some newer network marketing companies that understand the importance of marketing online and will teach you some social media strategies to promote their brand.
Seacret does not offer such teachings to give you advanced knowledge in regards to that. This is not a business opportunity I would recommend, but if the person that signs you up really knows what they are doing and can provide you some real training then it might work out.
With that said, there are plenty of opportunities to make an income online which will require less work and can eventually replace your day job.
For the best way to make a passive income and become a Legendary Marketer…
Click Here for a list of ways to make money online
or Click Here for My Number 1 Recommendation to start making money online
By the way. I just learned that the company I use to be a part of (World Ventures) now owns Seacret. The travel industry has been devastated from the Covid pandemic and the company has been seeking new ways to earn a revenue.
I'm not sure how this affects the compensation plan and price of membership, but there will surely be some travel packages offered when becoming a member of Seacret in the future.
You can check out more into this by clicking on this link
Now that you know what is Seacret about I wish you the Best of Luck In Your Business Endeavors.
If you have any experience with Seacret or have used any of their products feel free to leave a comment in the section below.