Green Compass Global is a multi-level marketing company established in 2019.
As this company specializes in promoting CBD products, you may have stumbled on this page because a family member or friend recommended you to join and referred to it as being a GREAT BUSINESS OPPORTUNITY!!!
The truth of the matter is that you have been presented with this opportunity by someone you know because the best chance to earn an income within Green Compass comes from recruiting others to join.
That fact leads to all MLM companies being labeled as pyramid schemes, but I will not label Green Compass as such. That is due to the fact that it is possible to make an income from selling their products.
So to know whether or not this business opportunity is right for you, this post will provide full details on what is Green Compass about and all it has to offer. I must share the fact that I am in no way associated with the company and I am in a position to share this review due to past experience with another MLM company called World Ventures.
In striving to make a passive income in the past with World Ventures and other past business failures, internet marketing has proven to be a success and is the best way to go about marketing products and services.
MLM companies will turn you into that annoying friend that harasses everyone you come across to join or buy your products.
It's a known fact that there is a low success rate for members within Multi-Level Marketing Businesses and if you consider joining it would be in your best interest to learn everything you can regarding marketing online to reach a wider audience instead of being limited to the people in your circle.
If you want to learn how to market products online for the best chance of establishing a passive income and live a more free lifestyle, subscribe with a question on how you prefer to go about marketing online. Do you like to write and if so build an online business blogging, or would you prefer to market products online without building a website?
Now it's time to get to the review of Green Compass Global and see if it's the right opportunity for you.
What is Green Compass Global About?
Based in Wilmington, North Carolina, Green Compass Global was founded by Sterling and Meridith Cook. Sterling has a background in agriculture which proves useful for growing organic hemp plants. Although he has experience in the agriculture field, it was Meredith that was the engine to starting the company.
Meredith suffered from postpartum depression after giving birth and started taking CBD oils to help. With Meredith taking a liking to CBD oils, she and Sterling would combine their skills and interest to eventually launch Green Compass Global.
Membership
There's two membership options which is detailed below::
Basic Business Kit ($49.95)
CORE Start Success Pack ($299.95)
The low cost of the basic business kit is due to the fact that it does not come with products to market and sell.
Compensation
Multi-Level Marketing companies usually have a compensation plan that is complex and hard to understand. Fortunately, there is a bit of transparency when it comes to getting paid by Green Compass Global.
Members can earn up to 20% weekly commissions on retail sales and $90 per person enrolled in their business opportunity. There are also monthly commissions and bonuses members are eligible to receive, but that all depends on sales and recruitment from them and their referrals.
For more details regarding how to get paid with Green Compass, you can check out the video below.
You should not stress trying to wrap your head around all the details regarding their compensation plan.
I simply say that because the success rate in these kinds of businesses is like 1 in a 1,000, maybe lower. The majority of network marketers fail to ever achieve high rankings and earn next to nothing.
Green Compass Global Products
Green Compass Global offers a variety of CBD products for sale which can be seen in the image below.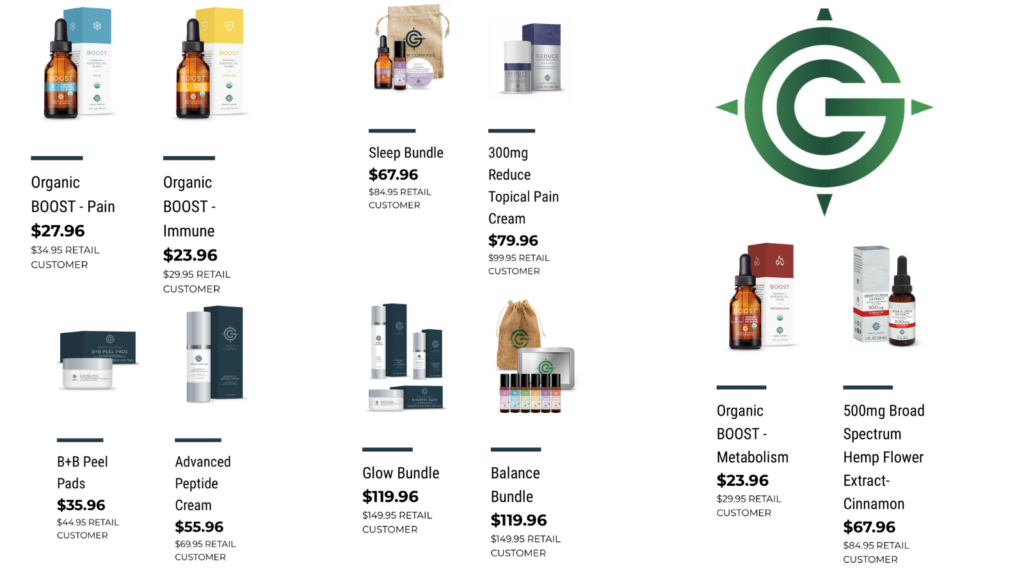 In reviewing Green Compass, I'm not sure of their major selling point which might be necessary to promote their CBD products. That is due to the fact that it is more expensive than alternative quality products on the market. An example below shows a price comparison of one of their CBD oils.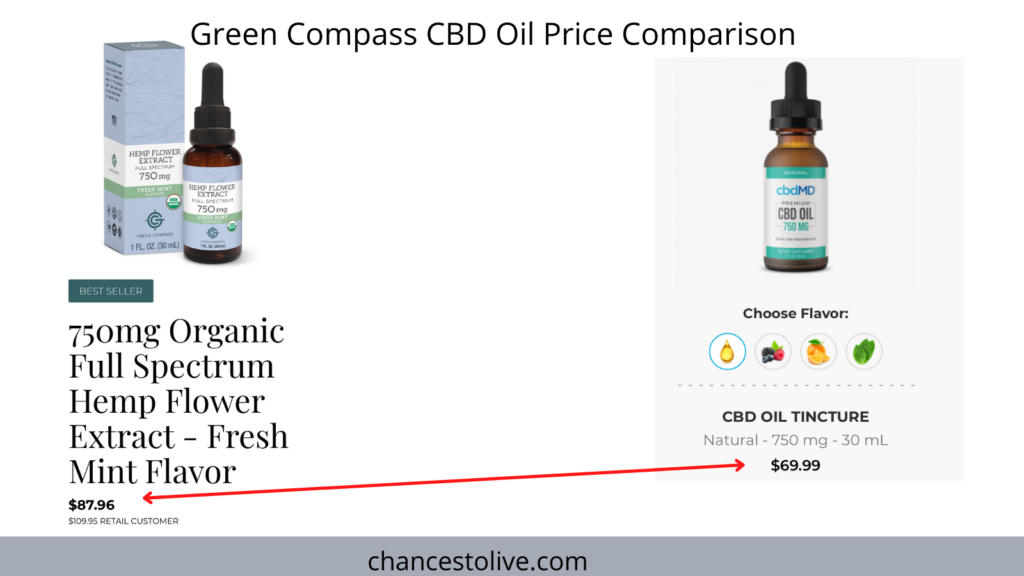 As you can see, Green Compass's discounted price of $87.96 is still more than the regular price of $69.99 from www.cbdmd.com. At retail value, it is $40 pricier.
Pros of Joining Green Compass Global
There is more to lose than gain by becoming a member of Green Compass. In struggling to find reasons to join, the only thing I can come up with is that it is a relatively inexpensive business opportunity. There is also no sales quota that I am aware of.
Most multi-level marketing companies usually have monthly fees or a set amount of sales that need to be made to stay in business. That is a major factor to why most people that join Multi-Level-Marketing companies lose money,
Cons of Joining Green Compass Global
Training
Low Success Rate
Expensive Products
Competitive Market
When it comes to training on promoting and selling products, Green Compass Global has the same problem as most multi-level marketing businesses. The problem most members face when becoming a member of these businesses is that you are lead to believe their products are GREAT and STAND OUT from the REST and HOW GREAT it would be to INTRODUCE this to your FRIENDS and FAMILY!!!
If you are an owner of any business, especially nowadays with the Covid situation, you need to know how to MARKET ONLINE. With Green Compass being in the CBD Oils category, you will need specific targeting to people that could benefit from their products.
In all due respect, Green Compass claims that it provides members with some social marketing training. On their official website, it says the following:
"Green Compass utilizes the power of social media and the internet in conjunction with word of mouth and person-to-person advertising to share the incredible benefits that come along with our products. We understand that everyone has a different learning style, so we offer a wide variety of opportunities to learn about Green Compass. These include live online "listen and learn" events, one-on-one appointments, in-home social events, printed marketing tools, and targeted videos".
That is nowhere near the online training needed to become a successful marketer. To become successful marketing products online, you will need to know about targeting your audience with keywords, building ads, growing a following on platforms like Pinterest and Facebook to drive organic traffic, email marketing, creating landing pages and funnels, etc.
Even with some online training…
When it comes to being successful in selling Green Compass's CBD products, the cost makes it a hard pitch to consumers that want good quality products at a more affordable price. There seem to be new companies promoting CBD products every day as it has become a very competitive market.
Conclusion
Green Compass Global is not an MLM company I would recommend joining especially if you are an inexperienced marketer. Recruiting a family member or friend can ruin a relationship which is something that happens every so often when talking about these types of businesses. Chances of this happening are low with Green Compass since prices are affordable to join, but if there are hidden fees to stay in business then that statement may not hold true. 
It is great that they understand the power of online marketing and will teach you some social media strategies to promote their brand.  However, Green Compass does not provide advanced online training for its members. With that said, if the person that signs you up really knows what they are doing then it might work out.
But if you are interested in starting a business:
There are plenty of ways to make an income online which will require less work and can eventually replace your day job. For a chance to make a passive income to change your life for the better and take control of your own fate instead of having to rely heavily on recruiting…
Click Here for a list of ways to make money online
or Click Here for My Number 1 Recommendation to start making money online
Now that you know what is Green Compass about I wish you the Best of Luck In Your Business Endeavors.
If you have any experience with Green Compass or have used any of their products feel free to leave a comment in the section below.