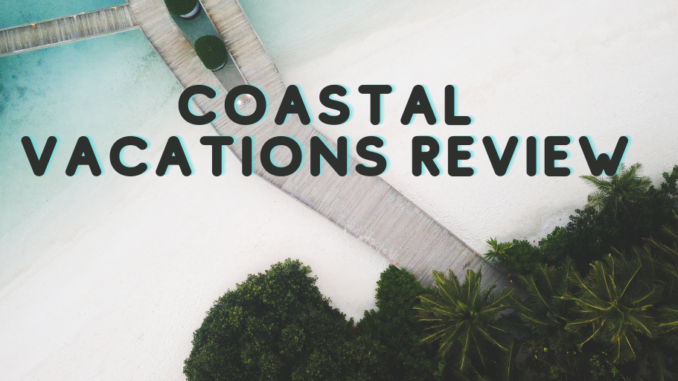 Coastal Vacations Review
Coastal Vacations is another home-based multi-level marketing company in the travel industry.  Although Coastal Vacations is an association with a Board of Directors, it did not open as a publicly-traded company in order to protect itself from lawsuits and people out there that are hurting the home-based business industry. Most people don't hear about it, but chances are all of the big MLM and home business companies have many lawsuits against them because of unsatisfied clients.
Before going any further, I have to mention:
I am in no way associated with Coastal Vacations, so this is not a biased review.  I do not have any financial gain as to whether you sign up or not. I am here to provide you with the details regarding Coastal Vacations so you will make the best decision possible.
I am in the position to share this review with you because I was involved with a similar company called World Ventures a couple of years ago before I got into Affiliate Marketing. Some people may disagree with me on what I am about to say on Coastal Vacations, however, through my personal experience it is very difficult to build a successful business through their methods. You can form your own opinion of Coastal Vacations and decide for yourself if it is worth joining.
Coastal Vacations promotes travel discount packages that provide discounted access to third-party travel services. On the bottom of their website, it states that they are not a seller of travel and therefore is not licensed to sell travel. Like most typical MLM companies, Coastal Vacations encourages members to recruit new members to get paid a commission and start generating an income out of it.
Membership
The costs to become a member of Coastal Vacations depends on what level an affiliate buys in at.
There are three levels in which a prospective member can join in. Each is an upfront cost of:
$1,295 LEVEL 1
$3,500 LEVEL 2
$7,500 LEVEL 3
The Coastal Vacations Level I discount travel membership package (considered the Resort Vacation Package) provides a minimum of twenty-five membership cards and a minimum of 24 vacation bonuses (customization, but pre-set travel packages) inclusive of hotels, condos, restaurants, vehicle rentals, RV hookups, recreation, airfares, cruises, and theme parks.
The Coastal Vacations Level 2 discount travel membership package (considered the International Vacation Package) provides all that the Level 1 package provides with hundreds of international vacations and unlimited cruises as well as a discounted ticket to one of CV's training seminars.
The Coastal Vacations Level 3 discount travel membership package (considered the Universal Vacation Package) with thousands of vacations and hundreds of 5,6, or 7-day cruises and a discount ticket to one CV training seminar.
During the initial purchase, the three membership levels can be purchased at discounted rates by bundling two or more.
$3995  The Premier Package is a combination of membership LEVEL 1 and membership LEVEL 2. This is a savings of $800 off the combined cost of each level if purchased separately.
$11,000  The Platinum Package is a combination of all three membership levels (LEVEL 1, LEVEL 2, and LEVEL 3). This is a savings of $1,295 off the combined cost of all three levels if purchased separately. The encouragement is you save the entire cost of a LEVEL 1 membership if you purchase the Platinum rather than the Premier package.
Coastal Vacations memberships are considered lifetime memberships with an optional renewal fee for $89.95 a year applied to membership cards only. (these cards expire unless renewed, but the Coastal Vacation relationship is lifetime).
The concept is that members will have access to all their travel and entertainment needs, both local and international at wholesale prices as opposed to retail prices.
In most travel and entertainment situations, the member will have access to discounts by contacting the Coastal Vacations listed travel or entertainment service, using a Coastal Vacations membership code, and securing a service code or certificate at a reduced charge. Some travel packages are prearranged and other arrangements can be customized to the liking of the member.
Compensation
Coastal Vacation travel services provided to their members can not be re-sold individually.  Membership cards provided in the name of the member are not transferable, but individual vacation and airline discounts are transferable as a gift or donation.
With that said,  the compensation plan is based entirely upon the recruitment of new members to the Coastal Vacations program.
There are three levels within the Coastal Vacations compensation plan based on the three membership levels in which a person joins. A new member receives a commission equal to or below the membership level held by the member. A new member is encouraged to purchase at the highest level possible in order to receive corresponding commissions and must pass up the first two commissions the new member recruits at that level or lower. All commissions after the first two will come directly to the member who recruits.
The commissions per each level are:
$1,000 LEVEL 1
$3,200 LEVEL 2 (package purchase)
$9,705 LEVEL 3 (package purchase)
Once the first two commissions are passed up, you will receive a commission from each new member recruited after the first two.
When talking about the business aspect of Coastal Vacations, most MLM companies like this rely too much on recruitment than selling an actual product.  Multi-Level Marketing companies should have products to sell to customers along with affiliates to be on the safe side. As a distributor for Coastal Vacations, you are simply a sales rep, working for free unless you recruit other members to join and promote products that Coastal Vacations don't even own. They save money on advertising and paying a workforce while the distributors do all the work. Essentially you don't own anything and instead of being a sales rep for Coastal Vacations(an affiliate for the companies they represent), you can become a direct affiliate and market a variety of products including travel packages.  Click Here To Learn More
Conclusion
Having launched on June 16 of 2002, Coastal can never be shut down because it is an association and each entrepreneur is its own business owner. Coastal Vacations simply gives its members the ability to get a travel package at wholesale prices and recruit new members to get paid a commission.
I'm not a fan of the MLM way of doing business due to the fact that all the benefits are with the company and not to the individuals doing all the work to make those at the top rich.
While there may possibly be some good travel deals to be had by becoming a member, if you are involved with the goal of earning an income you will most likely be dissappointed in the long run. This company has zero products of its own and is really operating as an affiliate of all the travel vendors it is in partnership with.
There are better travel marketing opportunities to join, and up front costs are steep and may not be affordable for many individuals looking to start the business.  However if you are still interested here is a link to their official site  http://www.coastaltravelpackage.com
If you are interested in starting an online business without paying such a hefty price:
Click Here for my number 1 recommended business opportunity. This opportunity provides you with the knowledge to start a successful online business with a broader option of products to market including travel if you want.
If you are looking to save money traveling without paying such a hefty price or may find interest as a travel agent:
Click here to learn about a company called Dream Vacations.
As always, I welcome your comments on this review of Coastal Vacations and I will be more than willing to discuss it with you. If you have ever joined Coastal Vacations,  feel free to share your personal experience in the comment section below.