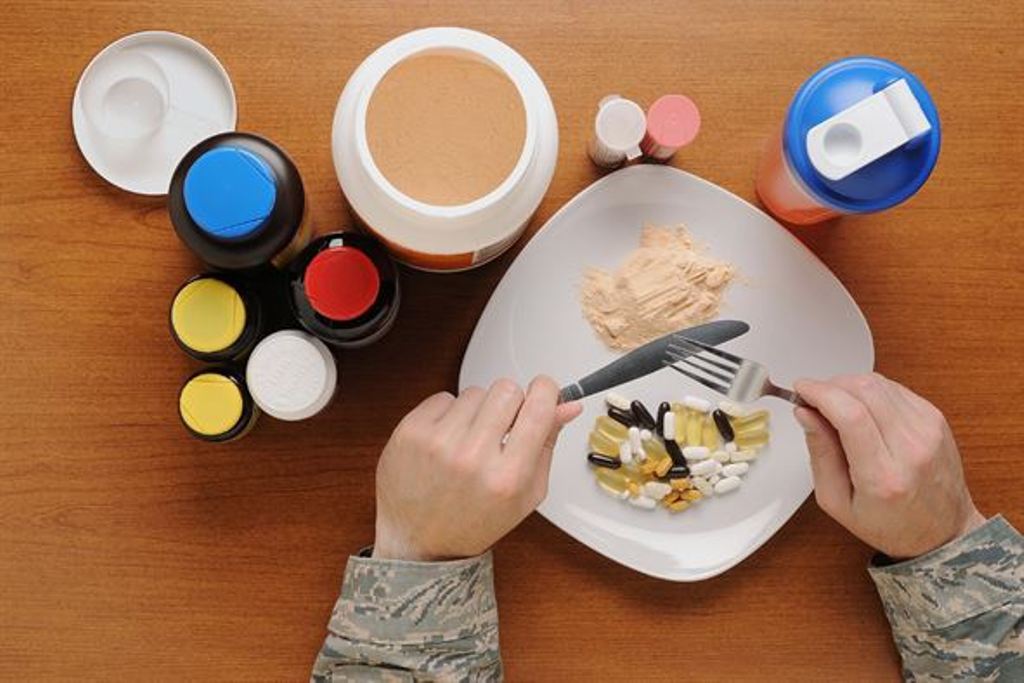 For most people that seek to gain weight…there should be extensive research before choosing what to put in your body.
Fast gains are not healthy, and most protein powders have negative side effects if taken in excess for your quick weight gain goals.  High doses can cause increased bowel movements, upset stomach,nausea, thirst, bloating, cramps, reduced appetite, tiredness (fatigue), and headache.  When the goal to gain weight fast is a top  priority you may risk developing kidney disorders, including kidney stones. High protein diets rich in whey can be a health concern that may lead to possible impaired function of the kidneys if taken over an extended period of time.
Soy Protein Gainers have been said to increase estrogen levels and for men that may not be a good thing.  Soybeans are a rich source of a set of molecules called "isoflavones." These substances have estrogen (female hormone) activity and have been used for years as "natural" remedies for hot flashes in menopausal women. Since male transgender patients take estrogens to stimulate breast growth, it is assumed that soy might have the same effect.
A Protein Powder without whey or soy may be the healthiest choice to gain weight.  Gaining weight is a process just as it is to lose pounds.  Including a supplement daily over the course of two months should pack on 10 pounds and promote steady and healthy gains.  Here is a review of healthy weight gain supplements to add to a healthy lifestyle.
Bodylogix Vegan protein is the perfect choice for vegetarian or vegan diets. It contains zero animal or milk based proteins. It is 100% dairy free, gluten free, and contains no soy based protein.
Bodylogix Vegan proteins are extremely versatile and are easy to prepare.  You can add a scoop or two of protein to the blender and throw in your favorite fresh or frozen fruits, yogurt, and anything else you'd normally add to your favorite smoothie.
Nutritional Benefit  Bodylogix Vegan has a blend of six premium proteins providing time-released nutrition. Source of omega 3 (chia).Each serving provides 40% of daily iron, 16% of daily fiber and 3500mg of branched chain amino acids.It also has no artificial colors, flavors or sweeteners. Sweetened with stevia and free from dairy, gluten and soy…Bodylogix Vegan is Delicious tasting and is not grainy or chalky
MuscleEgg isn't a 'protein powder'.  It's actually an egg white mixture that's a liquid, and it serves the same purpose of protein powders with an added advantage of mixing well with shakes.
MuscleEgg can also be enjoyed on its own which is another advantage.  It's literally just egg white, but there are some flavored options to choose from. Muscle Egg  can be used for cooking or drinking alone.
I like the fact that it is an easy on the go source of nutrition. If in a rush, just drink it. If you have more time, make a delicious protein shake.
Nutritional Benefit: Egg white is one of the best protein sources around. It's a complete protein, and with the yolks being removed it has zero cholesterol. There are 25 grams of protein per cup.
It is also gluten and soy free.
Overall, MuscleEgg is a great, dairy-free protein booster that's easy to consume, budget friendly and tastes great.
This supplement is a vegan friendly, lactose free protein shake that is formulated for big gains.
It's available in a number of flavor options.
It's also specially designed to contain the amino acid formula your body needs to build muscle in rapid fashion.
Nutritional Benefit: Vega Sport contains a whopping 25 grams of protein per serving. That comes from pea, sprouted grain rice, alfalfa, and sacha inchi.
The mix also contains a good amount of branched chain amino acids, which are essential to helping repair and rebuild  muscles after an intense workout.
This high performance protein mixture is well suited for muscle gain on a lactose free diet and it has plenty of good reviews.
Maca Up, by Paradise Herbs, has established a good, milk free protein shake powder that is highly digestible.
If you're experiencing bloating, gas, and a upset stomach…then this is a worthy replacement to your current weight gain supplement.
A lot of vegan powders make use of hemp, which doesn't agree with everyone. Maca Up does not, instead relying on pea, rice and maca derived protein.
Maca comes from South America, grown mainly in Peru. It resembles a turnip in shape and size, but when powdered it has a high nutritional value.
Maca Up is another dairy-less protein powder with great reviews.
Nutritional Benefit: Maca Up is different from a lot of other dairy free protein powders in that they've included a digestive enzyme to help ease absorption. It's called Aminogen, and it not only helps reduce gas and bloating, it also increases absorption of amino acids such as glutamine and arginine.
Each serving of 32 grams contains 21 grams of protein. That's just a single scoop.
It is free of hemp, soy, dairy, gluten and animal protein, so therefore vegan friendly too.
MacaUp is a great protein supplement powder to consider. It tastes good, is dairy & lactose free…And it  is also mixable and very affordable.
Orgain has developed a great, milk free protein shake that mixes nicely and tastes fantastic.
The protein comes from a variety of grains, which are grounded down until incredibly fine and sweetened in a natural way. The result is a shake that's not only digestible, but it's legitimately good! The texture when blended can be creamy, and you'll soon forget that you're drinking things like chia and hemp.
Nutritional Benefit: Coming from chia, hemp, rice and pea sources, this is a protein powder that's truly dairy free. It contains 21 grams of protein per serving (which is about 2 scoops, or 46 grams.)
This supplement also contains no added sugars and is soy and gluten free.
Orgain is a rich protein source from plant-based ingredients, and it is also a suitable supplement for the lactose intolerant.  Orgain also tastes great which on top of all the other benefits makes it definitely worth a try.
Made by Green Foods, True Vitality is affordable, has great taste, mixability and positive reviews.
If you're a fan of 'veggie' style smoothies and drinks, this would probably be your best bet. The green primarily comes from the spirulina and chlorella, which are algae rich in both protein and vitamins.
You can get it in flavored form (with chocolate & vanilla being your choices), or you can opt for unflavored if you like.
This protein powder is very light on your stomach, making it a good pre-or-post-workout shake.
Nutritional Benefit: This is a really rich powder. It can almost serve as a meal replacement, since it has a pretty good ratio of carbohydrates and proteins.
The nutrition comes mostly from hemp, rice, pea, barley, spirulina, and chlorella.
In total, you get 15g of protein per serving. That's less than the competition, but they lack a lot of the extras this one comes with. For example, you get a full serving of vitamin A, C, D, E, B3, B6 and B12 vitamins, among others.
True Vitality is popular, tasty, and  a energy rich protein powder for lactose intolerant people.
Make your own protein shake
Paleo Mass Gain Shake
1 Medium to Large Avocado (Approx. 1 Cup) = 384 Calories, 35g Fat, 20g Carb, 5g Protein
1 Cup of Coconut Milk = 445 Calories, 48g Fat, 6g Carb, 5g Protein
2 Medium Ripe Bananas – 205 Calories, 54g Carb, 2g Protein
1 Cup Sweet Potato Cooked – 249 Calories, 58g Carb, 4g Protein
Totals = 1283 Calories, 83g Fat, 138g Carb, 16g Protein
There are risks to adding raw eggs, and  Muscle egg would be safe alternative to mix in for an even more nutritional boost.  For those who are very reactive and need some calorie help, try this shake.