In this review of Swagbucks vs PrizeRebel I will show how these two popular survey sites stack up against each other.
Which one has Better surveys?
How their Sweepstakes Compare and What You Can Win?
What Kind Of Offers They Have?
Which One Has a Better Point System?
What is the Earning Potential?
Which One Pays More for Watching Videos?
That is just a few questions that will be answered in this comparison of these two sites.
So lets dive in to the Swagbucks vs PrizeRebel review to reveal which one is better and for what reasons. I also published a video on Youtube if you prefer to watch.
Swagbucks Surveys
You must fill out a questionnaire before having access to Swagbucks Surveys. In doing the math I came up with the average below for the amount of time and Swagbucks you will earn for their surveys:
I calculated 28 surveys that are offered through Swagbucks and the average time it takes to complete is 16 minutes with an average of 136 sb points earned.
PrizeRebel Surveys
PrizeRebel offers a variety of surveys through third party sites like Peanut Labs and Opinion World. You will probably earn more by signing up directly with some of those sites instead of taking them on PrizeRebel.
However, I tried signing up for Peanut Labs and hit a roadblock. The only way you might be able to access their surveys might be through PrizeRebel.
You can join a site like Opinion World directly and take surveys on their platform.
The surveys offered directly through PrizeRebel is referred to as YourSurveys.
On average it takes 15 minutes to complete PrizeRebel Surveys and on average you will earn 88 points. This number would be even lower if it was not for one of their surveys that offers over a 1,000 points with an estimated 34 minute completion time.
Swagbucks vs PrizeRebel Surveys
When it comes to earning by taking surveys, Swagbucks is the winner of the two.
Earning From Watching Videos on Swagbucks
While you can watch a few videos and earn, the average amount of time varies and only pay between 1 & 2 sbs. On a daily basis there are about 10 videos you can watch on Swagbucks. The videos are basically financial news, news in general, entertainment and sports.
Earning From Watching Videos on PrizeRebel
PrizeRebel has a wider selection of videos you can choose to watch and earn points. Whether it is food, music, celebrities, fix it, adventure or comedy you might find something you actually want to watch. However, you will only accumulate an average of 3 points to watch these videos.
Swagbucks vs PrizeRebel Earnings From Watching Videos
When it comes to watching videos, this is a tie.
Although PrizeRebel has more videos to offer, this is about earning and you really won't earn much from watching videos on either of these sites.
Another issue I encountered with PrizeRebel is receiving the points after watching the video. Watching videos and earning is done through a 3rd party site called Hideout TV. I don't know, but maybe the points I was suppose to get is hiding somewhere.
Disclosure: As the owner of this website I have tracked down special deals for some of the products and services mentioned herein. When you use the links on this page to make a purchase I may get a small commission and you may get a great bargain. Its a win win all around!!! See my terms of service for details
Earning From Downloading and Playing Games Through Swagbucks
There are a lot of options for downloading games and earning points through Swagbucks. You can't simply download games through Swagbucks and earn points. You must play these games and reach certain levels to earn.
There are too many options and different levels to reach to give an exact average on what you get for playing these games. However, the rewards for reaching certain levels and downloading games through Swagbucks are high.
It might take a long time to reach certain levels when playing these games, but if you enjoy playing games on your app then you might want to look into sites like this that will give you rewards for something you do anyway. The highest reward I seen for playing games is 5,000 points. That has a value of $50 or a bit more depending on the prize you claim.
Earning From Downloading and Playing Games Through PrizeRebel
All of the games offered through PrizeRebel are through third party sites. However, you most likely won't have access to these offers unless you do them through PrizeRebel. A list of these sites include the following:
OfferToro
AdGem
AyeTStudios
AdGate
In looking through the games offered, it seems like AdGem stands out for having the most options while AyetStudios stands out as having some of the highest paying. Upon the time of this review, for downloading and playing Rise of Kingdom on hard you can earn up to 3,562 points. So on total there highest paying game can yield you close to $36 for completing.
Swagbucks vs PrizeRebel Earnings From Downloading and Playing Games
When it comes to downloading and playing games to earn, Swagbucks is the winner.
Not only does it has more higher paying options out of the two, but you are not dealing with any third party site when playing these games.
Sometimes a third party makes things more confusing when it comes to redeeming points. As mentioned above when it came to watching videos, I didn't redeem any points at all.
It would be highly disappointing and frustrating to download these games, play them for days with the expectation of a reward after accomplishing certain tasks, and not be able to redeem your prize or have difficulties doing so.
Click Here To Learn the Best Way To Make Money Online
Swagbuck's CashBack Incentives for Things You Might Be Interested In
Swagbucks offers cash back incentives on almost any store or brand you can think of. If it's not your local supermarket, it is highly probable that where you shop can be a place you can get cashback through Swagbucks. I was scrolling through the list of stores and brands for three minutes and only was through 25% of the page. I'm get to 50% before I go any further.
……..
…..
….
Ok, yeah it's about every retail store you can imagine. Next time you go shopping even in a place like Staples you can get cash back through Swagbucks. Cashback options ranges from 1-22% depending on the brand. Some of the incentives include an exact amount of cash back for shopping.
PrizeRebel Cashback Incentives for Things You Might Be Interested In
The constant theme with PrizeRebel is that these offers are through third party sites as well. When you go to their offers page, you will see the ones mentioned above and the following three:
PointClickTrack
Ascend
Revenue Universe
The three mentioned here are third party sites that you can earn from shopping.
The way they go about giving cashback is a bit different as each offer you accept through PrizezRebel will yield a specific amount of points. You can think of it as cash and calculate the points to come up with an exact amount if exchanged for money or gift cards.
A brief list of things you can get cash back incentives for includes internet security protection, children's learning books and magazines, and some Martha Stewart meals.
Swagbucks vs Prize Rebel Cashback Incentives
Swagbucks is the winner again when it comes to cashback incentives. The cashback incentive list is dull with Prize Rebel compared to Swagbucks.
The extensive amount of things you can get cash back from with SwagBucks means it is more likely that you will find things you are interested in and planning to purchase in the future.
Swagbuck's Sweepstakes
You can pay a few Swagbucks to have an entry into promotions where you can win gift cards or cash. There are a variety of options when it comes to paying a few sbs and having the chance to get a nice reward.
Currently their highest earning lotto can yield you 200,000 sbs($2,000 or a bit more cash value) after paying 25 sbs( 25 cents value) per entry.
PrizeRebel's Sweepstakes
PrizeRebel has a few promotions you can enter by paying a few points and winning gift cards or cash as well. These come in the form of raffles and lucky numbers. The raffles is similar to Swagbucks as you pay a few points with the possibility of earning more.
Currently their highest earning raffle entry can yield you a $20 gift card from Amazon by paying 10 points(10 cents).
The lucky numbers can build over time. A few days ago I looked and there was a 22,500 point reward for those that pick 4 numbers from 1 – 17. As this article is being written it is now valued at 24,000 points. At the end of each week, the 4 Lucky Numbers will be randomly picked and show.
It takes 20 points per entry and the 24,000 points which equals $240 would be a nice prize if too many people don't win.
With that said…
You will most likely be splitting the reward because picking 4 numbers between 1-17 has a relatively high 24% chance of winning per entry.
Swagbucks vs Prize Rebel Sweepstakes
Swagbucks is the winner here when it comes to earning potential and in general. Not only are there more options to win different gift cards, but there are prizes that gives higher rewards and cost less per entry.
The sheer amount of options you have for entering these promotions through Swagbucks mean that you are bound to find better prizes in these sweepstakes.
Swagbuck's Long Term Earning Potential
Swagbucks offers swagups which is like a bonus or "power-up" that applies to your account. The bonus that you receive from a SwagUp depends on the type that is applied to your account.
For instance, I currently have a Survey Bonus which gives me extra points per survey. I did not include these extra points in the survey section of this comparison. If I did, the tally that I came up with for the average amount of points you receive per taking a survey would be even higher.
PrizeRebels's Long Term Earning Potential
PrizeRebel rewards those who use their platform often.
Every member starts off at the Bronze level and can work their way up to Diamond. As you climb the ranks you will be eligible for more points from each activity you do. 
Here is a breakdown of each account level: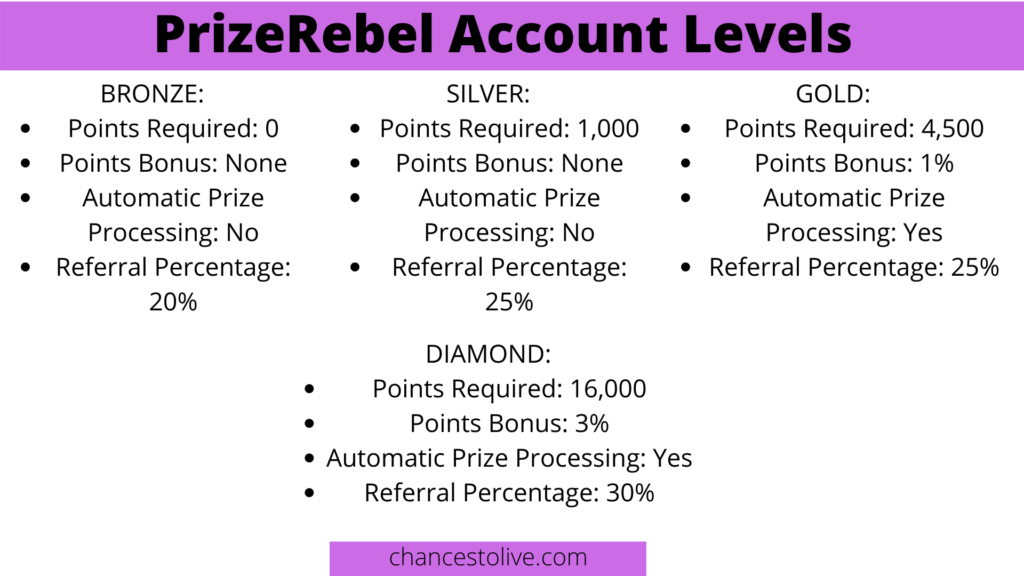 Swagbucks vs PrizeRebel Long Term Earning Potential
Swagbucks is the winner here. Not only do you have to work your way up the ranks with PrizeRebel to get bonus points on the tasks you do, but the bonuses for ranking up is minimal at 3%. You can be eligible for some swag up bonuses immediately and most provide a bonus of 20%.
As an example, the survey bonus for one is 30 sbs with an original amount of 150 sbs earned for the survey. Besides the ranking up or swagups, as you can see in this comparison you basically earn more from each task you do with Swagbucks.
Learn the Best Way to Make Money Online
Conclusion
Swagbucks is the clear cut winner in the comparison of these two survey sites. This wasn't even mentioned, but you can also save money for grocery shopping with Swagbucks. You can save money by uploading receipts from various retailers like Targets, Walmart, Rite Aid, Costco and more.
When you need milk, bread, onions etc, you can earn points with Swagbucks by adding it to the cart, clicking on the cart icon, and submitting the receipt.
Swagbucks point system also seems to provide more than PrizeRebel. This is only by a slight margin as every 100 points equal $1 with PrizeRebel. While Swagbucks has a clear cut system like PrizeRebel, some items you redeem through Swagbucks are slightly less than 100 sb per $1 if its on sale.
As an example, a $25 gift card from Bath & Body Works can be redeemed for 2,250 sbs while on sale with a 10% discount.
I must admit that making and saving a lil extra is cool by using sites like these, but there is a possibility to make much more money online then what these surveys has to offer.
If making money online is something that interest you, then look into the Ultimate Guide to Make Money Online.
Hope this review provided clarity on which site is best to look into and if you have any questions or experience using these sites, feel free to leave a comment in the section below.